Ghimghoul Castle sits to the East of Campus, at the end of Ghimghoul road, and has long served as a source of mystery, rumor, and curiosity for students and residents alike. The stories surrounding the castle hold just the right mixture of fact and fiction that lends itself to becoming an ever-popular topic of conversation.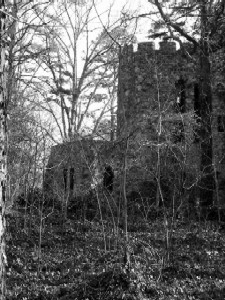 One legend has it that the body of an 18 year old man named Peter Dromgoole was buried in a shallow grave in 1833. Peter was madly in love with a young woman from Chapel Hill known simply as Miss Fanny. But he was not the only one enticed by the charms of this young lady; she had caught the eye of another. It is said that the two suitors decided to settle the matter with a pistol duel, and as the story goes, the duel did not go well for Peter Dromgoole. He was killed upon the very rock that today is allegedly still stained with his blood, and it is said that his companions left him here, dragging the rock on top of him in an attempt to cover up the occurrence.
According to a different tale, Fanny, the object of Peter's affections, was said to have returned to the castle daily following his disappearance, not knowing that her love had been murdered, and prayed for his return until she ultimately passed away from the sorrow and loneliness.
In a third account, Fanny was told of the duel as it was happening, and arrived at the scene in her night clothes just as Peter fell to the ground, dying in her arms. The blood from the fight splattered onto the rock, staining it for all time.
Peter Dromgoole was, in fact, a real person, who applied to the University of North Carolina in 1833. Failing his entrance exams, it is said that he left for Europe, never to be seen or heard from again. The story likely arose when Peter's uncle, George C. Dromgoole, fought in a duel in 1837, with a more fortunate outcome (for the Dromgoole family, at least) than his nephew was reported to have.
There is another aspect to the legends that surround Ghimghoul Castle. The castle has long been associated with a secret society known as the Order of the Gimghoul. Founded in 1889, the order is said to be composed of noted UNC alumni. Few traces exist of the group, which had led to much speculation over the years as to the group's current activities.
The castle, located on Gimghoul Road in Chapel Hill, was originally known as Hippol Castle. It is said to have take somewhere between 4 and 6 years to build, beginning in the early 1920's at a cost of $50,000. Artisans from France were hired to painstakingly cut the 1,300 tons of stones used to construct it [6].