Why I Give
The Graduate School is grateful for private donors, whose support directly responds to graduate student need. Private giving enables The Graduate School to provide academic, financial and professional development support for these students' degree completion, career success and impact. Here's what our donors have to say:
Francis and Patti Meyer
Francis and Patti Meyer understand first-hand the graduate student's struggle to fund higher education. They each worked while earning their degrees, sometimes having to find creative sources of income. In fact, the two met working a very odd job to finance their education.
Hear the story of how they met while participating in a medical study in this short video.
The Meyers believe graduate students benefit from being able to focus completely on their research – not on financial burdens. That's why they made possible a Summer Research Fellowship for deserving graduate students in 2012, 2013 and 2014.
Burnet Tucker
Burnet Tucker is a Carolina alumna and Learning and Leadership Development Executive for Bank of America. Tucker made her first gift, which created a Summer Research Fellowship in 2014, because she felt it was an opportunity to directly impact a student and her area of research.
Hear about Tucker's connection to the student she funded in this short video.
Burnet Tucker: Paying it forward from Rachell Underhill on Vimeo.
Becoming a donor was not only a way for Tucker to connect to the future of graduate students, but also to her own family's Carolina roots. Tucker named the fellowship after her mother-in-law, a 1950 graduate of UNC-Chapel Hill.
Debu Chatterjee
Debu Chatterjee is a UNC-Chapel Hill alumnus and founder and CEO of DxContinuum, a start-up company based in California.
Chatterjee immigrated to Chapel Hill from India to pursue his master's degree in computer science. He said he gives to The Graduate School because he wants to give back to the place where he formed his roots as an American and where he received the education that would launch his career.
In addition, Chatterjee sees the Summer Research Fellowship as a way to double his impact. The Graduate School matches an individual contribution of $2,000, which means the student receives $4,000 for the summer. That funding, Chatterjee said, allows a student to graduate more quickly and enter the job market sooner than he or she would without Summer Research Fellowship support.
Hear Chatterjee's perspective on the value of graduate education in this short video.
Suzanne Buchta
Suzanne Buchta remembers enjoying her work as a teaching assistant during the summers as a graduate student at Carolina. But at the same time, Buchta said having a job can be a distraction while trying to finish a graduate degree. That's why she said the Summer Research Fellowship is an important source of income for graduate students.
"If you're really passionate about your research, and you want to spend 24-7 on it, and then you have to teach a class, prepare your lectures, grade exams, etcetera – that will detract from the time you can spend on your research."
After graduating, Buchta went on to become Managing Director of Debt Capital Markets at Bank of America Merrill Lynch. In 2014, she co-authored a white paper that set the market standard for transparency in the sale of green bonds, or bonds issued by companies for investment in environmental projects.
Buchta said one reason she gives to The Graduate School is because she feels she owes something to the place that helped her launch her success.
"I was just very thankful to have the opportunity to complete a graduate degree, and I think having that graduate degree helped me land my job," Buchta said. "And the income I'm able to earn from that is in part due to my time here at Carolina."
Buchta also said she believes her gift – which includes a Summer Research Fellowship she created in 2013 – is helping to add value to the economy and fund Carolina students who are starting businesses and actively seeking solutions for major global issues.
"We are facing a lot of not just national problems, but global problems," Buchta said. "And if we are going to tackle those, it's going to be the graduate students who come up with the ideas about how to do it."
'His service to others continues'
Dozens of UNC-Chapel Hill alumni, faculty and friends of graduate education gathered at the Carolina Inn in mid-November to honor Harold and Holly Glass, steadfast supporters of graduate education at Carolina. The Glasses, of Philadelphia, established a three-year term professorship for a faculty member and a corresponding fellowship for the graduate student the professor selects to mentor.
Alan Nelson, a faculty member in the University's philosophy department since 2006, is the inaugural Harold J. Glass USAF Faculty Mentor/Graduate Fellow Distinguished Term Professor. Nelson selected doctoral student Krasimira Filcheva to receive the professorship's first graduate fellowship.
"As a part of his professorship, Dr. Nelson will provide important insights into how Carolina can make this faculty mentor/graduate student relationship even stronger," said Executive Vice Chancellor and Provost James W. Dean Jr. "What an opportunity this new professorship provides for our University community to learn – and to share our leadership in faculty mentorship within the national higher education community."
Graduate School Dean Steve Matson presented a framed certificate to Nelson and a bouquet of flowers to Filcheva. Near the conclusion of the program, Matson presented the Glasses with a commemorative hand-crafted captain's chair featuring the University seal on the front and a plaque on the back recognizing the extraordinary professorship the Glasses have created within The Graduate School.
The professorship is named in memory of Harold E. Glass' father. Harold J. Glass (1914-1980) served heroically in the U.S. Army Air Corps during World War II. In announcing the professorship in October, Harold E. Glass said, "My father experienced extraordinary events in a lifetime of service to his country, family, comrades and friends. He was never one to draw attention to himself or his experiences. So the opportunity for my wife and me to honor him with this professorship means much to the two of us and to others in his family. With this professorship, his service to others continues."
A Carolina doctoral graduate in political science, Harold E. Glass is a research professor of health policy at the University of the Sciences in Philadelphia. He also serves on the University's Board of Visitors and The Graduate School's Graduate Education Advancement Board.
Championing the Professional Science Master's Program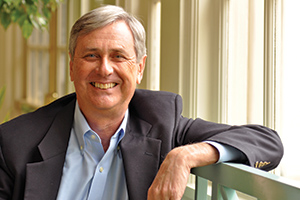 David Lewis, Ph.D.
Shortly after retiring, David Lewis, Ph.D., received a call from Steve Matson, Dean of the UNC-Chapel Hill Graduate School, asking if he would be willing to help lead the charge of starting a potential new degree program, the Professional Science Master's program, or PSM, at Carolina. There are about 200 such programs nationwide, with a number of the 16 University of North Carolina campuses in the process of developing and implementing PSM programs under the UNC PSM Initiative. Lewis' answer was a resounding "yes."
"The Professional Science Master's program is an interdisciplinary graduate degree program meant to prepare scientists for careers outside academia," Lewis says. "It could be industry, it could be nonprofit—the idea is to give advanced knowledge of natural and mathematical sciences, plus exposure to business concepts. It would include business courses, internships, and would develop and refine communication and presentation skills. The focus is on preparing students for a career in today's challenging times."
PSM is a relatively new concept, Lewis says, and the ways in which the programs are structured vary widely nationwide, based on the strengths of the individual institutions. "Right now the first thing we are looking at is biology, because there is so much biotechnology industry with potential internship and employment opportunities in the Triangle. In general, we are looking at programs that match up well with opportunities in the state along with strong departments at Chapel Hill."
Originally from Binghamton, N.Y., Lewis earned his doctorate in chemistry from UNC-Chapel Hill in 1973. He spent a year at Columbia University as a Postdoctoral Fellow, then evaluated his academic and industrial opportunities and chose a career in industry that took him from chemical production companies in Cleveland and New Jersey and eventually to Cary in 1988 with Lord Corp.
Ten years ago he became a very active member of the Graduate Education Advancement Board (GEAB), serving as chairman during the years that the Impact Awards were created and the Graduate Student Center was started.
In January 2010, Lewis retired as Senior Vice President of Strategic Planning and Services of Lord Corp. "We had a great team that successfully grew our global business based on innovation, with interdisciplinary teams from technology, marketing, manufacturing and sales," Lewis says of his years with the corporation. "Putting businesses together with full product lines and an active new product portfolio was very satisfying. It was something I enjoyed, and it worked out pretty well."
Lewis sees great value in interdisciplinary education. "In my own career, I encountered many scientists who didn't get exposed to the industrial side of things on campus. It's still not the norm—it tends to be silent at the graduate level. But in some fellows programs at UNC, you can see a wide range of views and interactions across departments."
When it's time to relax, Lewis enjoys the beach, golf and skiing. He and his wife, married 41 years, live in Cary and have a son in Asheville and a daughter in New York City. "I still stay a bit active on the business side by staying in contact with a number of private equity firms regarding opportunities, primarily in chemicals and aerospace," he says.
"We hear repeatedly from business and government that our success as a country is based on preparing students to out-innovate competitors. The Professional Science Master's program would give students a real leg up as they advance in their careers. It has enough value for them and prospective employers that UNC should be successful. There already are champions out there who see value in it."
Tom Sox
Broad Knowledge Prepares for the Unknown Path
Stepping back to look at the bigger picture, Tom Sox sees that the breadth of his graduate school education was more valuable than the depth. The tools and skills he acquired at the University of North Carolina at Chapel Hill prepared Sox for the variety of jobs he would take throughout his career, ultimately giving him the perfect background to serve on the Graduate Education Advancement Board at UNC-Chapel Hill.
"I have opinions of what graduate education should be and what it should achieve," he says. "I look forward to helping the Board's efforts to better graduate education."
Sox attended UNC-Chapel Hill as a doctoral student two years after graduating from Duke University with a Zoology degree.
He had always planned to go on to graduate education, but Sox graduated in the middle of the Vietnam War. With the pressure of a 1A draft status looming over his head, he didn't anticipate being in America very long after graduation. Luckily, the draft board didn't reach his number that year, and so he was able to pursue his dream of a doctorate in Microbiology at UNC-Chapel Hill.
During the first two years of his program, Sox worked two days a week at Duke Hospital to make ends meet. He would spend Monday through Friday in school at Chapel Hill, and then drive to Durham to pick up a double shift from 4 p.m. Friday through 8 a.m. Saturday. Fortunately, after those first years his department was able to fund him with a grant, allowing Sox more time to work on his research.
Since earning his PhD, Sox has worked in medicine, technology and even law. After graduation he worked for Procter & Gamble in Cincinnati for 12 years, doing research on oral microbiology and periodontal disease. At one point during his time at Procter & Gamble, he held the patent for Pepto-Bismol liquid. "It's my little claim to fame," he says.
From his work in Cincinnati, Sox grew interested in patent work, a field he had never imagined himself going into. He decided to go to night law school for four years to learn more about patent law.
"It was a very regimented lifestyle," he says. Every morning Sox woke up at 7:30, prepared and packed a dinner to eat on his drive from work to the law school, and then sat through class until 9 p.m. "UNC had prepared me for the hard work. After a PhD program, I felt like I could handle anything."
After graduating from the law school at Temple University with his juris doctorate, Sox lived the life of a patent attorney for a year before deciding it wasn't the career for him.
Sox enjoyed letting his career path make twists and turns as it went. "In grad school you may foresee a specific path ahead but I think once you get out it's about taking advantage of the opportunities as they come along and following your interests as you change," he says.
Though Sox worked hard on his dissertation, he says it's the "broader problem solving skills" that proved most valuable over time. After spending 12 years in the field of his doctorate studies, Sox has spent the 20 years since in other fields—mainly patent applications and technology.
Looking back on his time spent at UNC-Chapel Hill, Sox has a different perspective than when he was a student here. He has come to recognize that a doctorate in one subject can lead to a career in many different fields, and that the skills learned in graduate education are more important than specific facts.
"I can tell you in hindsight now why I think graduate education is important. When I was in my mid-20s, I don't think I could even fully conceptualize it. I was very much just accumulating knowledge and I wanted to be a scientist and all that. I wasn't really looking at the big picture of where I was going."
Sox appreciates the village it takes to bring a doctoral student to his or her graduation, and how important it is for the professors and mentors to balance control and autonomy of the student. He also has a clearer image now of why graduate education is important, and appreciates the knowledge he gained at Carolina more and more each day.
Peace Sullivan
Curiosity Propels Lifelong Learning
Peace Sullivan lives by the adage "You never stop learning." She says she has always had a strong curiosity for learning, which led her to pursue careers in journalism as well as psychoanalysis. And now by serving as the Chairperson of the Graduate Education Advancement Board at the University of North Carolina at Chapel Hill, Sullivan supports graduate students on their own personal quests for knowledge.
Sullivan graduated from Carolina in 1969 with a Bachelor's degree in English. She recalls, "As an undergrad I had a very broad education and was exposed to many different theories about learning how to think. Carolina is a fabulous university and it opened my eyes to a much broader vision of what the world was like."
After graduation, she moved to New York City to work as a journalist for the features department of the Associated Press. Sullivan said that this work experience offered her incredibly interesting and valuable opportunities. "I worked there during the late 1960s, and a lot of things were changing at the time. You had to be willing to explore and to listen, and not be afraid to ask questions. I also got to interview a lot of celebrities, such as Joanne Woodward and Robert Redford, which was exciting."
Her journalism career also led her to freelance work in Europe and South America. However, after getting married and starting a family she decided to pursue a career that would keep her closer to home. "I had two young children, and it was not very easy to continue a career in journalism at that time. So I started to think what else I could do,and decided to get a Master of Social Work degree, which enabled me to become a psychotherapist."
After completing a Master of Social Work degree from Fordham University, Sullivan studied at a psychoanalytic institute for four years to become a psychoanalyst. For 15 years, she worked as a psychoanalyst at a private practice in New York City. She believes that this career change was not as drastic as it seems. "I discovered that one of the qualities that the professions of journalism and psychoanalysis share is curiosity, whether it's curiosity about an individual or curiosity about the greater world."
She says she wants to give other students the opportunity to explore their own curiosity. "More and more we need knowledge in our society, and most careers require the greater knowledge that comes with having a graduate degree as well as the skills to be able to do research your entire life."
"I think that the best part of continuing an education is that it frees you up to know how very much there is that we don't know, so we always have a chance to learn."
Sullivan also relates to the struggles that many graduate students face today. "Having gone to graduate school myself, I know that life can be tough for graduate students." She says that this personal experience, as well as her daughter's current enrollment in the doctoral program in history at New York University, inspired her to support graduate education at UNC-Chapel Hill. She explains,"I think that our graduate students need all the help they can get. Because of this, I started a fund that students can use for unexpected expenses."
She hopes that others will continue to support graduate education so that many more students can benefit from the knowledge and skills that are acquired while pursuing an advanced degree. She adds, "I think that the best part of continuing an education is that it frees you up to know how very much there is that we don't know, so we always have a chance to learn."
Fran Hoch
Love of Languages Translates into a Career of Service
Fran Hoch's love of language started as a child, and has influenced her career choices. When she was in the first grade, she lived in Japan for a year while her father was stationed in the military. She recalls, "That experience opened my eyes to differences in the world and sparked my interest in language. Japanese wasn't an option at my high school, so I took Spanish courses, and my interest in language continued to grow." She continued this love of language by majoring in Spanish while she attended Muhlenberg College in Pennsylvania.
Still wanting more, Hoch decided to pursue a graduate education in Romance Languages at the University of North Carolina at Chapel Hill. In 1967, Hoch began working on her master's degree and completed a doctorate in 1976. Hoch was inspired to get a graduate degree immediately after finishing her undergraduate work because she saw the difficulties that many women had balancing their family responsibilities with their coursework. She adds, "I saw the burden that women with families had when going back to higher education. I originally only planned to get a master's, but decided to get a PhD after receiving a fellowship. I realized that if I didn't take advantage of the opportunity to pursue a graduate education then, I might never get the chance again."
She earned her master's degree in 1969, and immediately began working on her doctorate. Hoch finished her PhD coursework in 1970, and then began teaching foreign language courses at Greensboro College. While teaching, she continued to write her dissertation, which she completed in 1976.
Hoch was funded during her graduate education by the National Defense Education Act, a federal program that provided fellowships for graduate students in the fields of math, science and foreign languages. She explains, "There were 50 of these fellowships at the time, which covered all tuition and fees and also included a stipend of $2,000 a year. I didn't have to teach or anything, so the funding enabled me to finish my coursework quickly."
Her dissertation focus was 20th-century Spanish literature, particularly the work of author Ramón Gómez de la Serna. Although she never used her dissertation in her career, she believes her graduate work affected her professional work greatly. She explains, "I don't feel that my graduate education was wasted because the skills I learned in the PhD program were things that I used all the time in my career, like being able to do research and write quickly. I also learned how to synthesize complicated information into concepts that people could understand. So I don't think that's a waste of time, even though no one asks me about Ramón Gómez de la Serna."
After completing her degree, Hoch taught at High Point University for seven years. In 1983, she began working for the North Carolina Department of Public Instruction as a foreign language consultant. In this position she was responsible for training teachers in foreign language instruction and working with schools in the entire state. Hoch eventually became a section chief at the organization, where she worked for 24 years.
"I don't feel that my graduate education was wasted because the skills I learned in the PhD program were things that I used all the time in my career."
"I got to do things professionally at the Department of Public Instruction that I wouldn't have had the opportunity to do if I continued teaching. For instance, I got to see advances in education like elementary foreign language classes," she says. In fact, in 1987 Hoch helped North Carolina become the first state in the nation to require foreign language classes for every child enrolled in kindergarten through fifth grade.
She details other accomplishments during her tenure at the Department of Public Instruction. "I helped schools and communities in North Carolina adapt to the influx of immigrant students in the school system. I was also involved in a foreign exchange program for teachers at the University of Salamanca in Spain. I got to do a lot of different things in those years, which made for a very exciting professional career."
Although Hoch retired from the Department of Public Instruction in 2007, she still occasionally works as a consultant for the organization. In her spare time, she volunteers at the North Carolina Museum of History as well as community service groups in the Raleigh area. She also continues to travel to unfamiliar places around the world. She says, "I never lost my desire to travel. In the past year, my husband and I visited Russia and even Antarctica."
As a member and Chair-elect of the Graduate Education Advancement Board, Hoch says she supports The Graduate School at UNC-Chapel Hill as a way to help other students have the opportunities that a graduate education can offer. She adds, "Professionally, graduate education moves you to another level because it allows you to concentrate on an area of interest and explore it in depth. It allows you to do something that's never been done before and contribute to a body of knowledge. When you start graduate school you think you're on a particular path and you don't necessarily see the bigger picture. But being open to opportunities and not being afraid to do something unfamiliar can lead to all kinds of new possibilities."
Beth Whitaker
Bringing Giving Full Circle
Beth Whitaker ('99) has seen first hand the impact of private giving to the Graduate School. In her final year of study, she was the recipient of the Lovick P. Corn Dissertation Fellowship.
"The fellowship made it possible for me to write my dissertation in a single academic year without having to serve as a graduate assistant or take out additional loans," she said. And the inclusion of Dissertation Fellowship recipients into the broader Royster Society of Fellows meant her Fellowship had other benefits too.
"The Society provided a wonderful opportunity to learn about research projects in a wide range of disciplines, which gave me a new perspective about my own project," Whitaker said. "I remember learning about women art collectors in 16th century England, auto-immune diseases, and gun safety as a public health issue, among other topics."
Today Whitaker is paying forward the generosity she received as a graduate student. She is a regular donor to the Graduate School and serves on Graduate Education Advancement Board.
Her continued loyalty is a testament to her graduate experience at Carolina.
"I wouldn't have my current job as an associate professor at UNC Charlotte, of course, if not for the doctorate that I earned at Carolina," Whitaker said, "and all of those years in Chapel Hill also showed me that North Carolina is a wonderful place to live and work, and I have now made my home here. It helps that I can watch almost all Carolina basketball games on television!"
Michael Harpold (left)
Beyond Mastery of the Material
For Graduate School donor Michael Harpold, deciding where to get his doctoral degree in Chemistry was easy. "The solid reputation of the University and the Chemistry Department was fundamental," Harpold recalls.
But there was more. While working his way through college as a chemistry laboratory technician at Union Carbide's R&D Center, he connected with chemists from some of the best universities in the U.S. and Europe. These interactions convinced him that Carolina's graduate program in chemistry would provide him more than mere mastery of the subject.
Now retired after a long, productive career as an industrial chemist, Mike Harpold is giving back to the University he came to love. A member of the Graduate Education Advancement Board (GEAB) since 2001, he advocated for graduate students' support and helped to create the Impact Award that recognizes UNC Chapel Hill graduate students who conduct research of significance to North Carolina.
Impact Awards provide a cash prize to about a dozen graduate students each year. They are selected based on the excellence of their research and their contribution to the well being of the citizens of our state. GEAB members fund these awards with their personal gifts to the Graduate School each year.
"I had felt for some time that the role graduate education plays in preparing students for leadership in the complex global economy was not fully appreciated. Graduate work requires not only depth of knowledge but also broad exposure to a variety of ideas and perspectives, so that the mature student can both master the material and communicate its relevance," Harpold said. He believes that sharing information about graduate students' research that delivers direct benefits to the citizens of the state is one way to begin educating the public about this broader role.
"A large university provides the requisite atmosphere where diverse, engaged students can come together to discuss their work and advance this goal. I believe that the way in which Impact Award winners are selected and publicized accomplishes this critical mixing of people and research topics. That benefits the students, the University and the State. And that's a good thing."
Michael Green & Theda Perdue
Professors Endow Graduate Student Fellowship
Two scholars of Native American studies have taken dedication to graduate students to a whole new level.
History professor Theda Perdue and her husband, American studies professor Michael Green, both of whom are national experts within their fields, announced in December 2005 their decision to bequeath an endowment to the Graduate School.
The endowment will establish the Perdue-Green Dissertation Fellowship for American Indian Scholars and Scholarship.
"Directing dissertations to successful completion has brought enormous pleasure as well as intellectual satisfaction to both of us," Perdue said, "so we decided that we would like to provide funding to support students completing their dissertations."
In addition, Perdue and Green have provided bequests for a lecture series on American Indians and support for an academic program in American Indian Studies.
"Universities have ignored Indian Studies for too long, and we do not have nearly enough American Indian graduate students preparing to become university professors," Perdue added. "We hope this bequest will help address both needs on this campus."
Perdue and Green said they provided the gift to honor the Indian people and the students with whom they've worked throughout their careers.
Laurie G. Sanford (left)
Personal Service Supporters give time, talent and treasure
For many individuals, charitable giving can be a difficult process. Many worthwhile causes need the financial support of generous donors and the time of willing volunteers. The decision to support an organization with one's time, talent and treasure is often a deeply personal choice.
For Laurie G. Sanford, the decision to support graduate education at the University of North Carolina at Chapel Hill was influenced by her own experiences as a graduate student—an experience that created a lifelong commitment to Carolina and graduate education. Sanford is now a member of the Graduate Education Advancement Board, a group of University alumni and friends who work tirelessly to improve and promote graduate education at Carolina. She has seen first hand the positive experience of graduate education.
"My oldest child has received a master's degree and plans to pursue a doctorate," says Sanford. "My youngest child is considering returning to graduate school, as well. So clearly my enthusiasm and support for graduate education begins at home."
Sanford's enthusiasm resulted in her being appointed co-chair of the board's Development Committee. It is an experience that has only strengthened her dedication to graduate education at Carolina.
"When I see the impact graduate programs have on our students, community and world, I know that this is a worthwhile commitment on my part," says Sanford.
The generosity and dedication of board members such as Sanford has resulted in increased funding for graduate students, as well as new programs to support graduate life and to recognize the importance of graduate education at the University.