2010 Doctoral Hooding Ceremony
Saturday, May 8, 2010 at 10 a.m.
Dean E. Smith Center
The UNC Graduate School held the 2010 Doctoral Hooding Ceremony at 10 a.m. Saturday, May 8 in the Dean E. Smith Center. Each graduate came to the stage to receive their academic graduation hood conferred by their advisors or dissertation committee chairs and the Provost.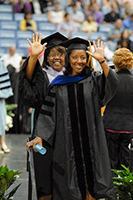 Hooding Ceremony Speaker
The 2010 Hooding Ceremony speaker was Dr. Barbara Gitenstein
Dr. Gitenstein delivered the following address Saturday, May 8 during the 2010 Doctoral Hooding Ceremony at the University of North Carolina at Chapel Hill.
It is an honor to have been asked to be part of the celebration of your achievements as we mark your receipt of a doctorate from one of the most prestigious institutions of higher education in the world. I say that not just because I am exceptionally proud of my Ph.D. in English and American Literature from Chapel Hill, but because it is true!
You will be leaving this little piece of heaven at a particularly challenging time for our nation and the world. It has become a cliché, but we are either just exiting or are still in the midst of the greatest economic downturn since the 1930s and the Great Depression. Whatever your future plans—in academe, in education, in governmental work, in business, in scientific research, or in other endeavors—you have special advantages that others will not have.
It is a truism that while there are challenges in the world of work today, the higher your educational attainment, the more likely your success in getting and retaining work—and not just any work but fulfilling work. For those of us who can boast a doctorate from an institution like the University of North Carolina at Chapel Hill, that advantage is even greater.
I, for one, am gratified that I am able to go to work each day, excited and challenged by things that really matter to me. As a president of a public institution of higher education, I am particularly aware that there are attacks on things I hold dear, and while I find that disappointing, I am glad that I can actually do something to change those opinions. For instance, at the very time when it is clear that the best path to economic health for an individual and for a community is investment in higher educational experiences, states across the nation have felt forced by the economic stressors to disinvest in higher education. I feel that a major portion of my job is to help redirect public priorities in support of higher education—to help explain to the political leadership in New Jersey that the loss in opportunity for the state's citizens is too large a price to pay for over a decade of state cuts to public higher education. While I have never been as successful in this advocacy as I would have hoped, I do believe that there are leaders in the state with whom my message is resonating. And that is a wonderfully gratifying prospect. Whatever your career choice, you will have similar opportunities to change the future and to make the world a better place. Embrace those opportunities. Your career may not be built on such advocacy, but your life will be.
My responsibility in advocating for the priority of investment in public higher education is obvious. But I would argue that you also have a responsibility in that arena, whether your career is in academe or not. My argument for such advocacy is only partially required because some of us are or will be employed at a university or college. We also should argue for sustaining public higher education because we genuinely believe that public higher education is not merely a private good (though it is), it is a public good. Surely this argument pertains to private higher education as well, but not in the same foundational way.
Better educated individuals are not merely more likely to be employed, they are likely to be fully employed and they are likely to be employed in work that makes a difference in their lives and the lives of others; they are healthier and they are more civic minded than less educated individuals. As a consequence, the more highly educated tend to be more content with their lives, have higher personal income, bring in more income to their communities and their state coffers, while on the other hand they cost the state and federal government less in social services than those who are less educated.
Just as completion of secondary education became the foundation for the economic and social development of the United States in the 20th century, there is little doubt that education through at least the baccalaureate degree is the foundation for the economic and social development of the United States in the 21st century.
All of us in this room have clearly benefitted from the highest quality public higher education, and I would submit that we should ensure this experience for others.
This advocacy can be manifest in any number of ways. Surely we speak as citizens of the country and our communities in how we vote—which candidates, public budgets and initiatives we support—and in our public expressions of the value of accessible quality education. That public expression can be in the form of letters of advocacy to legislators, as well as participation in written and oral forums on the matter. And you have to expect that a president of any college or university would remind its alumnae that giving back to your alma mater should become a habit. Giving back can be in the form of participation in advisory groups in support of your department, school or university or in your mentorship and recommendation of students who follow you in your program. There will be a point in your future success when you will want to "give back" financially to institutions, organizations, causes, and people that made a difference in your life. When that point comes, I must believe that one of your first choices will be UNC-Chapel Hill. It was certainly one of mine.
When I think back about my years at Chapel Hill, I know that the support and mentorship that I received from C. Hugh Holman has stood me in good stead through a career that took me all over the country and from the classroom to the administrative office. It was not just the specifics of the discipline that I learned from Hugh. His commitment to excellence and to the greater good inspired me to remain in higher education. He was a great and good man and I only hope that, were he alive today, he would be proud of his student.
You also have learned from great mentors; just as Professor Holman taught me more than the details of the 19th century American romance, so you have learned from your mentors how to be great citizens of your discipline, of your community, and of the world at large.
I have found it useful during my career to remember those who taught and inspired me and to keep that inspiration and their confidence in me as lodestars for all that I do.
As Stephen Spender wrote:
. . . . Think continually of those who were truly great,
. . . . Whose lovely ambition
Was that their lips, still touched with fire
Should tell of the spirit clothed from head to foot in song, . . .
Born of the sun they traveled a short while toward the sun,
And left the vivid air signed with their honour.

The greatest honor to your mentors is to lead the exemplary lives that they did and to pass that commitment to excellence and a project larger than yourselves, to those who follow you.
Thank you and best wishes in your future success.
R. Barbara Gitenstein, President of The College of New Jersey, has over 30 years of experience as a college professor and administrator in both the public and private sectors. She came to The College of New Jersey from Drake University where she served as provost and executive vice President and provost. She is the first woman President of The College of New Jersey in its 154-year history.
Dr. Gitenstein began her career in higher education as an assistant professor of English at Central Missouri State University. She held various faculty posts including professor of English and chair of the English department before being appointed associate provost at SUNY-Oswego. Dr. Gitenstein also held the post of acting assistant provost for academic programs with the SUNY system while on leave from SUNY-Oswego. In 1992, Dr. Gitenstein was appointed to the position of provost at Drake University.
Faculty Award for Excellence in Doctoral Mentoring
The 2010 Faculty Award for Excellence in Doctoral Mentoring was presented to Dr. Gary Marchionini. The following are the comments made by Graduate School Dean Steve Matson when presenting the award.
To honor this extraordinary commitment by faculty, the Graduate School has established an annual Faculty Award for Excellence in Doctoral Mentoring.
We are so very pleased with the number of nominations from doctoral students who felt their faculty mentors deserved this honor. Reading the nominations was an affirmation of the dedication of our faculty to graduate education. There is no way I can adequately express my appreciation to the faculty who mentor our graduate students. So I will simply say thank you for all you do for graduate education on this campus.
Clearly, selecting a final recipient for the award was difficult. The winner of this year's Award is Dr. Gary Marchionini, Professor and Dean of the School of Information and Library Science. As Dr. Marchionini makes his way to the stage, I want to share with you why he was selected for this award and I will quote from his award nomination.
"Dr. Marchionini has served on more dissertation committees than any other current SILS faculty member. None of his students have ever dropped out of the program, changed advisors, or was in danger of running afoul of the graduation time limit. His students are well published, very visible at conferences, successful at obtaining external funding, and very competitive on the job market. The successes of his students enhance the standing not only of SILS but of UNC Chapel Hill. Being in the interdisciplinary field of information library science, he has perfected the ability to work across discipline with students having varied research interests and career goals ensuring their unique development into stellar scholars. Dr. Marchionini believes strongly in the impact of mentoring on a profession and a discipline. He believes that strong mentoring creates future leaders and scholars and can change the trajectory of a field. Professor Marchionini is a shining exemplar for SILS students and faculty, and the university at large."
Please join me in congratulating Dr. Gary Marchionini on receiving the 2010 Faculty Award for Excellence in Doctoral Mentoring.