2009 Impact Award Winners
The Graduate School is pleased to announce the 2009 winners of the Graduate Education Advancement Board's Impact Awards which honor graduate students whose research has a direct impact on the state of North Carolina. (More information about the Impact Awards.) The breadth of these students' work reaches from one end of North Carolina to the other. These research projects have had a positive impact on the citizens of North Carolina, and beyond, through new knowledge and insights gained and through the educational, economic, health, social, cultural, and environmental effects of these research endeavors. Awards were given in three categories: Economic Development/Environmental, Social Service, and Health.
Download the 2009 Impact Award Winners Brochure

(1.3 MB)
Impact Award Winners: Economic Development/Environmental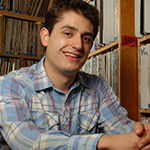 Professor Emeritus Peter Filene, Joshua's dissertation advisor, said that his project will significantly add to our understanding of recent American consumer culture, and will make a particular addition to North Carolinians' perspective on their past.
Joshua Clark Davis, History
The Selling of Soul: African American Consumers, Music Businesses, and Community Empowerment in 1970s North Carolina
While much scholarship on black North Carolinians in the 1960s and 1970s concentrates on political activism and the Civil Rights movement, much less has examined the texture and character of North Carolinians' day-to-day interactions with black-owned businesses at the dawn of the post-Civil Rights era. The vibrant tradition of its black-owned and black-oriented music businesses remains one of the least known aspects of African American history in the state.
Through dozens of oral histories of former radio deejays and record store owners, as well as black newspapers and radio trade publications, doctoral student Joshua Davis explored how young African Americans' relationship to local, black-owned record stores and radio stations illuminated their struggle for public space and economic power in North Carolina in the post Civil Rights 1970s.
In examining how African American businesses and young adult black music consumers created an alternative public culture in North Carolina during the 1970s, Joshua's scholarship pushes the scholarship on black North Carolinians in a new direction.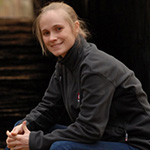 Gregory Characklis, Leigh-Anne's dissertation advisor, said she has conducted superb research on microbial contamination in surface waters that has resulted in the development of new knowledge that has the potential to directly affect environmental policymaking.
Leigh-Anne Krometis, Environmental Sciences and Engineering
Microbial Partitioning in Urban Stormwaters
In North Carolina, a significant number of streams and rivers have been designated as having impaired water quality. The majority of identified impairments are due to elevated concentrations of pathogen indicator organisms (fecal coliform, E. coli). Through field studies and experiments, doctoral student Leigh-Anne Krometis studied microbial contamination in the watershed of Northeast Creek, an impaired stream that is a tributary of Jordan Lake.
Leigh-Anne's research focused on the potential transport of microbial contaminants to surface waters and coastal waters as a result of stormwater runoff. Her results indicate that efforts to restore North Carolina watersheds must emphasize ways to prevent stormwater contamination, as flows from a single storm can transport years' worth of dry weather microbial loadings to receiving waters. Further, they suggest that urban areas cannot reasonably rely solely on pond detention systems as currently implemented to provide the necessary microbial reductions.
Rapid population growth in urbanizing areas results in higher levels of stormwater contamination and rising needs for clean water. Findings from Leigh-Anne's study may be applied to many North Carolina watersheds struggling to meet microbial water quality goals to protect public health.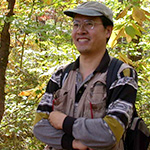 Dissertation advisor Robert K. Peet said, "Xi has greatly increased our understanding of the important role that severe wind events play in Southeastern forests and of management strategies that might be used to anticipate these events or to be employed after they have occurred."
Weimin Xi, Biology
Forest Response to Catastrophic Winds in the North Carolina Piedmont
Hurricanes and tornadoes have profound impacts on North Carolina forests. To better understand the role of these severe wind events in shaping forest structure and maintaining tree diversity in the Piedmont, doctoral student Weimin Xi studied the impacts of three hurricanes (Fran in 1996, Hugo in 1989, and Hazel in 1954) and a 1988 tornado on North Carolina forests.
Dr. Xi's project provided an understanding of how large disturbances such as hurricanes affect forests, which trees tend to be damaged or killed, and how the forest responds to these events in the short and long term. He used several large datasets to assess for the first time a number of major impacts of wind events. His results indicated that the Piedmont forests exhibit remarkable resilience to wind damage, and that that wind-induced tree damage is largely dependent on wind speed, the size and species of tree involved, and topographical conditions.
Dr. Xi's research may be used to inform forest managers, local governments, and commercial forestry operations about the most cost effective, technologically feasible ways for reducing wind damage and restoring forests. It has the potential to impact the state by leading to improved forest management strategies.
Impact Award Winners: Social Services/Policy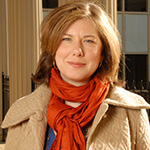 Professor Maureen Berner, Johanna's thesis advisor, said that Johanna's study raises major questions about relevance of policy guidelines in our justice system, subjectivity in local government decisionmaking, and the faith citizens have in a just justice system.
Johanna Foster, Public Administration
Striving for Equity in Criminal Justice: An Analysis in the Variability of Bail Bonds in the Tenth Judicial District of North Carolina
Inequality in the criminal justice system is a frequently examined area of concern, with historical emphasis placed on the role of race in sentencing. Yet little or conflicting research exists regarding disparities in the pretrial stage of the criminal justice system.
Graduate student Johanna Foster used statistical analysis to examine differences in bail bond amounts based on race, ethnicity, and sex for defendants in the Tenth Judicial District of Wake County. Her study found that African American defendants charged with Class 2 misdemeanor paid 24% higher bail than white defendants charged with the same offense. Johanna's study further found that the average bail amount for this class of offense exceeded the upper limit of the bond policy by 30%.
As a result of Johanna's work, which was noted in the News & Observer, the Wake County senior superior court judge changed the judicial district's policy, requiring magistrates to provide written justification for bail bond amounts that exceed the recommended guidelines. Her research has had an immediate impact on judicial policy in Wake County, and may lead to reconsideration of judicial policies throughout the state.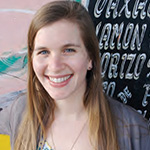 Professor Mai Nguyen, Lindsay's faculty advisor, stated, "Due to her passion and dedication to her research, Lindsay produced a high quality research report that has been disseminated and used by key groups interested in immigration issues in North Carolina."
Lindsay Haddix, City and Regional Planning
Immigration and Crime in North Carolina: Beyond the Rhetoric
Increasingly, North Carolina localities are blaming social ills, particularly crime, on a burgeoning undocumented immigrant population. Many North Carolina sheriff's offices have adopted or are considering adopting the 287g program, a program that allows local law enforcement to check immigration status, in the belief that the rise in undocumented immigration is a cause of increasing crime rates.
Graduate student Lindsay Haddix collected publicly available crime and population data in Alamance, Cabarrus, Gaston, Mecklenburg and Wake counties to statistically test these assertions. Her results suggested that there is no statistically significant relationship between immigration and crime in North Carolina counties. In fact, they showed that as the number of undocumented immigrants living in North Carolina increased between 1997 and 2006, per capita violent and property crimes both decreased throughout the state.
Lindsay's research has been disseminated and used by key groups interested in immigration issues in North Carolina, such as El Pueblo, the NC ACLU, and the NC Justice Center. It has the potential to impact policy makers considering the adoption of the 287g program in their local jurisdictions.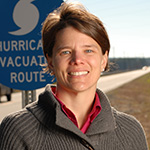 Jay S. Kaufman, Jennifer's dissertation advisor, stated, "A major thrust of Ms. Horney's doctoral dissertation is on improving evacuation rates in eastern North Carolina during hurricanes, which has direct relevance for potential hurricane-associated morbidity and mortality."
Jennifer Horney, Epidemiology
Hurricane Evacuation Failure: The Role of Social Cohesion, Social Capital and Social Control
During disasters and emergencies, individuals often act together to offer aid and assistance, sharing resources to ensure the safety of all community members. However, in the case of hurricane evacuation, normally positive factors of community strength may paradoxically cause people to avoid following evacuation orders issued by authorities. Peer pressure; obligations to family, friends and community organizations; and membership in social groups that have weathered previous storms play a role in failure to evacuate.
Jennifer Horney, a doctoral student in Epidemiology, collected 570 interviews in three northeastern North Carolina counties that were adversely affected by Hurricane Isabel. Her results indicated that social factors such as high levels of social cohesion, volunteerism and church attendance that contribute to community bonding lead some NC residents to fail to evacuate during hurricanes.
Since 1980, hurricane damage has cost the state more than $10 billion, and 118 North Carolinians have lost their lives. Jennifer's study suggests that targeted interventions through trusted groups such as churches, civic groups and volunteer fire departments could increase hurricane evacuation rates among these groups and have broad impact for improving public health and safety in the state.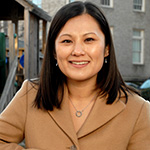 Dissertation advisor Donna Gilleskie said that Mai's topic, the relationship of childhood obesity to maternal employment and child care, is of importance to North Carolina families and increasingly becoming a concern for families across the country and in other nations.
Mai N. Hubbard, Economics
The Effect of Mothers' Employment and Child Care Decisions on the Body Mass Status of Young Children
Obesity rates have increased dramatically in the United States since the late 1970s. In North Carolina, childhood obesity rates are ranked fifth highest in the nation. During the same time period, there has been an upward trend in women's labor force participation and in the use of child care. Doctoral student Mai N. Hubbard studied the impact of maternal employment and before- or after-school child care on the risk of obesity in elementary school-age children.
Mai's results indicate that a mother's working full time decreases her child's obesity risk, if before- or after-school child care is not used. She also showed that if the mother works full time and the child receives child care, the child's obesity risk increases.
The modeling and methods Mai used in her study in order to identify a causal relationship of work and child care use on obesity provides a significant advance on previous literature. Her study may encourage child care centers and providers in North Carolina to be more aware of the need for physical activity and good nutrition, which may in turn lead to decreases in obesity.
Impact Award Winners: Health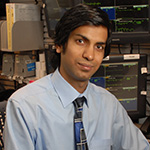 Faculty advisor Gerardo Heiss said that Dr. Agarwal identified a strong predictive role of heart rhythm disturbances for stroke and cardiac deaths, and that it is rare for an emerging scientist to conduct work that yields findings of such far-reaching potential impact.
Sunil K. Agarwal, MD, Epidemiology
Ventricular Premature Complexes: A Possible Harbinger of Stroke and Sudden Cardiac Death
Heart disease and stroke are prominent causes of death in North Carolina. A large proportion of cardiac deaths occur among the middle-aged, are sudden in nature and occur out of the hospital. Many of these adverse events occur in individuals who do not have or are in good control of traditional risk factors such as smoking, diabetes and hypertension.
Using data from the NC cohort of the Atherosclerosis Risk in Communities study funded by the National Institute of Health, doctoral student Sunil K. Agarwal, MD, found a strong relationship between heart rhythm disturbances known as premature ventricular complexes, and future stroke and cardiac death. He found that these associations are stronger among individuals without traditional risk factors, a finding that could help in risk stratification and improved health management among individuals in the community.
Dr. Agarwal's research suggests that premature ventricular complexes may be a harbinger of arrhythmias leading to stroke and sudden cardiac deaths. Because these arrhythmias are easily and cost-effectively detected through routine electrocardiogram (ECG), the potential impact of his study is considerable for North Carolinians.
Beverly H. Koller, Dr. Allen's dissertation advisor, stated that his asthma study will allow us to identify mechanisms by which different receptors collaborate in the activation of smooth muscle in the inflamed lung.
Irving Coy Allen, Genetics and Molecular Biology
Utilizing Genetic Models to Unravel Airway Constriction Associated with Asthma
Asthma is a complex genetic disorder with environmental influences and is a significant health problem for the people of North Carolina. In the United States, it is now the most prevalent disease of early childhood and affects approximately 20 million people. Asthma is characterized by airway inflammation, mucus production and bronchoconstriction.
Doctoral student Coy Allen used genetically modified mice to assess the contribution of specific genetic factors associated with airway smooth muscle constriction and asthma. His work centered on the use of a potent inflammatory inducer of bronchoconstriction in order to better understand its underlying mechanism. The results of his research identify potentially new targets for future asthma therapies.
Approximately 619,000 individuals currently have asthma in North Carolina. Asthma morbidity is disproportionately higher among inner-city residents and continues to increase in all age groups, sexes, and across all racial and ethnic backgrounds. Dr. Allen's investigation of genetic susceptibility to asthma and the potential mechanisms by which specifically targeted genes play a role may help in the development of pharmaceuticals to improve the quality of life of North Carolinians with asthma.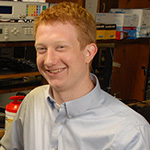 Professor Caterina Gallippi, Russell's dissertation advisor, said that his research to improve detection and diagnosis of atherosclerosis is important to advancing the health and well-being of North Carolinians and people all over the world.
Russell H. Behler, Biomedical Engineering
A Novel Use of Ultrasound for the Detection and Diagnosis of Atherosclerosis
More than 160,000 North Carolinians are hospitalized for cardiovascular disease every year. The majority of cardiovascular deaths result from consequences of atherosclerosis, which affects arterial blood vessels. This disease begins in adolescence and results in the gradual hardening and thickening of arterial walls over time due to the deposition of cholesterol in the arterial wall.
Doctoral student Russell Behler's research involved the novel use of a technique called Acoustic Radiation Force Impulse (ARFI) ultrasound to detect atherosclerotic plaques, which cause heart disease and stroke, so that these causes of death can be prevented through earlier treatment. Using a pig model of atherosclerosis, Russell's research examined variations in tissue not detectable by conventional imaging methods, such as vessel stiffness and elasticity.
By using an existing diagnostic technology, ultrasound, which is frequently used to measure the blockage of arterial vessels, and by modifying the way the machine conventionally sends and receives sound waves, Russell found that it is possible to obtain further useful information about arteries. The information may then lead to earlier and more accurate diagnoses for humans.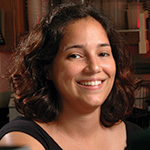 Dissertation advisor Frank C. Church said, "Jennifer's current studies and those planned are very important new information that will have important ramifications in understanding diet and in exploring a possible sinister relationship between adipocytes and breast cancer cells."
Jennifer Carter, Pathology and Laboratory Medicine
Breast Cancer and Obesity
Breast cancer affects many women every year in North Carolina, with an estimated 1,200 deaths in 2008. Obesity is a risk factor associated with increased risk of breast cancer. Doctoral student Jennifer Carter researched the role of diet, specifically omega-3 and omega-6 polyunsaturated fatty acids, and obesity in breast cancer progression.
Jennifer's project examined the effects of omega-6 fatty acids, portrayed in the literature as "bad," as compared to omega-3 fatty acids, portrayed as "good," on the ability of cells to move. Her results suggest that treatment with omega-6 fatty acids increases cell motility, indicating invasive behavior by tumor cells, while treatment with omega-3 fatty acids does not. She also studied the relationship between mature and immature fat cells and human breast tissue, finding that mature fat cells may create an environment that promotes tumor formation and metastasis.
As obesity increases in North Carolina, it is important to understand the role of fat in breast cancer progression. Jennifer's results imply that both dietary and body fats affect cell motility, suggesting a mechanism behind the increased risk of breast cancer in obese individuals.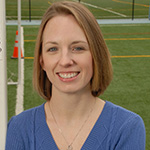 Faculty advisor Darin A. Padua stated, "Through Lindsay's research we may be able to further develop and refine an exercise intervention to prevent lower extremity injuries that can one day be instituted in schools and youth sports programs across the state of North Carolina."
Lindsay DiStefano, Human Movement Science
ACL Injury Prevention Program for Youth Soccer Players
Youth sports injuries, such as injuries to the anterior cruciate ligament (ACL), are common and can impact future physical activity, ultimately influencing obesity rates and overall public health. These injuries often occur while an athlete lands or changes direction, so injury prevention focuses on modifying these movements. They are also associated with short- and long-term disability, including decreased sports participation and osteoarthritis onset within 15 years.
Doctoral student Lindsay DiStefano worked with youth soccer players in Chapel Hill to test an ACL injury prevention program. She evaluated the players using a movement analysis tool. Her prevention program, which modified movements associated with injury, showed that all players decreased risky movements, with the high school age group improving more than the prehigh school group. Both sexes responded similarly.
Soccer is one of the most common youth sports in the state, and ACL injuries cost the state health care system more than 11 million dollars annually. Lindsay's research may impact the state by leading to development of effective exercise programs that can be easily implemented and may be used to reduce the risk of musculoskeletal injury.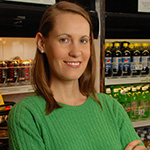 Professor Barry M. Popkin, Kiyah's dissertation advisor, said that Kiyah is conducting highly innovative and interdisciplinary obesity research that has already impacted health policy decisions both in North Carolina and in other states.
Kiyah Duffey, Nutrition
Examining the Causes and Consequences of Dietary Intake and Obesity
Dietary-related adverse health outcomes are growing problems nationwide, but are even more pronounced in North Carolina. Nearly 65% of NC adults were overweight or obese in 2007, with dramatic racial differences. Currently NC has the 5th highest national rate of childhood obesity, largely due to fast food, sugar sweetened beverage and high fructose corn syrup intake, excessive overall dietary intake, and inadequate activity. These health problems are estimated to cost NC $24.1 billion dollars. Kiyah Duffey, a doctoral student in Nutrition, conducted a series of studies to explore the causes and consequences of dietary patterns and obesity.
Kiyah's results show that beverage consumption contributes significantly to caloric intake, findings which have brought national attention to the need to decrease these liquid calories. Her results also show that fast food intake is positively associated with weight gain while restaurant consumption is not. Her findings have influenced state policies designed to provide point-of-purchase nutritional information at fast food restaurants.
Together these findings identify critical targets for effective public health efforts such as North Carolina's Eat Smart, Move More campaign, and may result in reducing socioeconomic and racial health disparities in the state.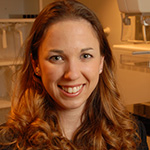 Laura's dissertation advisor, Etta D. Pisano, said, "Laura's research has wideranging implications for improved breast cancer detection. While breast cancer is a worldwide health concern, her work will probably have a direct impact on the health of women in North Carolina."
Laura Faulconer, Biomedical Engineering
Diffraction Enhanced Imaging: A Novel Form of X-Ray Imaging for Breast Cancer Detection and Diagnosis
An estimated 10% of breast cancers are not visible using conventional mammography. While conventional mammography is considered the gold standard for breast cancer screening and diagnosis, the false-negative rate is consistently estimated to be 10%. This translates to approximately 140,000 instances annually in North Carolina where a breast cancer is present at screening but not detected.
Doctoral student Laura Falconer's research focused on diffraction enhanced imaging (DEI), a novel form of X-ray imaging with unique contrast mechanisms that might facilitate earlier breast cancer detection with decreased exposure to harmful radiation. Her work represents the first exploration of DEI contrast agents that might result in visualization of previously undetectable lesions.
Female breast cancer is the most commonly diagnosed cancer in the state and accounts for the second largest number of cancer deaths among women. Early detection is proven to dramatically reduce the likelihood of death from cancer. Laura's work to improve breast cancer detection has the potential to decrease the incidence of female breast cancer deaths in North Carolina.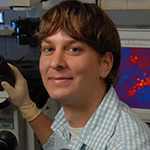 Dissertation advisor Nobuyo Maeda said Lance's project, which involves studying relationships between dyslipidemia and diabetic cardiovascular complications, will impact a large number of humans, because the protein variants being studied are so common in the population.
Lance Johnson, Pathology and Laboratory Medicine
The Role of the ApoE Protein and Cholesterol in Diabetes and Cardiovascular Disease
In North Carolina, an estimated 820,000 people live with diabetes, a disorder of glucose metabolism which leads to severely elevated blood sugar levels. Diabetic patients are 4 to 5 times more likely to develop cardiovascular disease than non-diabetics. A major contributor to this increased risk is diabetic dyslipidemia, which is a cluster of harmful changes to lipid metabolism that commonly occurs in diabetic individuals.
Using mice, doctoral student Lance Johnson tested the effects of a small circulating protein, ApoE, that is present in humans. His research suggests that one variation, known as E4, has more harmful effects on diabetic dyslipidemia and cardiovascular disease than the others. Placing clinical emphasis on the identifying, educating, and tailoring treatment of diabetic patients with the E4 protein may greatly benefit health care in North Carolina.
More than 65% of North Carolinians with diabetes will have their lives ended by complications of cardiovascular disease. Lance's research has the potential to directly impact the state by resulting in the development of new targeted treatments for patients with atherosclerosis and other cardiovascular diseases associate with diabetes.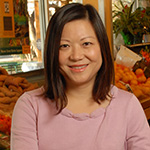 Brenda DeVellis, Dr. Ko's dissertation advisor, said that her project "is one of the first studies that examined how North Carolinians process a health communication intervention that results in behavior change."
Linda K. Ko, Health Behavior and Health Education
Health Communication and Fruit and Vegetable Consumption
Colorectal cancer is the fourth most common cancer in North Carolina and the third leading cause of cancer death. Dietary factors, such as eating more fruits and vegetables, have been shown to decrease the risk for colorectal cancer. Past research studies show that tailored print communication and telephone motivational interviewing can promote healthy eating behaviors. But few attempted to understand how these strategies work to result in behavior change.
Doctoral student Linda Ko examined factors related to the effectiveness of two forms of health communication, newsletters and counseling calls, and how they may result in the behavior change of incorporating more fruits and vegetables into the diet. She found that participants in the study were more likely to eat fruits and vegetables when they perceived the intervention messages as personally relevant to them; they trusted the accuracy of the messages; and they recalled better the information received.
Having a better understanding of how people process messages can provide researchers and health communicators with a basis for fine-tuning their messages to maximize effectiveness. Dr. Ko's results could impact the state by contributing to the knowledge on health communication interventions that would help North Carolinians achieve healthy behaviors.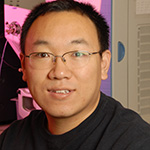 Dissertation advisor James A. Swenberg stated, "Kun's research is of great importance to understanding the exposure-response for formaldehydeinduced cancer and the mechanisms that are involved. As such, it will strongly drive cancer risk assessment for North Carolina, the USA and the world."
Kun Lu, Materials Science
Assessing the Health Risk of External Exposure to Formaldehyde
Formaldehyde has been identified as a human and animal carcinogen. It is produced in the body's own metabolism and is also universally present in the environment. The furniture and textile industries, both important to North Carolina, use significant amounts of formaldehyde. These workers have higher exposure levels, as do cigarette smokers. Whether external exposure to formaldehyde has adverse effects on health is not well understood.
Kun Lu examined ways to distinguish between external exposure and formaldehyde produced within the body, which is crucial to being able to distinguish whether external exposure has adverse effects on health. His methodology involved developing and utilizing quantitative mass spectrometry to determine if formaldehyde caused DNA damage at the site of contact and/or at distant sites such as liver or bone marrow.
Kun's research leads to better understanding of the mechanisms involved in formaldehyde induced cancer. Considering the large number of people in the state who are being exposed to formaldehyde, Kun's study could establish new biomarkers for formaldehyde, enhance understanding of its toxicity, improve science-based regulation, and promote the public health of North Carolinians.
Professor Christopher P. Mack, Matthew's dissertation advisor, stated that his project will have significant impact on our understanding of vascular development and the regulation of blood pressure.
Matthew Medlin, Pathology and Laboratory Medicine
Signaling Pathways in the Regulation of Cardiovascular Disease
Cardiovascular disease is especially prevalent in North Carolina. Between 2002 and 2006, a total of 114,286 deaths, or 30% of deaths in North Carolina were attributed to cardiovascular disease and stroke. These diseases place a heavy burden on the state's already over-stretched health care facilities and contribute to the increasing cost of health care. One common factor shared between these two diseases is deregulated vascular function. Appropriate arterial pressure and vascular tone are necessary to regulate blood flow.
Doctoral student Matthew Medlin researched the molecular mechanisms that govern activation of master regulatory protein receptors in vascular smooth muscle cells. These cells line the blood vessels and are important for maintaining vascular integrity and regulating blood flow. Attempts to prevent cardiovascular disease and stroke rely on a thorough understanding of how vascular smooth muscle cells are regulated.
Matthew's results have the potential to impact the state by highlighting potential pharmacological targets that could be explored and developed into effective therapies for North Carolinians in the fight against cardiovascular disease and stroke. These diseases are significant causes of death among the citizens of North Carolina and beyond.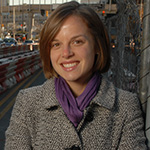 Dissertation advisor Urmila Kodavanti said that Grace focused on zinc research because zinc is a major air pollution component, especially in the Eastern United States and North Carolina, and that she was determined to address whether there are any health consequences from zinc-rich air pollution particles.
Jacqueline Grace Wallenborn, Environmental Sciences and Engineering
Cardiovascular Effects of Zinc
Air that North Carolinians breathe is polluted by zinc-containing articles from millions of motor vehicles on heavily-traveled interstates and the network of coal-burning power plants, both in-state and up-wind. Cardiovascular disease is responsible for more than a third of mortality in the state, and zinc in the ambient particulate matter has been statistically linked to cardiovascular effects.
The goal of doctoral student Grace Wallenborn's study was to investigate mechanisms that underlie cardiovascular injury following pulmonary zinc exposure. She used healthy male rats to test her hypothesis that upon inhalation, zinc moves from the lungs and reaches the heart, having direct toxic effects. Her results indicate that inhalation of low levels of zinc causes cardiac changes that seem to be a result of direct exposure of the heart to zinc.
Grace's investigation into the cardiac effects of zinc is especially relevant to the betterment of the health of North Carolinians because of the relatively large amount of zinc contributors in the state, including major roadways and coal-burning power plants. It has the potential to impact the state by stimulating the need for regulatory strategies and public health communications.