2011 Impact Award Winners
North Carolina at Chapel Hill Chancellor Holden Thorp has said, "We must inspire our students to reach beyond themselves and take on the great problems facing the world."
What follows are stories of graduate students who are doing just that. They work and study within a wide variety of fields—health policy, marine sciences, biology, social work, chemistry, and environmental sciences and engineering, to name a few. However, they all share the following attributes: intellectual curiosity, the capacity to work hard, and a commitment to apply their knowledge to challenges facing the people of our state.
The Impact Awards are privately funded through the generous support of the Graduate School's Graduate Education Advancement Board (GEAB). Impact Award recipients present their research at the Graduate School's Annual Graduate Student Recognition Celebration and receive a cash award for their outstanding efforts.
The students whose research is profiled here, and many others like them at UNC-Chapel Hill, are making dynamic discoveries that improve the life of people in North Carolina and beyond. We hope you enjoy reading about their research.
Download the 2011 Impact Award Winners Brochure

2011 Impact Awards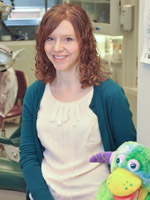 "Dr. Beil's research will help in the development and refinement of national guidelines on the age when children should have their first dental visit," said R. Gary Rozier, D.D.S., Beil's dissertation adviser. "Guidelines based on information from her study should help reduce dental disease, the most common health problem facing children in our state."
Heather Beil, Health Policy and Management
Effects of Early Preventive Dental Care on Treatment Use, Expenditures and Dental Disease
Dental disease is childhood's most prevalent disease. Statistics report that 40 percent of children in North Carolina have dental disease by the time they reach kindergarten; low-income children have the highest risk of disease. Professional organizations are aggressively promoting a dental visit for every child by age 1; however, N.C. Medicaid recommends a first dentist visit at age 3.
Because there is a severely limited capacity of dental appointments available to young children enrolled in N.C. Medicaid, recent doctoral graduate Heather Beil, Ph.D., evaluated the effects of the timing of early preventive dental care among children enrolled in the program. Using seven years of data and advanced statistical techniques, her results indicate that children who have a preventive visit by age 1 have similar oral health outcomes over time as children who have a first preventive visit at age 3. However, among children who required early treatment for disease, receiving preventive services by age 1 was associated with fewer dental treatments and expenditures over time.
The results of Beil's study suggest that children with lower risk of disease can delay their first preventive visit until age 3, thus increasing the availability of dental care for children with a more urgent need for it.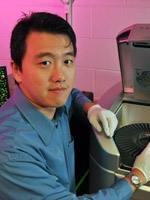 "George's work is likely to have a big impact because he is focused on identifying the causes of basal-like/triple-negative breast cancer, and then using this information to develop improved therapies," said Charles Perou, Ph.D., Chao's dissertation adviser.
George Chao, Genetics and Molecular Biology
Improving Breast Cancer Treatment and Diagnosis
D Statistics report that breast cancer is the most common form of cancer in North Carolina. Breast cancer comprises several distinct subtypes, and it poses significant challenges to the health care system. One subtype, called basal-like breast tumors (BBT), is of particular interest because it represents between 10 and 20 percent of breast cancer diagnoses and is one of the most aggressive forms. BBT disproportionately affects both younger women and African Americans, and few effective treatments exist for this subtype.
M.D./Ph.D. student George Chao sought to improve the ability to differentiate BBT from other subtypes to gain insight into their causes or origins and identify targets for therapy. He documented disruptions in the BRCA1 pathway to better understand how these defects can give rise to basal-like cancer.
Chao's research provides a greater understanding of how BBTs arise. Currently, treatment regimens for BBTs are limited to cytotoxic chemotherapies, which have severe side effects. His data provides preclinical support for BRCA1 pathway targeted clinical trials; successful completion could provide improvements in the ability to provide care for women with BBT and result in significant clinical benefits.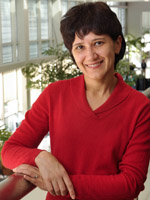 Carol Golin, M.D., Chariyeva's dissertation adviser, said her research has made important contributions to developing optimal programs that prevent the spread of HIV/sexually transmitted diseases in North Carolina.
Zulfiya Chariyeva, Health Behavior and Health Education
Safer Sex Counseling and Risky Sexual Behavior Among People Living with HIV in North Carolina
HIV incidence in other U.S. regions has stabilized, the proportion of new cases in the South has risen substantially; the South now contains the largest and fastest growing population of HIV-infected people nationwide. In North Carolina, the number of new cases rose significantly from 1996 to 2006. Programs to help people living with HIV reduce risky sexual behaviors may contribute to reducing HIV spread in North Carolina and in the United States overall.
Doctoral student Zulfiya Chariyeva conducted analyses to assess whether or not the amount of counseling time and number of counseling sessions contribute to changes in transmission risk behavior of people living with HIV. Specifically, she studied a counseling style known as motivational interviewing (MI), examining the mechanism by which MI counseling works. Her research indicates that more counseling time and a greater number of counseling sessions are associated with safer sexual practices, and that MI is a promising intervention approach to reduce risky sexual behaviors.
The results of Chariyeva's research could provide valuable knowledge toward policymaking on the inclusion of motivational interviewing counseling techniques and the length of MI sessions for people living with HIV in North Carolina.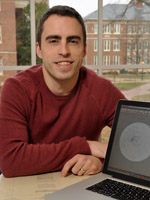 "Greg's research may significantly improve the warning system for this potentially dangerous flow condition (rip currents) along North Carolina beaches, as well as at beaches worldwide," said Harvey Seim, Ph.D., Dusek's dissertation adviser.
Gregory Dusek, Marine Sciences
Using Near-shore Observations to Improve Our Ability to Forecast Rip Currents
Rip currents pose a significant safety risk to beach goers and are currently the number-one cause of drownings and rescues at North Carolina beaches. There is still a lack of research on how rip currents vary over large spatial and time scales and what physical factors most influence this variability. This research void has contributed to the limitations of the present rip current forecast system employed by the National Weather Service.
The present system, although providing some information to beach goers, is limited in its accuracy, consistency and functionality. Gregory Dusek, a doctoral student, conducted an observational study at the town of Kill Devil Hills, on North Carolina's Outer Banks. His study includes observations of rip currents, waves, and the beach and near-shore bottom made between 2001 and 2009.
Dusek's observations provide the basis for an improved rip current forecast system using the statistical likelihood of hazardous rip current occurrence. An improved forecast system has the potential to benefit both lifeguards and beach goers throughout North Carolina and reduce the large number of rip current-related rescues and drownings.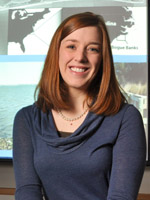 "Emily's research not only addresses the coastal response to increased storminess, an important issue facing the Outer Banks and any barrier-island community, but also warns against the coastal management practice of 'shoreline stabilization,'" said Antonio Rodriguez, Ph.D., Elliott's dissertation adviser.
Emily Elliott, Marine Sciences
Skinny Beaches: Understanding Barrier Development and Erosion in North Carolina
The barrier island system of North Carolina's Outer Banks is one of the most important resources in our state, providing means for economic growth as well as protection against the impact of storms. Barriers globally are experiencing high rates of erosion and narrowing as a result of sea-level rise, climate variation, sediment supply and human influence. Doctoral student Emily Elliott used Bogue Banks, N.C., to research how barriers develop and transition through time as a result of these various forcing mechanisms.
Using core data, radiometric and optical dating techniques and geophysical data, Elliott constructed a chronological history of development for the barrier. Her research demonstrates the importance of back-barrier erosion in island narrowing and transition, and furthers understanding of barrier island response to sea-level rise and climate change.
The goal of Elliott's research is to better comprehend and manage the coastline by furthering understanding of this vital, previously overlooked area of shoreline erosion. Ultimately, this study may promote better detection and management techniques to prevent further erosion and retreat under similar barrier conditions in North Carolina and around the world.
Master's thesis supervisor Andrew Olshan, Ph.D., said Goel's research in addressing the most common pediatric renal malignancy certainly provides benefits to citizens of North Carolina and beyond.
Ruchika Goel, Epidemiology
Studying Moms' Medical Radiation Exposure and Possible Links to Disease
dose of radiation is considered safe for humans. Yet, radiation is not only ubiquitous in the environment, but is also a critical part of diagnosis and treatment of many illnesses. Medical radiation exposure in pregnant women raises the issue of exposure to the fetus and possible links to diseases such as cancer.
Wilms' tumor, the most common pediatric renal malignancy, affects approximately 2,100 North Carolinians. As part of her master's thesis work in public health, Ruchika Goel, M.D., completed a research study using data from the Children's Oncology Group, a North American childhood cancer clinical trials group. The study explored the relationship between medical radiation exposure to the mother and the risk of subsequently developing Wilms' tumor in her offspring.
Goel's research indicates that in a model adjusted for children's age, geographic area, maternal education and household income, exposure to medical radiation for the period from two years prior to conception until birth was not associated with increased risk of Wilms' tumor. Therefore, she suggests, further studies on radiation exposure as a risk factor for Wilms' tumor are not warranted.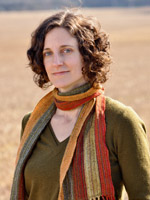 "The results of this research will be of relevance to public health protection globally. The study has particular relevance for North Carolina because part of the state has the highest density of swine production in the nation," said Steve Wing, Ph.D., Guidry's dissertation adviser.
Virginia Guidry, Epidemiology
Student Respiratory Health in Schools Near Industrial Hog Operations
The rapid growth of industrial agriculture in North Carolina since the early 1990s has raised more than just millions of hogs-concerns about air quality are also increasing.
Previous epidemiologic studies have associated school proximity to industrial hog operations with impacts on children's respiratory health. Doctoral student Virginia Guidry conducted further investigation with science classes at middle schools in eastern North Carolina near industrial hog operations, in collaboration with a community-based organization and UNC-Chapel Hill environmental engineers. Students completed structured daily diaries recording respiratory symptoms, odor observations and measured lung function while air pollutants were quantified in and outside the schools.
The goal of Guidry's study was to measure the effect of air pollution from industrial hog operations on student respiratory health, while incorporating research activities into science classes to expand research benefits. With quantitative results pending, interviews conducted with teachers and principals indicate that this approach has already increased the positive impact of epidemiologic research by providing educational benefits to students at low-resource schools during the data collection process.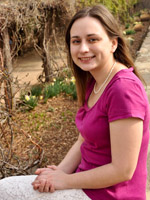 "Katie's study enhances our understanding of how cigarette smoke can adversely affect the people of North Carolina, and will further support the efforts to limit exposure to tobacco smoke and consequently reduce morbidity, mortality and health care costs associated with cigarette smoke exposure in the state," said dissertation adviser Ilona Jaspers, Ph.D.
Katherine Horvath, Toxicology
Cigarette Smoke and Influenza
North Carolina leads the country in tobacco production and, in addition, has smoking rates higher than the national average. Studies have indicated that cigarette smoking increases risk for respiratory infections such as influenza. High smoking rates confer increased health risks to North Carolinians who smoke, as well as to nonsmokers, including children who are exposed to secondhand smoke.
Using both human clinical and human cell culture models of influenza infection, doctoral student Katherine Horvath examined mechanisms by which cigarette smoke causes increased susceptibility to influenza infection. In the human clinical study, a live attenuated influenza vaccine (LAIV) was given to volunteers, both smokers and nonsmokers, from North Carolina; results indicate that smokers have both increased levels of LAIV infection and decreased immune cell activation following LAIV. In the cell culture model, her research indicates that respiratory cells obtained from smokers have decreased anti-viral responses that fight influenza infection.
Overall, Horvath's research demonstrates possible mechanisms by which cigarette smoke exposure has a negative effect on influenza induced immune responses and could identify potential therapeutic strategies to protect vulnerable populations.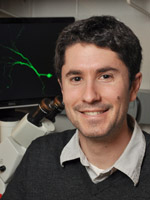 "Adam's discovery about miR-29 and its use in preventing neuronal death has significant potential for individuals living with neurodegenerative diseases in North Carolina and beyond," said Mohanish Deshmukh, Ph.D., Kole's dissertation adviser.
Adam Kole, Cell and Developmental Biology
Preventing Alzheimer's Disease: A Novel Approach
Each year, North Carolinians are living longer lives, thanks to improvements in medical care. However, along with longer life expectancy comes an increase in the prevalence of diseases associated with aging, particularly Alzheimer's disease, a progressive disorder causing memory loss, confusion, behavioral changes and, ultimately, death. Because Alzheimer's is currently incurable, there is an imminent need to develop treatments that can cure patients and also alleviate the socioeconomic burden of Alzheimer's disease on the state.
Adam Kole, an M.D./Ph.D. student, studied cells of the nervous system, called neurons, that die in Alzheimer's disease. Using neurons from newborn and adult mice, he identified a microRNA molecule, miR-29, that is able to block a process called apoptosis, or programmed cell death, in neurons. This discovery provides rationale for testing miR-29 as a novel and completely unexpected approach for preventing the death of neurons in Alzheimer's disease.
While the implications of Kole's research could extend to patients nationwide, they are particularly relevant for North Carolina, where currently more than 170,000 people are estimated to have Alzheimer's disease.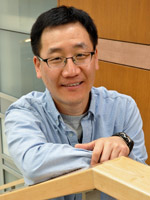 "I believe Jin has a great future in cancer biology and his research is likely to have an immediate impact on the health and welfare of the people of North Carolina," said Aziz Sancar, M.D., Ph.D., Lee's dissertation adviser.
Jin Hyup Lee, Biochemistry and Biophysics
Treating Cancer by Tinkering with the Clock
E Cancer is the leading cause of death in North Carolina, and death rates from cancer have been escalating since the early 1980s. One of the most significant advances in cancer prevention and treatment in recent years has been recognition of the importance of apoptosis, or programmed cell death, which provides new opportunities for the discovery of cancer therapeutic targets and agents.
The protein tumor suppressor p53 plays a critical role in apoptosis induced by anticancer drugs; however, at least 50 percent of human cancers lack functional p53. Doctoral student Jin Hyup Lee discovered that disrupting the circadian clock—the major regulatory system that ensures proper adaptation to the constantly changing environment—functionally activates the p73 tumor suppressor protein, which induces cell death in p53-deficient cancer cells. His study indicates that this mechanism provides another way to overcome the resistance to apoptosis of cancer cells selectively.
Lee's research lends support for the development of drugs as targeted therapies for the treatment of cancers with dysfunctional p53 protein, which has the potential to improve the health of citizens in North Carolina and beyond.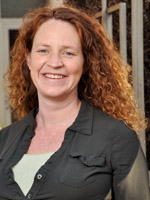 "Carrie's dissertation is a unique experimental evaluation for which she will receive national attention upon completion," said dissertation adviser Matthew Owen Howard, Ph.D.
Carrie Pettus-Davis, Social Work
A Unique Social Support Program for Recently Released N.C. Prisoners with Substance Addictions
Prison admissions have increased by more than 600 percent nationally since the 1970s, and North Carolina rates have followed these trends. Statistics report that more than 50 percent of the nearly 28,000 prisoners released in the state each year are re-arrested and re-incarcerated in state prisons within three years. In addition, nearly two-thirds of N.C. prisoners report a history of addiction. Once released to the community, but lacking supports, former prisoners may resume or increase their criminal behaviors. High re-arrest rates result in high financial and societal costs for the state.
Doctoral student Carrie Pettus-Davis conducted a randomized controlled trial of an innovative program for recently released N.C. prisoners with addictions. "Support Matters" actively involves loved ones who have demonstrated positive social support to the prisoners, in the delivery of effective addiction treatment approaches upon their release.
North Carolina is the first state to test a program of this kind. The "Support Matters" trial was found to be highly acceptable to participants and feasible, and was associated with reduced re-arrest rates for participants. This in turn may lead to reduced costs to the state and reduced threats to public health and safety.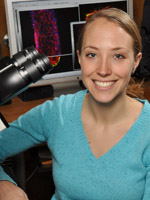 Muhammad Yousaf, Ph.D., Pulsipher's dissertation adviser, said this project has the potential to address the increasing numbers of those in dire need of an organ transplant and help advance the field of tissue engineering.
Abby Pulsipher, Chemistry
Tissue Engineering and Synthetic Organ Transplants
Traditional organ donation efforts help save thousands of lives each year. However, these programs are largely under-funded, and the number of people in need of a tissue or organ transplant continues to rise faster than the number of donors in the state. As a result, there has been much interest in the design of tissue structures, as well as the preparation of synthetic organs and tissues for applications in regenerative medicine and transplantation.
To further study tissue engineering, doctoral student Abby Pulsipher developed novel surface chemistry tools to study the complex behavior of cell polarization and cell migrations. She modified specific chemical surfaces by attaching certain substances that act as cellular binding targets in three dimensions (3-D). Her results indicate a novel cellto- surface engineering strategy capable of inducing specific and stable cell-to-cell contacts in 3-D to generate human tissue structures in solution and on a solid support.
With an estimated 4,100 transplant candidates added to the national waiting lists each month, the use of ready-made and synthetically controllable tissues and organs for transplantation would not only greatly benefit North Carolina but also the nation and help further advance the ever-improving field of tissue engineering.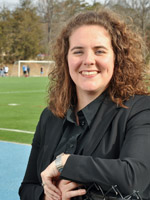 "Johna Register-Mihalik has been involved in athletic injury research during her graduate work and continues to have a significant impact on adolescent quality of life and well being in North Carolina," said dissertation committee member Frederick O. Mueller, Ph.D.
Johna Register-Mihalik, Human Movement Science
Mild Traumatic Brain Injury Awareness in Sports
Sports-related traumatic brain injuries (TBIs), also known as concussions, can be potentially catastrophic injuries. An estimated 1 million sports-related brain injuries occur annually, with hundreds occurring in student-athletes in North Carolina. If the initial injury is not reported or managed properly, a person is more susceptible to recurrent sports-related brain injury and more complicated injury, including, in rare circumstances, a catastrophic event such as death.
The overall research goals of Johna Register-Mihalik, Ph.D., were to assess the knowledge, attitudes and behaviors surrounding sports-related brain injury among high school athletes and coaches in an effort to better identify and manage these injuries. A recent doctoral graduate, she conducted a cross-sectional study to better understand mild TBI in this young athletic population. Results indicate that more than 80 percent of mild TBIs were not reported by the athletes and unidentified by medical personnel or coaches, and that the roles of teammates and coaches are the most influential factors in reporting.
This study represents the first study of its kind and constitutes an important step toward developing evidence-based prevention initiatives to assess risky behaviors of not reporting mild traumatic brain injuries.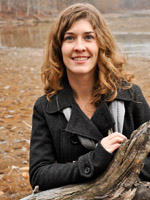 "Pamela's research is truly novel and critically important to coastal conservation as our state's marine ecosystems continue to be degraded by overfishing, climate change and habitat loss," said John Bruno, Ph.D., Reynolds' dissertation adviser.
Pamela Reynolds, Biology
Strategies to Enhance North Carolina Oyster Reef Restoration
S Oyster reefs in North Carolina estuaries have collapsed over the last century, leading to the loss of important ecosystem goods and services they provide to the people in this state. Oysters provide critical nursery habitat for fisheries, biofiltration and shoreline stabilization. Their value as ecosystem engineers greatly outweighs their value as a fisheries commodity. However, efforts to restore and manage this critical habitat typically focus on increasing oyster harvests rather than on building healthier reefs.
Research conducted by doctoral student Pamela Reynolds examined strategies to enhance North Carolina oyster reefs. Combining field and laboratory studies, her results indicate that reefs with a more intact food web and a diverse top predator community have greater oyster production. Top predators promote reef development by consuming smaller predators, which feed on juvenile oysters. Predator diversity, or increasing the number of different predator species such as large fish and crabs, may promote such top-down effects on oysters, leading to enhanced reef production.
Reynolds' research suggests that promoting predator diversity is key for reef management, as well as for the success of other coastal restoration projects throughout North Carolina's estuaries.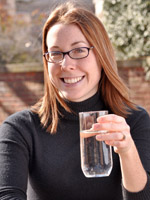 "Alison's work will have an impact on the identification of contaminated drinking water in North Carolina, and it will also contribute fundamental knowledge of toxic metal levels," said Sanders' dissertation adviser, Rebecca Fry, Ph.D.
Alison Sanders, Environmental Sciences and Engineering
Raising Awareness of Contaminated Well Water in North Carolina
Arsenic is a known carcinogen and is ranked as the most toxic substance by the U.S. Agency for Toxic Substances and Disease Registry. In North Carolina, federally unregulated domestic well-water quality is assessed for arsenic on an individual basis to protect human health, yet no effort is in place to map arsenic through space and time statewide.
Approximately 2.3 million North Carolinians (25%) obtain drinking water from unregulated domestic well sources. In a novel study, doctoral student Alison Sanders evaluated trends of arsenic contamination in more than 63,000 domestic wells over an 11-year period in North Carolina. Using methods to obtain geographical coordinates and geostatistical estimation tools, her results indicate that areas with the most frequently found contamination are located along a geologic region with naturally occurring arsenic called the N.C. slate belt, and, surprisingly, along the eastern coast. Areas identified in her study include populations potentially at risk for diseases such as bladder cancer.
Sanders' study provides public health officials and individual consumers with valuable information about arsenic contamination in domestic wells, potentially leading to public health advances in North Carolina.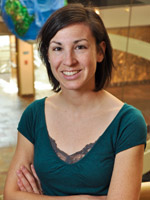 Dissertation adviser Jenny Ting, Ph.D., said Schneider's discovery of the mechanism by which NLRC3 regulates inflammation has a broad scope and may one day contribute to a treatment that can be used to reduce morbidity and mortality from diseases in North Carolina.
Monika Schneider, Microbiology and Immunology
Understanding Septic Shock
Septic shock results from uncontrolled, widespread inflammation, usually in response to an infection. Severe sepsis takes a large toll in North Carolina and is the ninth leading cause of death for those less than 5 years of age and more than 60 years of age. The inflammatory response is usually governed by a tightly regulated system of checks and balances. When the system is overloaded, inflammation can become uncontrolled and spread throughout the body, leading to sepsis.
To gain a better understanding of what leads to this tipping point, doctoral student Monika Schneider focused on a gene within the NLR family. NLR proteins can mediate immunity, inflammation, infections, arthritis and gastrointestinal disorders. Her goal was to determine if one member of an antiinflammatory subset, NLRC3, can inhibit sepsis. She used NLRC3 knockout mice to determine the mechanism of immune regulation, and her results indicate that NLRC3 prevents signaling of a major inflammatory pathway.
Treatment for sepsis is currently limited; however, Schneider's research in the identification of a novel protein target and pathway of activation may lead to drug development and new treatments.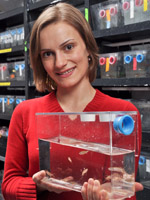 "The identification of specific bacteria or bacterial groups that promote or prevent fat deposition has enormous implications and potential impact on our ability to prevent or treat obesity in North Carolina," said dissertation committee member P. Kay Lund, Ph.D.
Ivana Semova, Cell and Molecular Physiology
Combating Obesity: Eavesdropping on the Conversation Between the Human Body and Intestinal Bacteria
Obesity affects two-thirds of adults and one-fifth of children nationwide. The statistics for childhood obesity rates rank North Carolina as the fifth highest for youth between ages 10 and 17. Therefore, it is imperative to develop effective new strategies to prevent and treat obesity.
The bacteria residing in the intestine (gut microbiota) are important factors regulating fat storage, but the mechanisms underlying these bacterial influences remain poorly understood. Doctoral student Ivana Semova used zebrafish, whose digestive systems are similar to mammals', as a model host. She revealed that the gut microbiota promotes absorption of dietary nutrients in the intestine. This new knowledge and the zebrafish model provide a powerful experimental system to identify bacterial targets for novel interventions that can reduce fat storage and obesity.
Given the high prevalence of obesity in North Carolina, Semova's study has implications for the overall health of the state's citizens. It could also lead to development of low-cost, preventive treatments such as probiotics that could significantly alter the medical burdens and costs to the state associated with treating these diseases.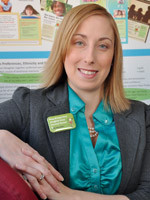 "Autumn clearly has had a tremendous impact on an important health issue that disproportionately affects poor and minority women in North Carolina," said Jane Brown, Ph.D., Shafer's dissertation adviser.
Autumn Shafer, Mass Communication
Preventing Cervical Cancer: A Health Communication Campaign
Each year, hundreds of women in North Carolina receive the devastating diagnosis of cervical cancer. Statistics report that more than 4,000 women statewide were diagnosed with cervical cancer between 1996 and 2006, and for 1,370 of these women, the diagnosis was fatal. The human papillomavirus (HPV) vaccine can prevent about 70 percent of cervical cancers.
Doctoral student Autumn Shafer, as part of an interdisciplinary team, conducted a health communication campaign to increase HPV vaccination rates in south central North Carolina counties, areas with high rates of cervical cancer and low rates of HPV immunization relative to state averages. The extensive two year project, which targeted mothers of adolescent girls ages 11-to-12 years, consisted of four phases—formative research, message design, implementation and evaluation—and contributed to increased vaccination rates in two of the four counties. Due to the campaign's success, planning has begun to replicate it in nine other counties in the state.
Shafer's effective health communication campaign aimed at cervical cancer prevention by promoting the HPV vaccine has the potential to positively affect women in North Carolina by reducing health disparities and lowering cervical cancer rates.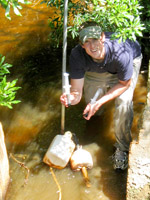 "Curtis truly has conducted research that is revolutionizing the field of stormwater quality and the assessment of human impact. He has developed a range of novel approaches for the application of this biosensor technology in the state," said dissertation adviser Rachel T. Noble, Ph.D.
Curtis H. Stumpf, Marine Sciences
Rapid and Accurate Determination of Fecal Pathogens in N.C. Coastal Waters
The coastal waters of North Carolina are important recreational areas for swimming, fishing and shellfish harvesting. However, much of these coastal waters are contaminated with pathogens of fecal origin from improperly functioning septic systems, sewage infrastructure failures and stormwater runoff. Use of polluted coastal waters for swimming or shellfish harvesting can result in human illness and even death. Current methods for detection are slow, and current indicators of pollution are often inaccurate and non-source specific, increasing risk to water users.
Little is known about transport or source of contamination (human vs. wildlife) of these fecal indicators in many parts of North Carolina. Doctoral student Curtis H. Stumpf conducted research on storm and non-stormwaters in the New River Estuary to better understand how these microbes are transported within a coastal system. New human-specific bacterial indicators were used to differentiate between human and wildlife sources. In addition, he developed methods to assist with emerging detection technologies (i.e., biosensors).
Stumpf's research has the potential to advance the approaches and technologies used to manage recreational and shellfish harvesting waters of North Carolina, as well as the field of water quality testing for indicators of pathogenic contamination.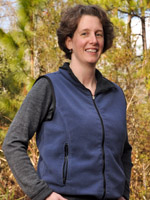 "Anne has done a superb job combining behavioral ecology in a way that will be useful for military and civilian land managers working on the ground to solve problems of high priority and relevance to the ecosystems and people of North Carolina," said Aaron Moody, Ph.D., Trainor's dissertation adviser.
Anne Trainor, Geography
The Red-Cockaded Woodpecker and Increasing Biodiversity in North Carolina
Habitat loss and fragmentation due to human activities have drastically altered the spatial configuration of ecosystems, thus reducing wildlife populations and eroding biological diversity. One prominent example in the state is the red-cockaded woodpecker (Picoides borealis), a federally endangered species dependent upon mature longleaf pine forests, which have been reduced to small scattered patches covering the southeastern United States, including North Carolina.
Using radio transmitters fitted on 32 birds and tracking their movements around Fort Bragg, N.C., doctoral student Anne Trainor conducted research expanding beyond patch-level conservation by evaluating P. borealis at a regional spatial scale. Her results suggest that P. borealis' adverse reaction to agriculture and development has resulted in a relatively disconnected population, although current conservation efforts on privately owned land have been promising.
Because the longleaf pine eco-system contains great biodiversity, Trainor's research has the potential to not only increase the persistence of P. borealis populations but also increase North Carolina's biodiversity, and has enhanced the partnership between the state's academic institutions and the U.S. Department of Defense by working with the Fort Bragg Endangered Species Branch.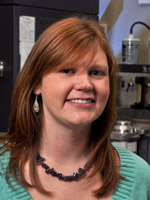 Dissertation adviser Lola Reid, Ph.D., said the technologies being developed by Turner will translate rapidly, within only a few years, into clinical programs for liver cell therapies and can also be applied to regenerative medicine techniques for other tissues such as pancreas, in the case of diabetes.
Rachael Turner, Biomedical Engineering
Grafting Alternatives for Liver Tissue Regeneration
Statistics report that the number of people in North Carolina needing liver transplants is greater than the national average and is almost three times the number of available livers. This overwhelming number of patients waiting to receive transplants creates a great need for the development of alternative therapeutic strategies, such as cell therapy. Current alternative therapies include the injection of liver cells via vascular routes, but some of these cells settle in organs other than the liver and often form dangerous cell clots within the injected blood vessels.
Doctoral student Rachael Turner developed alternative transplantation technologies, including grafting of liver stem cells, which can overcome these problems. Her research in mouse models indicates that the grafts are easily transplanted, succeed at keeping the donor cells in the target organ and facilitate their long-term survival and functioning.
Grafting strategies such as Turner's are still in the preclinical stages, but could potentially translate rapidly to therapeutic uses in patients and benefit North Carolinians by providing an economical alternative to transplants for repair of damaged tissues.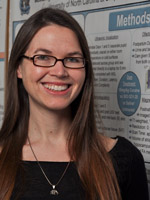 "This work will highlight areas that need future research, as well as possibly lead to interventions for drug abusing maternal populations. I have great confidence that these experiments have contributed to our knowledge of maternal neglect and the influence of prenatal drug exposure," C.J. Malanga, M.D., chairman of Williams' dissertation committee, said.
Sarah Williams, Neurobiology
Cocaine Use During Pregnancy: A Public Health Problem
In North Carolina, as estimated 142,000 people surveyed reported cocaine use in the past month, according to the Substance Abuse and Mental Health Services Administration (2008). Maternal cocaine use during pregnancy has been correlated with a greater incidence of maternal neglect and abuse, problems with mother-infant bonding, lower attentiveness and responsiveness toward infants, and greater likelihood to express hostility, depression and disrupted endocrine stress responses. Children who have experienced parental neglect are more likely to have difficulty with social relationships, problems in school and mood disorders. Parental neglect sends thousands of N.C. children into foster homes each year.
To further study the effects of prenatal cocaine exposure (PCE), doctoral student Sarah Williams used a female rat model to study how mothers respond to pups with PCE, and the behavioral and endocrine responses to stressful environments. Her results indicate that the postpartum period is easily disrupted by gestational cocaine exposure, but offer potential biologically detectable measures to predict poor maternal behavior and mood disorders.
Williams' research contributes to understanding the underlying neurobehavioral mechanisms that may help in developing pharmacological and behavioral therapies to reduce a potentially adverse outcome for hundreds of families in North Carolina.
"Eric has initiated an exciting and original study aimed at probing the mechanisms of drug resistance in leukemia," said Lee M. Graves, Ph.D., Zimmerman's dissertation adviser.
Eric Zimmerman, Pharmacology
Understanding the Mechanisms of Drug Resistance in Leukemia
Leukemia is an aggressive cancer caused by the proliferation of abnormal blood cells. One out of every 15,000 North Carolinians has this cancer, and it was estimated to result in 650 deaths statewide in 2010. Many deaths are prevented by chemotherapy; however, resistance to treatment is a common problem. Therefore, in order to better treat leukemia patients, it is essential to understand mechanisms of drug resistance.
Eric Zimmerman, a doctoral student, is conducting a study of kinase expression in leukemia patients in the N.C. Cancer Hospital. Kinases are key mediators of molecular signaling that promote leukemia cell growth and survival; the expression and activity of specific kinases is a determinant of disease state and drug responsiveness. His research makes clear for the first time a novel pathway by which one particular kinase, Lyn kinase, down-regulates a tumor suppressor (miR181) and increases the expression of a pro-survival protein (Mc1-1), known to promote drug resistance.
Zimmerman's research to identify underlying mechanisms of drug resistance has the potential to impact strategies for the improved detection and treatment of drug-resistant leukemia.