2012 Impact Award Winners
Graduate students generate knowledge of tremendous benefit to the people of North Carolina and beyond.
The Impact Awards recognize outstanding graduate students whose research covers a variety of areas: education, the environment, economic development, health, public administration and more.
These awards are privately funded through the generous support of The Graduate School's Graduate Education Advancement Board (GEAB). Recipients present their research at The Graduate School's Annual Graduate Student Recognition Celebration and receive a cash award for their accomplishments.
Download the 2012 Impact Award Winners Brochure

2012 Impact Awards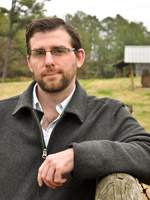 "The findings shed light not only on the hardships [African-American farmers] face, but also draw attention to ongoing strategies and new directions for African-American farmers to maintain," said Eugenia Eng, Dr.P.H., Balvanz's faculty adviser.
Peter Balvanz, Health Behavior and Health Education
Effects of Land Loss on African-American Farmers and Their Hope for the Next Generation
Between 1985 and 1997, the number of African-American farmers in North Carolina declined by 66 percent, research indicates. Discriminatory lending practices by the U.S. Department of Agriculture resulting in land loss were a major factor cited in association with this decline.
Peter Balvanz, who received his master's degree in 2010, led two community-focused studies investigating the effects of land loss among African-American farmers and their descendants. The study team of graduate students focused primarily on northeast North Carolina, and the research method involved the active participation of farmers, and children or grandchildren of farmers. Each of the two studies included at least five sessions, during which participants would create a photo topic relating to land loss, snap and share photos, then choose a group member's photo best capturing the topic to serve as a discussion-starter. "Following PhotoVoice methodology, we started at 'What do you see in the photo?' and then went on to collaborative discovery—'How does this relate to our lives?' Our goal was for participants to develop action steps to curb land loss," said Balvanz.
Key findings from the study team's analysis include the following: Farmers experience persistent negative economic and psychological impacts from discriminatory lending, farmers want to pass on their profession to young family members, childhood memories of farming hardships deter farmers' descendants from the profession, and youth are losing knowledge of farming and nutrition.
Through the sessions, participants came up with action steps to revive farming in African-American communities and promote positive health, primarily. These steps included raising awareness of discriminatory practices, mobilizing the community and involving youth in innovative agricultural activities.
The study team published findings in a scientific journal and shared the results locally and nationally. One outreach was a community forum at which the group brought together more than 30 community members, policymakers and UNC-Chapel Hill faculty members to discuss ways to support the farmers. Balvanz also secured grant funding for a community garden project that brought together African-American youth and other community members.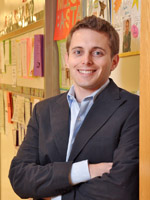 "Clearly, Kevin's research has more than the potential for impact; it is already providing evidence that is being used to improve education policy in North Carolina," said Gary Henry, Ph.D., Bastian's faculty adviser.
Kevin Bastian, Public Policy
Evaluating Teacher Quality in North Carolina: Lessons Learned for Teacher Selection, Preparation, Support and Distribution
Statistics indicate that only three-fourths of North Carolina students graduate from high school on time—and that number drops to 66 percent for the state's economically disadvantaged students. "These statistics represent a significant threat to the state's economic well-being, particularly in a competitive global economy," said doctoral student Kevin Bastian.
Researchers at the Carolina Institute for Public Policy used 2005-06 through 2009-10 data from the N.C. Department of Public Instruction to create a longitudinal dataset that Bastian used to conduct several studies. In one, he evaluated the N.C. Teaching Fellows program, which has recruited academically competitive, in-state rising college freshmen into teaching with college scholarships. (The program is now being phased out.) Bastian's analysis indicated that Teaching Fellows were significantly more effective at raising student achievement in elementary and middle school math and certain high school courses than all other teachers and teachers traditionally prepared at N.C. universities. Further study indicated that effectiveness may have been due to the selection of academically competitive individuals rather than the preparation they received.
In another project, Bastian's findings indicated that out-of-state prepared teachers are less effective than in-state prepared teachers. Factors explaining this include these teachers' lack of familiarity with the state's students, schools and curriculum; and indications that these teachers exit the state's public schools at a significantly higher rate than in-state prepared teachers.
Bastian's third project investigated the effectiveness attributed to teachers as they gain experience. His analysis indicated, among other findings, that marked increases in effectiveness occur between the first and second year of teaching due to teacher learning.
Bastian also examined student access to high-quality teachers in Wayne County schools in a fourth study. His findings on all research projects, statewide and local, have major implications for educational policymaking in North Carolina and beyond.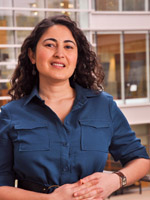 "Aadra's research and discovery will have a great impact on the lives of cancer patients suffering from non- Hodgkin lymphoma, and I believe she will continue to make and lead great discoveries in the future," said Blossom Damania, Ph.D., Bhatt's dissertation adviser.
Aadra Bhatt, Microbiology and Immunology
Targeted Therapy for Non-Hodgkin Lymphoma
Approximately 25 percent of all human cancers are associated with viruses. Kaposi's sarcoma-associated herpesvirus (KSHV), one such virus, causes a type of non-Hodgkin lymphoma called primary effusion lymphoma (PEL), a blood cancer associated with a six-month median life expectancy. "Understanding the mechanisms by which KSHV drives the progression of cancerous growth is vital for developing new treatments," said doctoral student Aadra Bhatt.
Cells relay information and otherwise communicate with one another through cell signaling; an abnormality at any step of this tightly controlled process can lead to uncontrolled cell growth and cell division, the very definition of cancer. The PI3K/Akt/mTOR signaling pathway is abnormally activated in many cancers, and Bhatt's study focused on whether inhibiting this pathway would influence growth of the aggressive blood cancer, PEL.
The PI3K/Akt/mTOR pathway is highly activated in PEL and another lab member showed that this pathway is activated in other forms of non-Hodgkin lymphoma. Bhatt studied both cells derived from patients with PEL and also an animal model of PEL to determine the effects of inhibiting the PI3K/Akt/mTOR pathway. In both study models, she applied compounds that inhibited cell growth at a single point of the pathway—and one novel compound that inhibited cell growth at two points of the pathway, called a dual inhibitor. Study findings demonstrated that all of the compounds inhibited the proliferation of PEL to varying degrees. Furthermore, the novel dual inhibitor was found to be more effective than single inhibitors.
Findings from the study led by Bhatt were published in the June 13, 2010, issue of the journal Blood.
Based on these encouraging preclinical studies, Novartis Inc. has agreed to sponsor a clinical trial to test the dual inhibitor against relapsed and refractory non-Hodgkin lymphoma at the N.C. Cancer Hospital, the flagship site for UNC Cancer Care.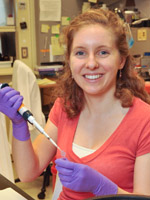 "The results of Sarah's work demonstrate for the first time that intestinal insulin resistance and associated abnormal lipid absorption may represent new and early mechanisms that promote obesity and fatty liver," said P. Kay Lund, Ph.D., Bortvedt's dissertation adviser.
Sarah Bortvedt, Cell and Molecular Physiology
The Intestinal Insulin Receptor: Overlooked Fat Regulator?
For an organ so central to how the body digests and absorbs nutrients, the small intestine has received little attention in the study of obesity and type 2 diabetes. New evidence suggests that insulin-resistant individuals may have intestinal problems processing, absorbing and/or storing ingested fats, raising compelling new questions about this organ's role in weight gain and insulin resistance.
Answers to these questions could benefit the millions of Americans who are obese. In North Carolina, an estimated 28 percent of all adults are obese, according to 2010 U.S. Centers for Disease Control and Prevention statistics.
Doctoral student Sarah Bortvedt focused on the intestine's insulin receptor (IR), which senses insulin. Her study featured mice that lacked the intestinal IR and mice that had the intestinal IR; both were fed the same high-fat diets. Results showed that mice lacking the IR in their intestinal epithelial cells gained more weight—and more rapidly—when compared to the group of mice with the IR intact. Additionally, the livers of mice lacking the intestinal IR had larger and more numerous fat droplets, known as "fatty liver," which occurs with insulin resistance and obesity.
Her study results suggest that in the presence of increased fat consumption, the intestinal IR protects against weight gain and against increased levels of fat in the liver and other tissues. "This and ongoing studies will provide new biomarkers and guide improved diagnosis, treatment, and prevention strategies for obesity and diabetes, saving money and lives throughout North Carolina," said Bortvedt.
"Patricia's work has very important public health implications. A higher prevalence of basal-like breast cancer, an aggressive form of breast cancer, has emerged as a highly plausible explanation for the long-recognized difference in survival between whites and African Americans," said Melissa Troester, Ph.D., Casbas-Hernandez's dissertation adviser.
Patricia Casbas-Hernandez, Pathology
Understanding How Obesity and Breastfeeding Alter Breast Inflammatory Environments
Breast cancer is the second-leading cause of cancer deaths in North Carolina. One of the most aggressive forms is basal-like breast cancer, and young African-American women have a higher burden of this form of breast cancer. Treatment options are poor; however, an estimated 68 percent of these cases may be preventable by reducing obesity and increasing breastfeeding. A stronger understanding of the biology behind these prevention strategies for basal-like breast cancer may lead to more effective public health interventions that save lives.
High levels of inflammation in the breast's stromal cells contribute strongly to cancer growth. Doctoral student Patricia Casbas-Hernandez studied inflammation levels as they apply to women who breastfeed or who are obese. Her team's research showed that obesity causes changes in pro-inflammatory signals called cytokines, and the team's preliminary data have suggested that longer breastfeeding duration decreases levels of these inflammatory cytokines.
One study was carried out by analyzing tissue from surgeries performed on healthy women to reduce breast size. Casbas-Hernandez's findings indicated that obese women's breast tissue has an increased number of inflammatory cells, compared with breast tissue from non-obese women. How obesity affects breast cancer is complex, with some studies showing a protective effect and others showing obesity increasing breast cancer risk; however, UNC-Chapel Hill studies have indicated a possible link between obesity and breast cancer among young African-American women.
Casbas-Hernandez also is conducting a study in collaboration with Alison Stuebe, M.D., of the University's Department of Obstetrics and Gynecology. They examined breast milk samples for women at one, four, eight and 12 weeks after beginning breastfeeding and found that pro-inflammatory cytokines are greatly reduced at the eight-week mark and even more at the 12-week mark.
Casbas-Hernandez is continuing her research, focusing on the effects of longer breastfeeding and on the cytokine levels in breast milk. "These findings are important in advancing our biological knowledge, which in turn will support our public health strategies," she said.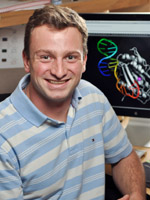 "Jon is one of the finest scientists I have seen, and his work has the potential to solve one of the most important medical problems of our time," said dissertation adviser Matthew Redinbo, Ph.D.
Jon Edwards, Biochemistry and Biophysics
The Relaxase Enzyme's Role in S. aureus Antibiotic Resistance
Healthcare-associated infections (HAIs) declined in 2010, according to the U.S. Centers for Disease Control and Prevention, reflecting the success of significant collaborative efforts. Yet much work remains to be done on what is regarded as one of our world's most serious health threats: One of the four most prevalent of these infections, Staphylococcus aureus, has in rare cases developed resistance to the last-resort antibiotic vancomycin.
Doctoral student Jon Edwards focused on the structure of the relaxase enzyme, which is the linchpin in the process leading to the spread of antibiotic resistance in this and many other infections. Specifically, he has sought to uncover this enzyme's structure and the mechanism that propagates the antibiotic resistance process, with the goal of creating new drugs that effectively treat Staphylococcus aureus. "With antibiotic resistance becoming more and more prevalent, there is a serious need to develop novel classes of antibiotics," he said.
Relaxase enzymes initiate the transfer of DNA containing the resistance genes—one of the major ways antibiotic resistance is spread. Transfer of this DNA allows the bacteria to then rapidly and efficiently spread a resistant infection throughout the body. Edwards has been able to determine, among other things, the sequence of DNA that the relaxase seeks to perform its function. He has also determined the specific DNA bases in this sequence required for efficient transfer of resistance. Edwards is now focusing on understanding the three-dimensional structure of the enzyme in complex with DNA, which would help researchers design and test molecule compounds in hopes of disrupting the relaxases and their antibiotic resistance mechanism.
North Carolina has implemented HAI prevention initiatives, in collaboration with the CDC. Edwards' research has implications for supporting these initiatives and the development of new antibiotics that would stop the spread of HAIs in North Carolina and beyond.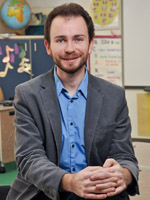 "Importantly, they find that minority and poor students in North Carolina had larger test score increases when their school failed to meet the state's accountability goals in the previous year. Thus, students benefited from the combination of the state and federal accountability programs," said Karolyn Tyson, Ph.D., a faculty adviser for Gaddis.
S. Michael Gaddis, Sociology
The Effects of Peer Poverty and 'No Child Left Behind' Accountability on Student Achievement
School achievement is crucial to an individual's success in life and to North Carolina's future. For four years, doctoral student S. Michael Gaddis has pursued research projects that examine this subject and that incorporate data from all N.C. public school students between grades three and eight during the years 2000 through 2010. Gaddis has studied accountability, equality and other goals addressed in much discussed state educational policies.
Working with Doug Lauen, Ph.D., Gaddis studied peer poverty as a factor in student test score change. Specifically, they researched whether the percentage of students in a classroom receiving free or reduced price lunch influences an individual student's math test score growth. They found essentially no effect; however, findings did indicate a negative effect associated with school transition—when an individual moved from a class whose students had a high rate of poverty to a classroom reflecting little poverty, or vice versa.
In a second project, Lauen and Gaddis examined how school accountability systems influence outcomes for minority and poor students. "As minority populations in North Carolina continue to grow, whether or not this policy serves to help these students is of the utmost importance to our state," Gaddis said. They examined how the subgroup accountability indicators of the No Child Left Behind (NCLB) Act of 2001 influenced test scores of African-American, Hispanic and poor students. Their results suggest that when a school missed its NCLB goal for one of these student subgroups, that subgroup experienced a small positive effect the next year. They also explored the accountability measures' effects on achievement gaps, finding that subgroup accountability worked to reduce overall achievement gaps in math and reading.
Gaddis' research can help inform educators, parents and policymakers in decisions affecting the education of students throughout North Carolina.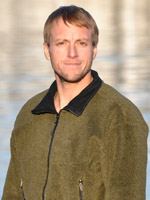 "Nate's research is done on oyster reef habitat and involves experiments designed to test new ideas about what prevents recovery of oysters from a 99 percent decline extending back over the past century," said Charles Peterson, Ph.D., Geraldi's dissertation adviser.
Nate Geraldi, Marine Sciences
Identifying Best Ways to Maximize Oyster Population Growth
North Carolina has invested significant resources toward restoring its severely threatened oyster reefs. In the Pamlico Sound region, for example, restoration efforts have included artificial oyster reef sanctuaries created with large mounds of boulder-sized marl (rock containing clay and calcium carbonate). In addition, seed oysters that have been mass-produced in hatcheries have been transplanted to these sanctuaries to accelerate reef creation.
Continued restoration efforts are under way or under discussion—yet what methods are likely to produce the best results? Doctoral student Nate Geraldi studied the effectiveness of deploying hatchery-raised oysters by experimentally manipulating oyster mounds at Gibbs Shoal, Crab Hole and Clam Shoal oyster sanctuaries. The marl mounds at these sanctuaries had five different manipulations: blank marl, unseeded shell, early small seed oysters, late small seed oysters or late large seed oysters. The study team monitored the areas in fall 2010, spring 2011 and fall 2011, examining the size and abundance of oysters at each of the oyster sanctuaries. The N.C. Division of Marine Fisheries Oyster Sanctuary Program provided assistance for this study.
Geraldi's results indicated no difference in the number of oysters between shell deployed without seed oysters and shell deployed with oysters. Furthermore, the addition of shell, seeded or unseeded, was not associated with increased oyster abundance. Sanctuary location did appear to affect overall oyster abundance. Monitoring of the mounds will continue until spring 2012 to check for any long-term benefit to seeding the mounds.
His results indicate that natural oyster recruitment is not limiting oyster reef creation and that deploying hatchery-raised oysters does not accelerate oyster reef creation. "The results to date indicate that larval supply in the Pamlico Sound is more than adequate to create oyster reefs, and restoration resources should be devoted to deploying hard substrate for oysters to settle on," Geraldi said.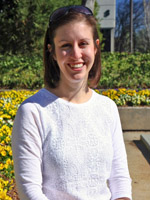 "Brooke's work will have direct impact on the efforts of disease intervention specialists charged with interviewing newly diagnosed HIV cases in the State of North Carolina," said dissertation adviser William Miller, M.D., Ph.D.
Brooke Hoots, Epidemiology
Developing Practical Tools to Inform Allocation of North Carolina's Limited HIV Resources
An estimated 35 percent of North Carolinians who are HIV-positive have not yet been diagnosed, and the state has limited resources to detect these cases and prevent future HIV incidence. "Disease intervention specialists, whose primary responsibility is notifying sexual partners of individuals diagnosed with HIV and syphilis in North Carolina of their potential exposure, are filling critical gaps in staffing," said Brooke Hoots, Ph.D.
Hoots' research goals have direct implications for helping the state most efficiently allocate crucial resources: characterizing geographic patterns of HIV incidence in two large state areas and developing practical tools that help disease intervention specialists (DIS) prioritize their caseloads.
Hoots used 2000-2007 data from the Winston-Salem and Raleigh regional offices on newly reported cases of HIV; these regions encompass 27 counties and make up about 40 percent of the state's incidence of HIV cases. She identified clusters of high HIV incidence in these regions and changes in these geographic clusters, as well as factors associated with geographic distance between sexual partners. Her findings indicate that geographic clustering of reported HIV cases in urban areas was prominent in the first five years of data (2000-2005) but ended after 2005.
Additionally, her findings indicate a dramatic increase in Internet use among men who have sex with men and an increase in distance between sexual partners from 2000 to 2007. Her study data suggest that in terms of most effective detection of new HIV cases, Internet-based interventions may be preferable to geographic-based HIV testing events.
Hoots also developed tools that could help DIS more effectively target interventions geared toward reducing HIV transmission—models predicting undiagnosed HIV infection in sexual partners and predicting the risk that an HIV-infected individual will violate measures the state has in place to control transmission of HIV.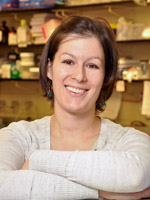 "This study demonstrates the potential use of a novel biologic to aid in recovery after ischemic heart disease. Given the high rate of heart disease in North Carolina, these studies have the potential to greatly impact the overall health of North Carolina citizens," said Ellie Tzima, Ph.D., McCormick's faculty adviser.
Margaret McCormick, Cell and Molecular Physiology
Mending a Broken Heart: Investigating Use of a Novel Biologic in Heart Attacks
Cardiovascular disease is the leading cause of death in North Carolina and the nation. The most common type of heart disease, coronary artery disease is characterized by narrowing of the arteries that supply blood to the heart and can lead to a heart attack.
The primary goal of therapy after a heart attack is to minimize loss of heart muscle cells in order to prevent progression to heart failure. To accomplish that, surgeons have customarily focused on reopening or bypassing blocked blood vessels so oxygen and other nutrients can get to these cells. "Within the first 24 hours, you are losing some proportion of cells," said doctoral student Margaret McCormick. "Some cells die immediately. Some cells, after 24 hours, are on the border of life and death." Evidence indicates, however, that this effective intervention can cause damaging inflammation that contributes to additional muscle cell death.
Emerging therapies are focusing on stem cells and other regenerative-based compounds, and McCormick's research focused on a novel biological compound. In a mouse model study, McCormick's preliminary findings indicated that heart function after a heart attack was better in mice injected with the compound. Her findings also indicated alleviation of structural changes that occur in the heart after a heart attack: The compound was found to significantly reduce scar tissue (which can weaken the heart muscle wall), as well as increase capillary density.
McCormick and her colleagues also explored the possible role this compound may play as a "homing" signal to recruit stem cells to the heart after a heart attack. The compound showed signs of possibly stimulating recruitment of cells from which heart muscle cells can regenerate; her research team is studying this promising discovery in a follow-up study.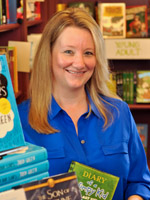 "Kristin is now helping educators and therapists understand the academic and language needs of the adolescents they teach by sharing the results of her research and translating it meaningfully to practice," said Karen Erickson, Ph.D., Nellenbach's dissertation adviser.
Kristin Nellenbach, Speech and Hearing Sciences
Oral Language, Problem Solving and Reading Attitudes in Adolescent Reading Comprehension
Almost 70 percent of North Carolina's young adolescents read at or below a basic level of comprehension, according to 2011 National Assessment of Educational Progress data. "Students who perform at or below a basic level of reading are at a significant disadvantage relative to their peers who have proficient reading skills as the increased demands of a technologically progressive state, national and global community require advanced literary abilities," said Kristin Nellenbach, Ph.D.
Nellenbach, a practicing speech and language pathologist, studied how various factors influence early adolescents' silent reading comprehension abilities. Sixty students in a North Carolina public middle school completed an extensive assessment that measured nine factors related to silent reading comprehension, oral language skills, problem-solving abilities and reading attitudes. Study participants were between the ages of 10 and 14, and the study group's diversity was similar to the school's district and state levels.
Prior research had shown that each of the nine factors, examined individually, influenced silent reading comprehension. Nellenbach's findings indicated that a specific combination of five factors including syntax combined with working memory, multiple meaning words, inferences, planning ability and students' attitudes toward recreational reading explained nearly three-fourths of the range in study participants' silent reading comprehension abilities. Her study is believed to be the first known research effort that looked at this particular combination of factors in relation to silent reading comprehension in young adolescents.
Her research has implications for developing targeted interventions and instructional programs that help address underlying obstacles preventing students from developing comprehension skills—interventions that may ultimately also improve adult literacy rates in North Carolina.
"In addition to conducting her research, Kyle has worked very hard to maximize the extent to which the results will be useful to the stakeholders and to communicate that information directly to them," said Robert Peet, Ph.D., Palmquist's dissertation adviser.
Kyle Palmquist, Ecology
Protecting Plant Biodiversity in the Longleaf Pine Ecosystem
One of North Carolina's richest sources of plant diversity, the longleaf pine ecosystem, is also one of the most threatened.
This ecosystem needs frequent prescribed fire for plants to receive the light, space and nutrients they need to thrive. Doctoral student Kyle Palmquist studied the effectiveness of current fire management practices by re-sampling 59 permanent vegetation plots almost 20 years after they were established. "Prior to this work, there had been no long-term assessment of the stability of biodiversity in longleaf pine communities in North Carolina," she said.
Her study was conducted on Marine Corps Base Camp Lejeune (in collaboration with Duke University), the Green Swamp Wilderness Preserve, a major natural heritage site for the Atlantic coastal plain, and other areas. Findings indicate that frequently burned sites gained the most species over time. Plots resampled on Camp Lejeune and Croatan National Forest had dramatic increases in diversity, whether measured in large or small areas; Palmquist attributed these ecosystem gains to increased burning efforts during the past 20 years, relative to fire frequency in the early and mid-20th century.
In contrast, the Green Swamp Wilderness Preserve's richness was constant at large areas but had strongly declined in smaller areas. The Green Swamp had a history of prescribed fire every year or so until a decade ago, when fire managers decreased burning to every two-to-five years. UNC-Chapel Hill researchers had documented, in the 1970s and 1980s, that the Green Swamp had the highest small-scale richness in plant species ever documented in North America; however, increased drought frequency and reduced fire frequency caused a dramatic drop in plant richness.
Estimates place North Carolina's natural longleaf pine acreage at about 200,000, with little high-quality, frequently burned habitat left. Palmquist's research has implications for fire management decisions regarding the state's longleaf ecosystem—and for the biodiversity this ecosystem contains.
"Currently, only about half of patients experiencing stroke symptoms engage EMS and only half of those are seen by EMS crews that follow a policy of hospital prenotification for suspected stroke. Carefully conducted and clearly communicated work like Mehul's is what is needed to help improve this situation in North Carolina," said Patel's adviser, Wayne Rosamond, Ph.D.
Mehul Patel, Epidemiology
Prehospital Notification by Emergency Medical Services Is Crucial to Timely Evaluation of Stroke
Vital statistics indicate that North Carolina has the fourth highest stroke death rate nationwide. Thrombolytic therapy can prevent death from stroke and decrease stroke damage to the brain but it must be administered within three hours of stroke onset to have the best chance for success. Transport to the hospital, brain imaging and the interpretation of test results all must take place before treatment can be safely administered, meaning any delays can affect patient prognosis.
Does prehospital notification help reduce delays to brain imaging and patient evaluation? Doctoral student Mehul Patel used data from 13,984 patients in the North Carolina Stroke Care Collaborative (NCSCC) to study that question; 45 percent of those patients had arrived by private transportation, and 55 percent used emergency medical services (EMS). Patel's research indicates that when EMS personnel notified hospitals that they were transporting possible stroke patients, those patients were three times as likely to have brain imaging completed within the recommended 25 minutes as patients who were transported privately. Even when EMS did not prenotify the hospitals, their patients were twice as likely to meet the time target as patients transported privately. Similar associations were observed for patients having their imaging results interpreted by a physician within the recommended 45 minutes of arrival.
"Our findings confirm arrival mode is strongly associated with delays in hospital evaluation," Patel said. "Moreover, EMS arrivals with prenotification experienced the most rapid evaluation."
Patel's research has the potential to increase the timely evaluation of stroke patients, thereby resulting in fewer stroke deaths in North Carolina.
"Ms. Pempe developed this research project by herself, and the project turns out to be a highly important topic," said Jian Liu, Ph.D., Pempe's dissertation adviser.
Elizabeth Pempe, Pharmaceutical Sciences
Using Structural Motifs to Improve Heparin Clearance
Heparin is one of the oldest drugs currently in clinical use; it is essential for kidney dialysis and has uses related to stroke and thrombotic disorders, among other health concerns. Yet heparin creates its own health concerns: The compound varies widely, including the amount of time it takes to clear the body's system. For uses such as anti-clotting during surgery, the optimal clearance would occur in a short period of time. For treatment of thrombotic diseases with prolonged clots, the optimal clearance would occur in the long term. Creating a controlled clearance rate for heparin would increase effectiveness and decrease the risk of this administered drug.
Doctoral student Elizabeth Pempe is studying heparin structures for clues into the mechanism that controls the drug's clearance. In 2008, the heparin clearance receptor (Stabilin-2) was identified. Now Pempe is collaborating with the researcher who identified this receptor—Edward Harris, Ph.D.—on a component of her research project. While the receptor has been identified, the mechanism behind heparin clearance (how the structure binds to the receptor) has not. Pempe and postdoctoral associate Yongmei Xu formed 10 differently patterned heparin compounds and studied how Harris' Stabilin-expressing cells reacted in the presence of each compound to learn more about possible clearance triggers.
She followed up on this research by investigating the minimum length of the compound necessary for it to bind to Stabilin receptors, and the next phase will advance to a rat model study. Her several research projects all bind to one central goal: "Given the current heparin therapies and their drawbacks, my project aims to prepare heparin drugs to meet currently unfulfilled needs," said Pempe.
"Tina stands out among her cohort for her ability and willingness to take the lessons learned from her research and go the next logical step in authoring a tangible solution," said Prevatte's adviser, Nichola Lowe, Ph.D.
Tina Prevatte, City and Regional Planning and Business Administration
From Farm to Fork? An Empirical Investigation of Challenges Faced by North Carolina's Small Meatpackers
The "local food" trend gains momentum each year, presenting opportunities and challenges for North Carolina's small farms and meatpacking operations.
Tina Prevatte, who received her master's degrees in city and regional planning and business administration in 2009, investigated barriers to success for small meatpackers. Ultimately, she co-founded a business to expand market opportunities for the state's livestock producers and small meatpackers. She surveyed 20 small meatpackers and conducted extensive interviews with some in that group. Prevatte also interviewed stakeholders who regularly interact with the state's small meatpackers and researched the industry as a whole.
Her findings come down to the importance of collaboration, that "bringing interested packers together into a marketing and sales cooperative would be an important step in developing them as more viable and dynamic links in the local food system."
Prevatte and Jennifer Curtis, who directs NC Choices (a Center for Environmental Farming Systems initiative), developed a business plan that became an independent business: Farmhand Foods. Their business sources whole animals from a network of North Carolina's pasture-based livestock producers who are raising their animals humanely. "We work with two different small meatpackers to create product, and then do the legwork necessary to market and distribute these local meats to local restaurant and retail customers." The business began selling into wholesale markets in March 2011.
"I hope to contribute to rural economic development here in my home state for many years to come," Prevatte said.
"In contrast to the very bleak portrayals of race and ethnic relations in the Nuevo South, Vanesa paints a more positive and encouraging picture, which could translate into multiple possibilities for inter-group collaboration between established African Americans and newcomer Latinos," said Jacqueline Maria Hagan, Ph.D., Ribas' dissertation adviser.
Vanesa Ribas, Sociology
On the Line: The Working Lives of Latinos and African Americans in the New South
Doctoral student Vanesa Ribas sought an in-depth understanding of how Latina/o migrants in the U.S. South were gaining a sense of their position in American systems of racial and class stratification. In particular, she wanted to study this issue within the context of intergroup relations in the workplace, especially between Latinos and African Americans. Ribas took a job as a production worker at a North Carolina meatpacking plant for 16 months, where she conducted an estimated 3,500 hours of participant observation research.
Some research has suggested contentious relations between Latina/os newly settled in the American South and African Americans. Ribas wanted to test the validity of these findings: "In taking my place on the meatpacking lines, laboring alongside Latina/o and African-American women and men, I hoped to gain a first-hand understanding of this phenomenon, situating it in the most crucial social domain of working-class lives—work," she said. Aside from participant observation, Ribas socialized with her Latina/o and African-American coworkers and conducted 25 in-depth individual interviews.
Her findings indicate that in marked contrast to what some scholars and pundits had suggested, African-American workers do not behave as if they feel threatened by competition from Latina/os. However, her findings suggest that Latinos perceive their group to occupy a disadvantaged position in the workplace. Further, Latinos perceive that African-American workers occupy a privileged position within the social organization of labor. These perceptions create resentment toward African Americans, whom Latinos view as more able to escape oppressive exploitation.
Through her research into a multifaceted and complex dynamic, Ribas identified a central emerging premise: that improving the working conditions of all workers has the potential for diminishing the basis for contention between Latinos and African Americans in the South, and for strengthening the foundation for collaboration between them. Ribas' research has implications for increasing understanding of issues central to the lives of Latinos, now estimated to be 8.4 percent of the state's population, as well as for improving the workplace for all North Carolinians.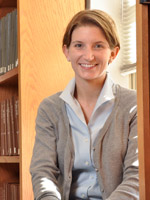 "I had never before encountered a graduate student who could foresee such a subtle but vital issue involving law and public administration and its implications for representative government," said Charles Szypszak, J.D., Roscoe's faculty adviser.
Emily Roscoe, Public Administration and Library Science
The Need for a Return to First Principles in Public Records Law
Technological advances continue to accelerate our ability to create and share information. For public officials, this creates a challenge: how to ensure public accountability as well as access to records located within an unprecedented level of data. Emily Roscoe, who is pursuing dual master's degrees in public administration and library science, conducted several research projects focused on creating information management resources to help N.C. policymakers manage this critical issue.
As a part of her capstone study, Roscoe surveyed N.C. public officials on their understanding of state-issued retention and disposition schedules for public records. She then conducted a legal analysis of public officials' obligations and the original intent of laws governing public official accountability. Her findings indicated inconsistency between current policies and the first principles of public records law—to offer meaningful information to the public about the rationale behind important government decisions. Roscoe presented her findings to more than 200 government representatives and faculty experts in the field.
While serving a federal fellowship at the N.C. Government Records Branch, Roscoe conducted background research for and developed policies including a social media policy for the State of North Carolina and local governments. This policy is believed to be the first recognized state social media policy in the nation.
She spent 18 months in partnership with the UNC-Chapel Hill School of Government providing guidance on storage capability and regulation language to a committee of the N.C. Association of Registers of Deeds charged with drafting new indexing standards for local land management records. She also taught classes for public officials at the School of Government on issues related to public information.
"My aim is to contribute to the reform of important but not well-understood laws and rules, shed light on the growing complexity of public recordkeeping and educate the citizens of North Carolina," Roscoe said.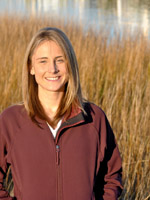 "This work is timely and exciting, being both a novel contribution to basic science and having tremendous value for decision-making. Ashley's research has already been of value to coastal decision makers in North Carolina," said Michael Piehler, Ph.D., Smyth's dissertation adviser.
Ashley Smyth, Marine Sciences
Assessing Water Quality Enhancement Through Oyster Reef Restoration
Coastal development has increased inputs of sediment, nitrogen and other pollutants into sensitive ecosystems. Additional nitrogen causes algal blooms that consume oxygen from the water, causing fish kills. Oysters efficiently filter water, and this process suppresses algal blooms and enhances microbial removal of nitrogen—yet their populations in North Carolina have dramatically decreased over the last century.
Doctoral student Ashley Smyth led a series of experiments assessing oysters' ability to improve ecosystem health. A state-of-the-art instrument located at the UNC-Chapel Hill Institute of Marine Sciences allowed Smyth to quantify nitrogen removal attributable to oyster presence.
One experiment showed that oysters remove 18 percent of nitrogen inputs that would otherwise contribute to ecosystem degradation. Additional research compared nitrogen removal in oyster reef sediments with non-oyster sediments over the course of two years. Findings showed that oyster reef sediments removed, on average, five times more nitrogen than non-oyster sediments. To assess the effectiveness of oyster restoration strategies for improving water quality, Smyth compared three stages of oyster reef restoration using: live oysters to represent fully restored reefs, oyster shell as newly restored reefs and mud flats without reefs. Study findings demonstrated a 61 percent increase from live oysters and a 24 percent increase from oyster shell, as compared to the mud flat. Furthermore, water quality was shown to improve just two weeks after reef construction.
"Enhanced nitrogen removal and improved water quality have long been considered a benefit of oyster restoration; however, until now we have lacked quantitative measurements that are needed to include the water quality benefits of oyster restoration in economic evaluations and nutrient management plans," Smyth said.
"Given the serious public health problem that tick-borne diseases pose for the state of North Carolina, Meagan's work is likely to have a profound beneficial effect for the state," said faculty adviser Steven Meshnick, M.D., Ph.D.
Meagan Vaughn, Epidemiology
Preventing Tick Bites Among North Carolina's Outdoor Workers
Tick-borne disease is on the rise nationwide, and North Carolina is part of that trend: Statistics indicate that the state's reported cases of Rocky Mountain spotted fever increased more than 10-fold between 2000 and 2006. Outdoor workers are at particular risk, and preventive strategies can be time-consuming.
Federal occupational safety recommendations advise outdoor workers to wear light-colored protective clothing, tuck pants into socks or boots, regularly apply repellant, spray work clothing with the synthetic chemical permethrin and check for ticks daily. "Self-applied methods for treating clothing with permethrin require repeated reapplication after laundering and are burdensome and potentially harmful for the user if handled improperly," said doctoral student Meagan Vaughn.
Greensboro-based company Insect Shield has developed long-lasting permethrin-impregnated clothing, shown to retain insecticidal protection for more than 70 washes. Vaughn led a pilot study on the effectiveness of this clothing in preventing tick bites. Of the 16 study participants—outdoor workers from the N.C. Division of Water Quality—nine used permethrin-impregnated clothing and seven used standard preventive measures. All completed questionnaires at study enrollment and conclusion, and submitted weekly tick bite logs.
Between March and September 2008, participants in the control group reported an average of 9.7 tick bites per person, while participants in the "permethrin" group reported less than one tick bite per person, on average. Overall, the group wearing permethrin-impregnated clothing experienced a 93 percent reduction in the incidence of total tick bites per 100 hours spent outdoors, compared to the control group.
Based on these findings, Vaughn and faculty members Steven Meshnick, M.D., Ph.D., from UNC-Chapel Hill and Charles Apperson, Ph.D., from N.C. State University submitted a proposal for a larger study; in 2010, the universities received a four-year, $1.1-million federal grant and are conducting research with more than 120 outdoor workers.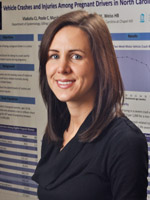 "The largest and most valid study of its kind by far, it will fill in large gaps in our understanding of a major public health problem in North Carolina and the nation at large," said Charles Poole, Sc.D., Vladutiu's dissertation adviser.
Catherine Vladutiu, Epidemiology
Motor Vehicle Crashes and Expectant Moms
Motor vehicle crashes are the leading cause of unintentional, fatal injury among N.C. women of reproductive age, according to recent statistics. Yet little is known about risk factors associated with crashes involving pregnant women.
Using North Carolina's database of police-reported crashes and the state's live birth and fetal death records, doctoral student Catherine Vladutiu focused on this issue. She began with 952,602 live birth and fetal death records and linked them to 991,589 state crash records over an eight-year period. Vladutiu found that 11,258 women were in at least one crash after the 20th week of pregnancy (98% were in only one crash).
Her findings estimated the risk of being a pregnant driver in a crash at the highest between 20 and 31 weeks of pregnancy and the lowest between 40 and 42 weeks. Pregnant women who were between 18 and 24 years of age, African-American, tobacco users during pregnancy, who delayed the initiation of prenatal care or delivered at least one live birth before the pregnancy referenced in Vladutiu's study were at higher risk of being in a severe crash, with similar factors noted for non-severe crashes.
Among pregnant drivers who were in crashes after the 20th week of pregnancy, the overall risk of injury was 40 per 100 drivers. The majority of the 4,488 driver injuries sustained in the crashes she analyzed were minor. Vladutiu also found risk factors associated with crash-related maternal injuries, including young age, African-American race, alcohol use, airbag deployment, seat belt non-use, high vehicle speed, severe vehicle damage, passenger cars, multiple occupants, wet road surfaces, and rainy or snowy weather conditions.
"Risk factors for being a pregnant driver in a motor vehicle crash and for sustaining crash-related maternal injuries are similar to risk factors observed in the general population," Vladutiu said. "Pregnant women should continue to receive prenatal counseling about the risk of crashes during pregnancy, particularly in the second trimester of pregnancy when they are at higher risk."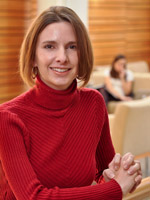 "UNC clinicians have developed protocols for the evaluation and management of early breastfeeding difficulties, and Stephanie's work has led us to make screening for postpartum depression a core part of our clinical evaluation," said Alison Stuebe, M.D., study co-author.
Stephanie Watkins, Epidemiology
Early Breastfeeding Experiences and Postpartum Depression
Breastfeeding has been linked to many positive health benefits for both mother and child, and major medical organizations recommend six months of exclusive breastfeeding. Research also indicates that women who stop breastfeeding early or choose not to breastfeed are at increased risk of postpartum depression.
Doctoral student Stephanie Watkins and co-authors studied how mothers' specific perceptions of and experiences with breastfeeding may contribute to postpartum depression, researching mothers' level of pain involved in breastfeeding, overall feelings about breastfeeding, amount of breastfeeding support received and the amount of time for breast milk to come in following delivery. Watkins' team used data from the Infant Feeding Practices Study II, a longitudinal dataset sponsored by the U.S. Centers for Disease Control and Prevention; the study set was 2,586 mothers who initiated breastfeeding and completed questionnaires at selected intervals during the first year after delivery.
Watkins' research indicated that 223 of the 2,586 women met criteria for major depression at two months after delivery. Women who reported disliking breastfeeding in the first week were 1.42 times as likely to experience postpartum depression at two months compared to women who reported liking breastfeeding. Women who reported severe breastfeeding pain in the first day, the first week and the second week were associated with a two-fold increase in postpartum depression (with small increases in the odds of postpartum depression as time progressed). No association was found between timing of when a mother's milk came in and postpartum depression.
These findings offer potential ways to screen mothers for postpartum depression risk and provide breastfeeding and other support. "This may reduce the severity of postpartum depression and enable women to meet their breastfeeding goals, thereby improving health outcomes across two generations," said Watkins.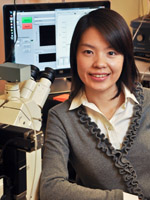 "If, as we anticipate, her technology proves useful in distinguishing between aggressive and nonaggressive prostate cancer, then many men of North Carolina will be spared unnecessary surgery, whereas others may be saved through aggressive therapeutic intervention," said David Lawrence, Ph.D., in whose laboratory Xu performs her research.
Weichen Xu, Pharmaceutical Sciences
Molecular Diagnostics of Prostate Cancer by Kinase Reporters and Capillary Electrophoresis
State statistics estimate that 7,679 men in North Carolina were diagnosed with prostate cancer in 2011. Prostate cancer is, typically, a slow-growing disease, which means that most patients will die with—and not from—this cancer. However, some patients will develop a deadly aggressive form. Research has not yet uncovered an effective way to distinguish between the two types of prostate cancer at the time of diagnosis. Being able to determine whether a man's prostate cancer is slow-growing or aggressive could prevent unnecessary, costly and potentially risky treatments.
The Src kinase protein regulates cell function and has been proven to affect progression of prostate cancer. Doctoral student Weichen Xu studied whether a relationship exists between this protein's activity and prostate cancers of varying aggressiveness. Xu also wanted, ultimately, to measure Src activity in a way that could translate into a rapid patient screening test. She employed capillary electrophoresis to measure Src activity, a highly sensitive technique that allows for rapid sample handling and has proven effective with patient biopsies.
Using a series of prostate cell lines, Xu discovered that total Src activity decreases with increasing prostate cancer cell line aggressiveness. This was surprising, but further investigation indicated that aggressive cell lines also have less total Src content. Xu subsequently discovered that a direct correlation exists between prostate cancer aggressiveness and the fraction of Src that is active—and in doing so, she found a potential biomarker for aggressive prostate cancer.
Xu is collaborating with UNC-Chapel Hill faculty members Nancy Allbritton, M.D., Ph.D., and David Lawrence, Ph.D., to study other potential biomarkers. "We suspect that the development of multiple biomarkers will be helpful in providing an accurate diagnosis and prognosis. Our ultimate goal is to apply this technology in the evaluation of prostate cancer patient samples," Xu said.