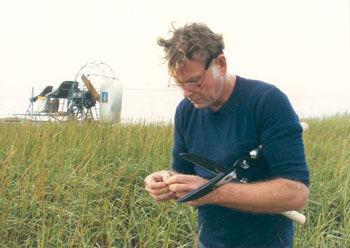 Photo courtesy of Ed Garbisch
Garbisch checks the embryo content of hayseeds
before he collects them for his wetland nursery.
Carolina Alumnus Brings Wetlands
Back to Life
In the early 1970s, while on sabbatical from a chemistry professorship, Carolina alumnus Ed Garbisch looked around the wetlands surrounding his Maryland vacation home and knew something had to be done to preserve these native environments. At the time, urban growth along the Chesapeake Bay was eating into centuries-old wetlands, replacing valuable ecosystems with commercial and residential developments.

Garbisch resigned his teaching job at the University of Minnesota and in 1972 founded Environmental Concern Inc. in St. Michaels, Md., the first non-profit organization of its kind in the United States. The federal government had just begun creating wetland regulations and the environmental movement had not yet taken hold in the United States.

"Thirty years ago, there was no interest at all in what we were doing," Garbisch said. "People didn't understand the value or the importance of wetlands. They had very little understanding of why there were even wetland regulations."

For Garbisch, a 1955 graduate of UNC-Chapel Hill, teaching others about the importance of maintaining and restoring wetlands was essential to the survival of these areas. Environmental Concern's mission is to educate others on the benefits of wetlands, as well as to restore and research wetlands.

What started as a small wetland restoration organization on the eastern seaboard now works with companies and educators across the United States and in Canada. Garbisch and his associates act as consultants on wetland habitat evaluations and help businesses that are mandated to replace wetlands taken up by building developments. They construct planned wetlands and ponds, providing new habitats for animals and plants. Garbisch's group also restores shores to control shoreline bank erosion. And, Environmental Concern's research arm explores what Garbisch calls "practical horticulture," gaining insight that will lead to better-designed and constructed wetlands and allow wetland nurseries to successfully propagate wetland plant species. They publish their findings for the benefit of scientists and educators in "The Wetland Journal."
The organization also provides training for educators and wetland professionals nationwide. Environmental Concern has published two educational books, "WOW!: The Wonders of Wetlands" and "POW!: The Planning of Wetlands," which encourage teachers and students
to build and learn from schoolyard wetland habitats.

The organization supports itself through its wetland construction business and the first wetland nursery in this country. Stock at the wholesale nursery includes 150 well-known wetland species such as bayberry, salt marsh hay, wax myrtle, pond pine, sweet gum and willow oak.
Standing waist high in wetlands collecting salt marsh hayseeds has been quite a departure from Garbisch's previous academic life. After graduating from UNC-Chapel Hill, he served two years in the U.S. Navy, received a doctorate from Northwestern University, and then taught chemistry at the Universities of Chicago and Minnesota.
"It was a big leap," Garbisch said. "I'd never grown anything in my life, and the first year we were in business, I learned to propagate 10 species of wetland plants from seed that had never been propagated by anyone before. I learned by doing. Being a former chemist and breathing ether all day in the lab, then getting out and growing plants, it was quite a change."

Garbisch has also seen great change in public awareness since he started Environmental Concern almost 30 years ago. For years, Garbisch and his colleagues collected plant seeds from a wetland area in Portland, Maine. Although there were joggers and walkers using a nearby trail, no one had ever questioned their presence in the wetland. In the last few years, signs stating the importance of the wetlands have been placed along the jogging trail.

"We can't harvest seeds there anymore," Garbisch said. "Two years ago, we were out there harvesting, and everyone on the jogging trail would yell at us, 'You're killing our wetlands out there.' They called the police. The public is so aware now of the importance of wetlands."

Environmental Concern works hard to find grants to continue its wetlands research, Garbisch said. His struggles with funding his own research have made him aware of how vital support for graduate education is, not only for students but also for the quality of research.

"Back when I taught chemistry in the late '60's, I don't think any of my students had university scholarships." he said. Garbisch helps to ensure that Carolina graduate students don't suffer the same fate. As a regular contributor to the Graduate School, Garbisch recognizes the importance of private support for graduate students. "I really am joined into graduate education at North Carolina."
-Deborah Makemson