Weiss Urban Livability Program
The Program
The Weiss Urban Livability Program supports talented graduate students who seek to improve urban livability. About eight fellowships are awarded annually to new graduate students in various disciplines at the University of North Carolina at Chapel Hill.
The one-year fellowship provides:
This fellowship provides a stipend, tuition and health insurance for one year. Learn more about the funding.
If you are interested in being a Weiss fellow, learn more about how Fellows are selected.
2016-2017 Weiss Fellows
2016-2017 Weiss Fellows Project: A Community Foodways Walking Tour
Information provided by Travis Crayton, Senior Fellow for 2016-2017 and 2017-2018:
For their community project, the 2016-2017 Weiss Fellows designed and held a foodways walking tour of downtown Chapel Hill. In addition to this walking tour, they designed a social media campaign branded as #MyFoodways to learn about how people in the UNC, Chapel Hill, and Carrboro community access food and think about food.
These two projects together enabled the Weiss Fellows to learn more about food, its relationship to urban livability, and the different approaches to food and food access. Additionally, by rooting this project in the local community, fellows had the opportunity to meet members of the community and learn more about the community outside of UNC.
The foodways walking tour was designed to highlight facts about downtown Chapel Hill's food scene that may otherwise not be noticed by even locals. The tour discussed the philanthropic culture of some of the downtown's most popular restaurants, including Vimala's, Mediterranean Deli, and Crook's Corner. Other stops included highlighting local community gardens and food pantries that might be hidden in plain sight to many community members. Additional stops also highlighted minority-owned businesses of historical importance to the local community and local gathering places for specific populations within the community.
The social media campaign invited community members to share how they access food with a small statement and a picture. These photos and stories have been gathered for a website.
The fellows were awarded a Food for All microgrant from the University-wide Food for All campus theme for this project.
Unique Learning Opportunities
Community Project
A unique aspect of the program is the Community Project. Over the course of the year, Weiss fellows design a project to positively impact urban livability in their own community. Learn more about past community projects.
Seminar Series On Urban Livability
Through an ongoing seminar series, Weiss fellows meet regularly with people from the campus and community who study and work with issues relating to urban livability.
Mentoring
Fellows receive mentoring from senior faculty and a senior graduate fellow.
Inter-Disciplinary Collaboration
Fellows meet regularly to interact and collaborate on contemporary community issues.
About the Fellows
Former Weiss fellows have come from disciplines as diverse as Studio Art, Religious Studies, Maternal and Child Health, and City and Regional Planning.
The Weiss Fellowship has guided graduate students toward careers serving the community. Examples of some careers that Weiss fellows have gone on to:
City manager
Public health doctor
Water and sanitation engineer
Community development leader
Transportation planner
Social worker
Teacher
When asked how the Weiss program impacted their lives, fellows remember:
"I identify the Weiss fellowship as one of the great achievements of my life. It has given me an opportunity to learn about issues of urban livability and things that touch your heart."
"Interacting with the Weisses themselves and learning about the breadth and depth of their interests and accomplishments made me believe in the impact that individuals can have."
"Being a Weiss fellow reinforced the idea of using environmental knowledge to positively affect the human condition."
Program History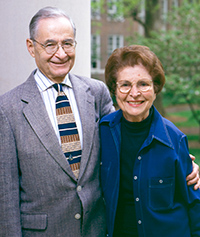 Charles and Shirley Weiss were retired professors of the University of North Carolina at Chapel Hill when they formed the idea for this innovative program. They designed the program to improve communities through interdisciplinary exploration of urban livability.
The Weisses' active involvement with the arts, education and civic organizations, coupled with extensive world travel, convinced them that an interdisciplinary approach is essential to improving the quality of life in communities.
Believing that graduate students are an invaluable resource for the future, the Weisses created a program that supports and nurtures graduate students.
Weiss Urban Livability Library Collection
The Weiss Urban Livability Library Collection provides resources in order to stimulate and enlighten those interested in improving community life. The collection has over 300 volumes on urban livability. Topics range from the architecture of the city to the history of the environmental movement in the United States. This collection of books, monographs, articles and memorabilia is donated generously by the Weisses. It is currently housed in the Center for Urban and Regional Studies,
Faculty Board
A faculty board administers the program. This board is composed of faculty from a range of departments across the university. These faculty members mentor fellows and select new fellows each year.
Gary Cuddeback, Social Work
Sandra Hoeflich, Graduate School
Rick Morse, Public Administration
Bill Robe, Center for Urban & Regional Studies
Charlie Tuggle, Media & Journalism
Ariana Vigil, Women's & Gender Studies
Jason West, Environmental Sciences & Engineering
Contact Us
If you have questions, email gradfunding@unc.edu.