Weiss Urban Livability Program
The Program
The Weiss Urban Livability Program supports talented graduate students who seek to improve urban livability. About eight fellowships are awarded annually to new graduate students in various disciplines at the University of North Carolina at Chapel Hill.
The one-year fellowship provides:
This fellowship provides a stipend, tuition and health insurance for one year. Learn more about the funding.
If you are interested in being a Weiss fellow, learn more about how Fellows are selected.
2017-2018 Weiss Fellows
Jordan Clark, Geography
Jordan Clark graduated from UNC-Chapel Hill with bachelor's degrees in geography, specializing in earth and environmental systems, and in political science. His undergraduate research included projects examining the relationship between climate change and invasive species in North Carolina, as well as the ways in which the ability to access public transportation, specifically by walking, influences individual- and community-level health outcomes. As a doctoral student in the UNC-Chapel Hill geography department, Jordan's research spans the fields of climatology and public health. He is primarily focused on modeling risk and vulnerability to excessive heat in an effort to promote positive health outcomes
Matthew Cohen-Price, City & Regional Planning
Matthew Cohen-Price's research interests include urban development, social justice, system thinking and institutional change. As a master's degree student in city and regional planning at UNC-Chapel Hill, he is using technical approaches to study economic inequality, gentrification and the frequent failure of urban revitalization and disaster recovery investments to benefit low-income and disempowered communities. He has worked in the fields of international development, political organizing, renewable energy and construction. He holds a bachelor's degree in peace studies from Goucher College, where he focused on the intersection of structural violence theory and disaster recovery.
Ina Dixon, American Studies
A doctoral student in American studies at UNC-Chapel Hill, Ina Dixon works to revitalize Southern communities through public humanities projects. In the American studies program, Ina is building upon her previous work with the Virginia Foundation for the Humanities on a project she led in Danville, Va., called History United. In that work, Ina coordinated community programs, oral history collection and teacher workshops to encourage a more diverse understanding of local history, and in support of a renewed sense of identity for Danville, formerly a major textile city. Ina holds a bachelor's degree in liberal arts from St. John's College and a master's degree in history from the University of Chicago.
Joshua Fernandez, Public Administration
Josh Fernandez received his bachelor's degree in environmental studies with a minor in economics from the University of North Carolina at Asheville. Josh also gained a deep passion for public service by volunteering in the community during his time with several student organizations. After leaving UNC Asheville, Josh continued to engage with the western North Carolina community through volunteering. He has spent more than two years working for environmental conservation nonprofit groups to improve wildlife habitats and general access to public lands. Josh is pursuing a master's degree in public administration at UNC-Chapel Hill while also working as a research assistant in the School of Government's Environmental Finance Center.
Andrea Goodwin, Sociology
Andrea Goodwin holds master's degrees in both exercise and sport sciences (the University of Florida) and sociology (Morgan State University). Her 12 years working in professional and university athletics allowed her to manage the community outreach and involvement efforts of the Baltimore Ravens and the University of Maryland, Baltimore County collegiate athletic department. As a first-year doctoral student in sociology at UNC-Chapel Hill, Andrea's research interests include disparities with healthcare and health outcomes along racial/ethnic, gender and class strata.
Stephanie Kennedy, Social Work and Public Health
Stephanie Kennedy received her bachelor's degree in communication from the University of Southern California. As an undergraduate, Stephanie led the USC chapter of Women and Youth Supporting Each Other (WYSE), a national nonprofit mentoring program that empowers girls in under-resourced communities to create change. Today, she serves as vice chair of the WYSE National Board of Directors. Stephanie's professional experience includes several years working on issues related to state health policy and payment reform for population health in Washington D.C. At UNC-Chapel Hill, Stephanie is pursuing master's degrees in both social work and public health, blending her background in health policy with her passion for community empowerment and social justice.
Lindsay Metivier, Art
Lindsay Metivier is a photographer and independent curator based in Carrboro. She holds an undergraduate degree from Massachusetts College of Art and Design and is the proprietor of Aviary Gallery, an exhibition space with a digital photography lab in Boston. She is currently pursuing a master of fine arts degree in studio art at UNC-Chapel Hill. Her work has been shown most recently at The Front Gallery, Transmitter, Midway Artist Studios, Dorchester Art Project, Stonecrop Gallery and the Nave Gallery. Her work has also been featured on The Heavy Collective, Humble Arts Foundation and A New Nothing.
Erica Wood, Environmental Sciences & Engineering
Erica Wood is pursuing a master of science degree in public health within the UNC Gillings School of Global Public Health's environmental sciences and engineering department. Her early career leaned toward environmental conservation work, with a bachelor's degree in biology from Wellesley College, an AmeriCorps position that focused on protecting water quality in Boston and a job at The Nature Conservancy. Since then, she has worked in education, helping high school and college students use their strengths to meet academic challenges. She also has experience in STEM and foreign language education, as well as supporting small businesses and nonprofits. She is focused on bringing these skills together to protect health and the environment.
Travis Crayton*, Public Administration, Senior Fellow
Unique Learning Opportunities
Community Project
A unique aspect of the program is the Community Project. Over the course of the year, Weiss fellows design a project to positively impact urban livability in their own community. Learn more about past community projects.
Seminar Series On Urban Livability
Through an ongoing seminar series, Weiss fellows meet regularly with people from the campus and community who study and work with issues relating to urban livability.
Mentoring
Fellows receive mentoring from senior faculty and a senior graduate fellow.
Inter-Disciplinary Collaboration
Fellows meet regularly to interact and collaborate on contemporary community issues.
About the Fellows
Former Weiss fellows have come from disciplines as diverse as Studio Art, Religious Studies, Maternal and Child Health, and City and Regional Planning.
The Weiss Fellowship has guided graduate students toward careers serving the community. Examples of some careers that Weiss fellows have gone on to:
City manager
Public health doctor
Water and sanitation engineer
Community development leader
Transportation planner
Social worker
Teacher
When asked how the Weiss program impacted their lives, fellows remember:
"I identify the Weiss fellowship as one of the great achievements of my life. It has given me an opportunity to learn about issues of urban livability and things that touch your heart."
"Interacting with the Weisses themselves and learning about the breadth and depth of their interests and accomplishments made me believe in the impact that individuals can have."
"Being a Weiss fellow reinforced the idea of using environmental knowledge to positively affect the human condition."
Program History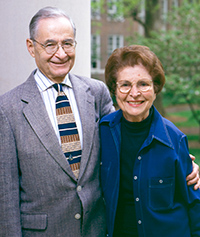 Charles and Shirley Weiss were retired professors of the University of North Carolina at Chapel Hill when they formed the idea for this innovative program. They designed the program to improve communities through interdisciplinary exploration of urban livability.
The Weisses' active involvement with the arts, education and civic organizations, coupled with extensive world travel, convinced them that an interdisciplinary approach is essential to improving the quality of life in communities.
Believing that graduate students are an invaluable resource for the future, the Weisses created a program that supports and nurtures graduate students.
Weiss Urban Livability Library Collection
The Weiss Urban Livability Library Collection provides resources in order to stimulate and enlighten those interested in improving community life. The collection has over 300 volumes on urban livability. Topics range from the architecture of the city to the history of the environmental movement in the United States. This collection of books, monographs, articles and memorabilia is donated generously by the Weisses. It is currently housed in the Center for Urban and Regional Studies,
Faculty Board
A faculty board administers the program. This board is composed of faculty from a range of departments across the university. These faculty members mentor fellows and select new fellows each year.
Gary Cuddeback, Social Work
Jennifer Gerz-Escandón, Graduate School
Rick Morse, Public Administration
Roxana Perez-Mendez, Art & Art History
Bill Rohe, Center for Urban & Regional Studies
Charlie Tuggle, Media & Journalism
Ariana Vigil, Women's & Gender Studies
Jason West, Environmental Sciences & Engineering
Contact Us
If you have questions, email gradfunding@unc.edu.