Weiss Urban Livability Program
The Program
The Weiss Urban Livability Program supports talented graduate students who seek to improve urban livability. About eight fellowships are awarded annually to new graduate students in various disciplines at the University of North Carolina at Chapel Hill.
The one-year fellowship provides:
This fellowship provides a stipend, tuition and health insurance for one year. Learn more about the funding.
If you are interested in being a Weiss fellow, learn more about how Fellows are selected.
2019-2020 Weiss Fellows
Nadia Pacheco Amaro, Information & Library Science and Public Administration, Senior Fellow – Nadia Pacheco Amaro received her bachelor's degree in Political Science with certificates in Nonprofit Management & Global Studies from the University of Pittsburgh. As an undergraduate, Nadia served in multiple leadership positions: she was Political Action Co-Chair of Campus Women's Organization, a member of the Provost's Advisory Committee on Women's Concerns, and the Stewardship Coordinator for the University of Pittsburgh's Senior Gift Committee, which decided the class of 2016's philanthropic mark on the university. These experiences helped shape her passion for social justice and taught her to apply new social, political, and economic perspectives to the many injustices faced by the most vulnerable. After leaving the University of Pittsburgh, Nadia worked for various nonprofit groups that served vulnerable populations. Nadia is pursuing dual degrees in Information Science with an emphasis on Systems Analysis and Development, and in Public Administration in hopes that she'll be able to bridge the knowledge gap between users and technology in nonprofit organizations to create effective, successful, and sustainable programs.
Daniela Ceron, Social Work – Daniela Ceron grew up in Winston-Salem, NC and received her undergraduate degrees in Strategic Communications and Religious Studies from Elon University. She is entering the UNC School of Social Work after completing a service year fellowship as a Kenan Community Impact Fellow in Burlington, NC. During her service year she worked with Alamance Achieves– a collective impact organization focused on improving education outcomes for all children in Alamance County– where she advocated for better access to resources for early childhood education. Informed by her service year experience, Daniela hopes to hope to serve as a bridge that connects her community to resources while simultaneously ensuring equitable and sustainable outcomes for marginalized communities.
Adrienne Hall, Geography – Originally from Long Beach, CA, Adrienne Hall is a first-year doctoral student in the Department of Geography. Her research interests include black geographies, critical public health, and issues of racism and space. Adrienne holds over 10 years of professional experience including monitoring and evaluating state Medicaid programs, supporting health system strengthening efforts in northern Ethiopia, and health equity research. Adrienne is an active member of the Anti-Eviction Mapping Project (AEMP) collective and is passionate about housing justice and the collective well-being of Black communities. Adrienne holds a master's degree in public health (MPH) from San Francisco State University and a bachelor's degree in business administration from the University of Southern California.
Joungwon Kwon, City and Regional Planning – Joungwon Kwon is a first-year doctoral student in City and Regional Planning who hopes to interweave various data sets and narratives of housing and communities together with new digital technologies such as Geographic Information System (GIS) and artificial intelligence (AI). Her goal is to become an interdisciplinary urban planner and scholar. She holds an MA Computational Media from Duke University. Her previous work is on "The Use of Geographic Information System for the Adaptive Reuse of Historical Sites: A Study of the Durham Belt Line Trail" which is about the adaptive reuse of the Durham Belt Line, an abandoned railway in Downtown Durham. She advocates adaptive reuse for the Durham Belt Line, exploring future options for Durham to maintain its history and community with the creation of the trail and proposes methods to maximize the impact of curated cultural content through the use of GIS.
Sierra Lawson, Religious Studies – Sierra Lawson is a doctoral student in Religious Studies focusing on the dynamic relationship between religion and culture. With a background in Biocultural Anthropology and Spanish, she received her M.A. in Religion in Culture at the University of Alabama with a certification in Digital Humanities. By critically reflecting on discourses that narrate apparitions of Mary and social processes involved in devotional practices, her work challenges modern assumptions about religious behavior from various global contexts. In addition to this ongoing research, Sierra has written broadly on the role of stereotypes in healthcare and published her findings in academic journals in the U.S. as well as abroad. She hopes to continue investigating the politics of classification while providing service to professional organizations in her field in the form of website management and online curation.
Rebecca Silber, American Studies – Rebecca is interested in urban material culture, focusing on public arts education, the integration of art programming into urban communities, and the de-mystification of urban art forms that may be stigmatized by mainstream culture. These interests moved Rebecca to work with the Baltimore Museum of Industry, Goucher College Special Collection and Archives, The Contemporary Art Museum of Raleigh, and Raleigh Parks and Recreation. Currently, they work for the Nasher Museum of Art at Duke University. They hope to further pursue these interests within their program.
Mira Singhal, Public Administration – Mira Singhal is a first year graduate student in the dual-degree Master of Public Administration and Master of City and Regional Planning Program. Before coming to UNC, she served for three years in Senegal, West Africa as a Peace Corps Volunteer working in agriculture and extended for an extra year to create a cartography/GIS program for volunteers and local community members. Mira is interested in community development and housing policy, as well as urban mobility. She holds a B.A in Political Science and a B.A in Urban Studies from Ohio Wesleyan University. Mira is the 2019-2020 UNC Chapel Hill Peace Corps Recruiter.
Devon Smith, Art – My name is Devon "Vonnie" Smith, and I was born and raised in Milwaukee, WI. I moved to Durham, NC in January 2018 to further my studies as an Interdisciplinary Documentary Artist at the University North Carolina-Chapel Hill in the Studio Art MFA program. I recently completed my first artist-in-residence program at the Power Plant Gallery in Durham, NC. I am interested in the ways in which the moving image and visual art can strengthen and empower communities. I am very inspired by organizations like Project Row Houses in Houston, TX and The Rebuild Foundation in Chicago, IL. I hope to own and operate a residency for filmmakers who are interested in collaborating and teaching filmmaking techniques to youth.
Zari Taylor, Communication – I am interested in exploring the ways that minority communities utilize social media and how social justice movements function online. My goal is to be a professor and writer in various publications. Previously I have been an undergraduate fellow at the University of Texas at San Antonio and a Schomburg-Mellon fellow at the Schomburg Center for research in Black culture in Harlem, New York. This past spring, I worked with the RISE to Vote, of the Ross Initiative in Sports for Equality to promote the importance of civic engagement and voting to professional and collegiate athletes.
Unique Learning Opportunities
Community Project
A unique aspect of the program is the Community Project. Over the course of the year, Weiss fellows design a project to positively impact urban livability in their own community. Learn more about past community projects.
Seminar Series On Urban Livability
Through an ongoing seminar series, Weiss fellows meet regularly with people from the campus and community who study and work with issues relating to urban livability.
Mentoring
Fellows receive mentoring from senior faculty and a senior graduate fellow.
Inter-Disciplinary Collaboration
Fellows meet regularly to interact and collaborate on contemporary community issues.
About the Fellows
Former Weiss fellows have come from disciplines as diverse as Studio Art, Religious Studies, Maternal and Child Health, and City and Regional Planning.
The Weiss Fellowship has guided graduate students toward careers serving the community. Examples of some careers that Weiss fellows have gone on to:
City manager
Public health doctor
Water and sanitation engineer
Community development leader
Transportation planner
Social worker
Teacher
When asked how the Weiss program impacted their lives, fellows remember:
"I identify the Weiss fellowship as one of the great achievements of my life. It has given me an opportunity to learn about issues of urban livability and things that touch your heart."
"Interacting with the Weisses themselves and learning about the breadth and depth of their interests and accomplishments made me believe in the impact that individuals can have."
"Being a Weiss fellow reinforced the idea of using environmental knowledge to positively affect the human condition."
Program History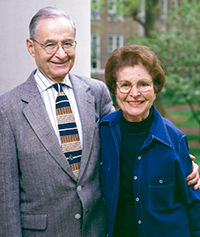 Charles and Shirley Weiss were retired professors of the University of North Carolina at Chapel Hill when they formed the idea for this innovative program. They designed the program to improve communities through interdisciplinary exploration of urban livability.
The Weisses' active involvement with the arts, education and civic organizations, coupled with extensive world travel, convinced them that an interdisciplinary approach is essential to improving the quality of life in communities.
Believing that graduate students are an invaluable resource for the future, the Weisses created a program that supports and nurtures graduate students.
Weiss Urban Livability Library Collection
The Weiss Urban Livability Library Collection provides resources in order to stimulate and enlighten those interested in improving community life. The collection has over 300 volumes on urban livability. Topics range from the architecture of the city to the history of the environmental movement in the United States. This collection of books, monographs, articles and memorabilia is donated generously by the Weisses. It is currently housed in the Center for Urban and Regional Studies,
Faculty Board
A faculty board is composed of faculty from a range of departments across the university. These faculty members assist in selecting new fellows and providing program input each year.
Gary Cuddeback, Social Work
Jennifer Gerz-Escandón, Graduate School
Rick Morse, Public Administration
Roxana Perez-Mendez, Art & Art History
Bill Rohe, Center for Urban & Regional Studies
Charlie Tuggle, Media & Journalism
Ariana Vigil, Women's & Gender Studies
Jason West, Environmental Sciences & Engineering
Contact Us
If you have questions, email gradfunding@unc.edu.