Weiss Urban Livability Program
The Program
The Weiss Urban Livability Program supports talented graduate students who seek to improve urban livability. About eight fellowships are awarded annually to new graduate students in various disciplines at the University of North Carolina at Chapel Hill.
The one-year fellowship provides:
This fellowship provides a stipend, tuition and health insurance for one year. Learn more about the funding.
If you are interested in being a Weiss fellow, learn more about how Fellows are selected.
2022-2023 Weiss Fellows
Zari Taylor, Communication, Senior Fellow – Zari Taylor is a fourth year graduate student in the Department of Communication. Her research is in the intersection of Race, Beauty Capital, Social Media, and Algorithms. Specifically, she looks at techno-minstrelsy on TikTok and the ways in which influencers are racialized and gendered in particular ways.

Nora Abbott, Environmental Sciences & Engineering – Nora Abbott was born and raised in Albany, New York. She is interested in environmental modeling, climate change, and global health. Nora has previously studied biosand filters as a water remediation method and air quality and related health with the New York State Energy Research and Development Authority (NYSERDA). She has also worked with the Royal Danish Consulate General and the Permanent Mission of Denmark to the United Nations as part of the Greening of the Blue Initiative.

Michael Beauregard, Public Administration – I am interested in studying affordable housing, economic development, and zoning, and the intersection between those three subjects. Rust Belt/post-industrial cities in the American Northeast and Midwest are of particular interest, especially Pittsburgh, Philadelphia, Chicago, Richmond, and Boston. I hope to one day establish a career in housing and community development, working to build new and affordable housing in an American city.

Dahlia Boyles, Communication Studies – Dahlia Boyles, from Middletown, Connecticut, is a Ph.D. student and teaching assistant in the Department of Communication at UNC Chapel Hill. She holds an M.A. and B.A. in Communication from Coastal Carolina University, where she taught persuasion for 2 years.

A critical rhetorical scholar working from an intersectional feminist perspective, Dahlia is interested in how power is socially constructed through communication. Her graduate work so far has focused on whiteness and (post)feminism in popular media. She has presented at regional, national, and international conferences.

Emily Chávez, Social Work – Emily Chávez is excited to begin her journey in the field of social work after a 15+ year career in education. Emily has been a high school teacher, a program administrator, and an advocate for social justice education who has worked to create more equitable access to learning, particularly for students of color, low income students, undocumented students, and LGBTQ+ students. She is the co-editor, along with Dr. Kia Caldwell, of Engaging the African Diaspora in K-12 Education (Peter Lang Publishing, 2020), and she currently serves on the Durham County Board of Education.

In her MSW studies and beyond, she is interested in focusing on intimate partner violence, housing, and the justice system. Ultimately, Emily aims to conduct community-engaged social work research that will inform policy and aid in alleviating social disparities. Born and raised in Cincinnati, Ohio, Emily has lived in Durham for 18 years.

Mackenzie Oglesby, Religious Studies – I have lived in Virginia all of my life, born and raised in Richmond then attending Virginia Tech; so this is my first time living out of state here at UNC. In my free time I like playing video games, walking my dog, and watching anime. I have always been passionate about history and museum work, I hope to stay in that industry into the future.

You can usually find me at local breweries/vineyards, thrift shopping, or enjoying the nightlife around town. My current research interests: American Religions, Southern Religions/Mythology, Christianity, Medieval Christian Art, Martyrdom, Lost Cause Ideology, Meaning-Making, and Iconography

Lindsey Jackson, Geography – I am a first-year Geography Ph.D. student and recent graduate from Columbia University with a degree in Climate Science and Policy. My research interests include food security, climate change, human health, and extreme weather. I have previous work experience in youth environmental education and energy conservation.

Miquell Shaw, American Studies – I am a first-year American Studies MA/Ph.D. student hailing from New Haven, CT. I am a recent graduate from the University of Richmond (UR) where I worked together with four other undergraduates to establish the university's first African American Studies program. During the summer of my senior year in undergrad, I interned with the Commissioner of the Department of Human Rights and assisted in crafting a response to their pattern or practice investigation into the Minnesota Police Department over the murder of George Floyd.

My research interests lie in understanding how our current moment is continuously being shaped by European colonial practices of domination and anti-Black violence on a global scale. I hope to learn more and work toward critiquing and undoing what Sylvia Wynter articulates as the overrepresentation of Western Man as the only way of being human and the violence that comes alongside that, while also centering the ways in which Black people have resisted such physical and epistemological pressures throughout modernity.

Isabel Soberal, City & Regional Planning – Isabel (she/her) is an incoming Master's student in the Department of City and Regional Planning. Prior to attending UNC, she earned BA degrees in Geography and Spanish from Grand Valley State University in Michigan. During her academic career, Isabel developed research interests surrounding the intersection of sustainability, equity and planning.
Unique Learning Opportunities
Community Project
A unique aspect of the program is the Community Project. Over the course of the year, Weiss fellows design a project to positively impact urban livability in their own community. Learn more about past community projects.
Seminar Series On Urban Livability
Through an ongoing seminar series, Weiss fellows meet regularly with people from the campus and community who study and work with issues relating to urban livability.
Mentoring
Fellows receive mentoring from senior faculty and a senior graduate fellow.
Inter-Disciplinary Collaboration
Fellows meet regularly to interact and collaborate on contemporary community issues.
About the Weiss Fellows
Former Weiss fellows have come from disciplines as diverse as Studio Art, Religious Studies, Maternal and Child Health, and City and Regional Planning.
The Weiss Fellowship has guided graduate students toward careers serving the community. Examples of some careers that Weiss fellows have gone on to:
City manager
Public health doctor
Water and sanitation engineer
Community development leader
Transportation planner
Social worker
Teacher
When asked how the Weiss program impacted their lives, fellows remember:
"I identify the Weiss fellowship as one of the great achievements of my life. It has given me an opportunity to learn about issues of urban livability and things that touch your heart."
"Interacting with the Weisses themselves and learning about the breadth and depth of their interests and accomplishments made me believe in the impact that individuals can have."
"Being a Weiss fellow reinforced the idea of using environmental knowledge to positively affect the human condition."
Program History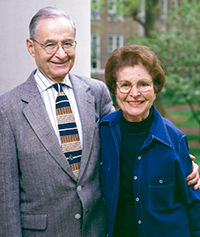 Charles and Shirley Weiss were retired professors of the University of North Carolina at Chapel Hill when they formed the idea for this innovative program. They designed the program to improve communities through interdisciplinary exploration of urban livability.
The Weisses' active involvement with the arts, education and civic organizations, coupled with extensive world travel, convinced them that an interdisciplinary approach is essential to improving the quality of life in communities.
Believing that graduate students are an invaluable resource for the future, the Weisses created a program that supports and nurtures graduate students.
Weiss Urban Livability Library Collection
The Weiss Urban Livability Library Collection provides resources in order to stimulate and enlighten those interested in improving community life. The collection has over 300 volumes on urban livability. Topics range from the architecture of the city to the history of the environmental movement in the United States. This collection of books, monographs, articles and memorabilia is donated generously by the Weisses. It is currently housed in the Center for Urban and Regional Studies,
Faculty Board
A faculty board is composed of faculty from a range of departments across the university. These faculty members assist in selecting new fellows and providing program input each year.
David Ansong, Social Work
Bill Gentry, Public Health
Nikhil Kaza, City & Regional Planning
Rick Morse, Public Adminstration
Roxana Perez-Mendez, Studio Art
Kumi Silva, Communications
Howard Weinberg, Environmental Sciences & Engineering
Contact Us
If you have questions, email gradfunding@unc.edu.