Weiss Urban Livability Program
The Fellowship Program
The Weiss Urban Livability Program supports talented graduate students who seek to improve urban livability. About eight fellowships are awarded annually to new graduate students in various disciplines at the University of North Carolina at Chapel Hill.
The one-year fellowship provides:
This fellowship provides a stipend, tuition and health insurance for one year. Learn more about the funding.
If you are interested in being a Weiss fellow, learn more about how Fellows are selected.
2023-2024 Weiss Fellows
Isabel Soberal, City & Regional Planning, Senior Fellow — Isabel (she/they) is a second year MCRP student in the Department of City and Regional Planning at UNC-Chapel Hill. Her work has focused on integrating equity considerations in the planning process, and she hopes to study with more focus on housing in the coming year. Prior to attending UNC, Isabel earned BA degrees in Geography and Spanish from Grand Valley State University in Allendale, Michigan.

Laura Gomez Rodriguez, City & Regional Planning — I am a first year master's student pursuing dual degrees in City and Regional Planning and Environmental Engineering. I am originally from Bogota, Colombia. I graduated from NC State University in Biological Engineering. I have a strong interest in water quality, quantity, and accessibility. I am particularly interested in international development in areas where climate change will have a detrimental effect on water resources. I also aim to understand how to better bridge the gap between engineering and policy to solve water issues worldwide.

Cailee Harrington, Environmental Sciences & Engineering — Cailee is a first-year PhD student in the Fry lab in the Environmental Sciences and Engineering department at Gillings. She has a strong focus on using environmental health research to build better lives for all. She graduated from UNC with a BA in Global Studies in May 2023 with Highest Honors and is an alumna of the undergraduate ethics fellows program at UNC's Parr Center for Ethics. After earning her PhD, she intends to help build better lives by doing research on the environmental health issues we face and supporting non-profits which address them. 

Ramana Housman, Clinical Rehabilitation and Mental Health Counseling — Ramana Housman is a first year student in the Clinical Rehabilitation and Mental Health Counseling masters program. With an undergraduate degree in Behavioral Neuroscience and an extensive background working with people with developmental disabilities, they hope to bring a unique perspective informed both by evidence-based research and direct-care experience. Ramana is interested in pursuing a multifaceted career in clinical practice, research, and teaching. They hope to help address barriers that individuals with disabilities face in accessing meaningful vocation and community. 

Isabella Igbanugo, Social Work — Isabella Igbanugo, originally from Minnesota, is a first-year Master of Social Work student. She recently graduated with a BA in Justice and Law from American University in Washington, D.C., and is looking forward to becoming a part of the Carolina community! She has a deep passion for child welfare, the prevention of family violence, and breaking cycles of intergenerational trauma. She is interested in research centering parenting, generational healing, and culturally inclusive approaches to child welfare. In her free time, you can find her cafe-hopping, scrapbooking, or catching an episode of Modern Family. 

Ayanna Long, Education — I am from Greensboro, North Carolina. I have been working with children since I was 15 years old through various experiences such as volunteering and interning at childcare centers, student teaching, and mentoring 3rd-5th grade girls. My goal as an educator is to cultivate the minds of marginalized youth that attend schools in low-income areas by providing students with a culturally relevant education that celebrates diversity. I am interested in researching how to create meaningful STEM learning opportunities within and outside of the classroom for Black and brown students. My hope is to spark interest in several STEM concepts to inspire students to pursue STEM career fields in the future to increase representation.

Cree Noble, Communication Studies — Cree Noble is a first-year Ph.D. student in the Department of Communication Studies. Cree is interested in performance studies, counseling theories, critical race theory, and Black feminism. She currently is a drama therapist and occasional theatremaker. 

Latifat Odetunde, Religious Studies — My name is Latifat Odetunde and I am a Nigerian American Muslimah. I am passionate about the Black Muslim community and their experiences. I seek to amplify their voices and share their stories through research and media. My work can be found on the instagram account BlackMuslimTv.

Armani Stewart, Anthropology — My current research looks at the food practices of urban-dwelling black women in the American South. Additionally, my research explores urban vegan lifestyles and the ways in which this food practice functions in historically black communities in addressing the health disparities amongst black women. I served as a Health Equity Fellow with the Association of State Public Health Nutritionists (ASPHN) at Morehouse School of Medicine Prevention Research Center (MSM PRC) in Atlanta, Georgia from January 2023 - April 2023. 
Former Weiss fellows have come from disciplines as diverse as Studio Art, Religious Studies, Maternal and Child Health, and City and Regional Planning.
The Weiss Fellowship has guided graduate students toward careers serving the community. Examples of some careers that Weiss fellows have gone on to:
City manager
Public health doctor
Water and sanitation engineer
Community development leader
Transportation planner
Social worker
Teacher
Unique Learning Opportunities
Community Project
A unique aspect of the program is the Community Project. Over the course of the year, Weiss fellows design a project to positively impact urban livability in their own community. Learn more about past community projects.
Seminar Series On Urban Livability
Through an ongoing seminar series, Weiss fellows meet regularly with people from the campus and community who study and work with issues relating to urban livability.
Mentoring
Fellows receive mentoring from senior faculty and a senior graduate fellow.
Inter-Disciplinary Collaboration
Fellows meet regularly to interact and collaborate on contemporary community issues.
When asked how the Weiss program impacted their lives, fellows remember:
"I identify the Weiss fellowship as one of the great achievements of my life. It has given me an opportunity to learn about issues of urban livability and things that touch your heart."
"Interacting with the Weisses themselves and learning about the breadth and depth of their interests and accomplishments made me believe in the impact that individuals can have."
"Being a Weiss fellow reinforced the idea of using environmental knowledge to positively affect the human condition."
Program History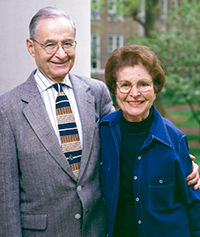 Charles and Shirley Weiss were retired professors of the University of North Carolina at Chapel Hill when they formed the idea for this innovative program. They designed the program to improve communities through interdisciplinary exploration of urban livability.
The Weisses' active involvement with the arts, education and civic organizations, coupled with extensive world travel, convinced them that an interdisciplinary approach is essential to improving the quality of life in communities.
Believing that graduate students are an invaluable resource for the future, the Weisses created a program that supports and nurtures graduate students.
Weiss Urban Livability Library Collection
The Weiss Urban Livability Library Collection provides resources in order to stimulate and enlighten those interested in improving community life. The collection has over 300 volumes on urban livability. Topics range from the architecture of the city to the history of the environmental movement in the United States. This collection of books, monographs, articles and memorabilia is donated generously by the Weisses. It is currently housed in the Center for Urban and Regional Studies,
Faculty Board
A faculty board is composed of faculty from a range of departments across the university. These faculty members assist in selecting new fellows and providing program input each year.
David Ansong, Social Work
Bill Gentry, Public Health
Nikhil Kaza, City & Regional Planning
Rick Morse, Public Administration
Roxana Perez-Mendez, Studio Art
Kumi Silva, Communications
Howard Weinberg, Environmental Sciences & Engineering
Contact Us
If you have questions, email gradfunding@unc.edu.