Weiss Urban Livability Program
The Program
The Weiss Urban Livability Program supports talented graduate students who seek to improve urban livability. About eight fellowships are awarded annually to new graduate students in various disciplines at the University of North Carolina at Chapel Hill.
The one-year fellowship provides:
This fellowship provides a stipend, tuition and health insurance for one year. Learn more about the funding.
If you are interested in being a Weiss fellow, learn more about how Fellows are selected.
2020-2021 Weiss Fellows
Daniela Ceron, Social Work, Senior Fellow - Daniela Ceron grew up in Winston-Salem, NC and received her undergraduate degrees in Strategic Communications and Religious Studies from Elon University. She is in the final year of her Master's of Social Work Program at UNC pursuing the Community, Management, and Policy Practice concentration. Her area of interest involves inter organizational and cross-sectoral work that explores how community organizations can work together with local governments to achieve common goals. She is completing her internship at the Latino Migration Project where she hopes to learn more about this process in community planning. Daniela hopes to serve as a bridge that connects her community to resources while simultaneously ensuring equitable and sustainable outcomes for marginalized communities. In her free time she enjoys watercoloring and spending time with her family.
Julia Cardwell, Geography – I grew up in Maryland and recently graduated from Davidson College (2019) with a degree in Environmental Studies and a minor in Data Science. My research interests include social vulnerability to extreme weather events, with a particular emphasis on variables that impact community recovery from these hazards. My undergraduate thesis focused on social vulnerability to flooding in Charlotte, North Carolina and for the past year I have been working in the Environmental Justice Program at the North Carolina Department of Environmental Quality.
Naana Ewool, Social Work – Naana grew up in Fredericksburg, VA by way of Ghana, and studied Psychology and African American Studies at the University of Virginia. After undergrad, Naana moved to Accra, Ghana to work for an anti-human trafficking organization where she interned for Social workers and provided trauma informed care for child survivors. For the last two years Naana has worked as a paralegal/community organizer in DC, focused mostly on fighting for low-income housing in the city. Through this organizing work and other experiences over the years, Naana has adopted a more radical definition of the term "justice," and is now dedicated to working towards Black liberation all over the world. Naana is pursuing an MSW with hopes of bringing the macro and micro social work skills she gains into more movement spaces.
Lauren Grimley, Geological Sciences – Lauren E. Grimley is from Houston, Texas but went to school in the Midwest before moving to Baton Rouge to work as a Hydrologist at The Water Institute of the Gulf. Her research interests are focused on improve the quantification of flood risk and the economic and social impacts. She has an M.S. in Civil & Environmental Engineering with a focus on water resources from the University of Iowa at Iowa City. At the Iowa Flood Center, she worked with researchers to develop advanced tools to improve Iowa's flood preparedness and resiliency. Lauren spent two summers in Tuscaloosa, Alabama where she participated in the National Water Center Summer Innovators Program organized by the Consortium of Universities for the Advancement of Hydrologic Science, Inc. (CUAHSI) both as a Research Fellow and a Course Coordinator. She collaborated intensively with students and experts to develop and work on projects designed to contribute to the National Water Center's goals of enhancing water related products and decision support services across the country. While working in Louisiana, her research focused on developing a method to define flood risks in low-gradient watersheds that experience compound flooding from hydrologic and coastal extremes. Lauren is excited to collaborate with researchers and communities to explore the complex relationships between human and natural systems. By using an interdisciplinary approach to studying flood risk, she hopes to provide decision-makers with adaptation strategies that will improve system-wide resilience.
Haley Macdonald, Environmental Science and Engineering – I am a first-year doctoral student in the Environmental Science and Engineering Department with a research focus on water filtration and purification. As an undergraduate at UNC Wilmington, I was a member of Global Water Brigades, which works to bring clean water to under-resourced communities throughout Central America. This experience kindled a passion for expanding clean water access domestically and abroad. After earning my B.S. Chemistry degree from UNCW, I worked as an environmental consultant for two years. I am excited to further my studies here at UNC and have the opportunity to pursue my passion to expand access to clean water.
Julianne Miao, Art History – Julianne Miao is a first-year master's student in the art history program whose research spans art of the twentieth century with special interest in issues of race and gender within those topics. She received her undergraduate degrees in art history and marketing at the University of Georgia where she conducted an independent project on Félix González-Torres's Untitled (Portrait of Ross in L.A.) to study the site installation and how its place affects its performative attributes. She has held positions at the Museum of Fine Arts, Boston, Princeton University Art Museum, and most recently, she was the Walton Family and Ford Foundation Curatorial Fellow at the Reynolda House Museum of American Art. There, she curated a show entitled "Private Life: Domestic and Interior Spaces in 20th century Art." The exhibition explored the inversion of subjects into the interior as a reaction to social reform, world wars, and personal trauma or tragedy.
Shannon Mulloy, Clinical Rehabilitation and Mental Health Counseling – Shannon earned a Bachelor's degree in Communication and a Master's in Sociology from Stanford University where her studies focused on Interpersonal Relations and Social Psychology. She worked at start-ups in the San Francisco tech industry for three years, but a visit to the Big Island made her realize she wanted to escape the confines of a desk. She joined Pacific Quest, a wilderness therapy program, as a summer-only guide, but quickly fell in love with the work and stayed for two additional years. Most recently, Shannon worked as a Team Manager at Equinox RTC, an adventure-based therapeutic program for struggling teenage boys. Shannon aims to study and apply holistic, nature-based counseling methods to diagnose and treat at-risk indigenous youth.
Alexandra Ross, Nutrition – Alex is an incoming PhD student in the Department of Nutrition where she will be focusing on epidemiological research that evaluates diet-related health disparities, as well as domestic and international food policies that contribute to healthful food systems and food environments. She holds a master's degree in health science (MHS) focused in social factors in health from the Johns Hopkins Bloomberg School of Public Health. There she gained experience working in the food deserts of Baltimore City where she helped to design and evaluate interventions to improve community-level food access. Alex is passionate about understanding systemic issues that impede equitable access to healthful food in urban areas, and she is excited to understand these complexities in new ways through the multi-disciplinary experience she will have with the Weiss Fellowship scholars.
Bear Tose, Public Administration – Bear is a first-year graduate student in the dual-degree Masters of Public Administration & Masters of City and Regional Planning Program. Before coming to UNC, he worked for the Z. Smith Reynolds Foundation in Winston-Salem, NC, as a fellow, focusing on implementing their All for NC Framework for Grantmaking & Learning, integrating a racial equity lens to the broader work of the Foundation, and developing a strategic analysis for the Foundation's future investments within North Carolina's the Food System using a food sovereignty approach. Bear is interested in exploring mechanisms for community engagement and public accountability through participatory and deliberate democratic principles focused on decentralizing decision-making and reallocating resources to communities most marginalized by societal ills. He holds a Bachelors of Arts in Policy Studies from Elon University where he also gained experience in public policy analysis by providing pro-bono evaluative research to the City of Greensboro's Participatory Budgeting Project and GIS spatial-analysis of evictions across Alamance County used by local nonprofits to develop a renters' rights campaign.
Unique Learning Opportunities
Community Project
A unique aspect of the program is the Community Project. Over the course of the year, Weiss fellows design a project to positively impact urban livability in their own community. Learn more about past community projects.
Seminar Series On Urban Livability
Through an ongoing seminar series, Weiss fellows meet regularly with people from the campus and community who study and work with issues relating to urban livability.
Mentoring
Fellows receive mentoring from senior faculty and a senior graduate fellow.
Inter-Disciplinary Collaboration
Fellows meet regularly to interact and collaborate on contemporary community issues.
About the Weiss Fellows
Former Weiss fellows have come from disciplines as diverse as Studio Art, Religious Studies, Maternal and Child Health, and City and Regional Planning.
The Weiss Fellowship has guided graduate students toward careers serving the community. Examples of some careers that Weiss fellows have gone on to:
City manager
Public health doctor
Water and sanitation engineer
Community development leader
Transportation planner
Social worker
Teacher
When asked how the Weiss program impacted their lives, fellows remember:
"I identify the Weiss fellowship as one of the great achievements of my life. It has given me an opportunity to learn about issues of urban livability and things that touch your heart."
"Interacting with the Weisses themselves and learning about the breadth and depth of their interests and accomplishments made me believe in the impact that individuals can have."
"Being a Weiss fellow reinforced the idea of using environmental knowledge to positively affect the human condition."
Program History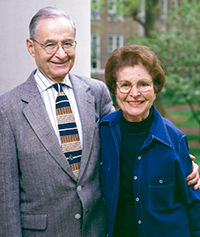 Charles and Shirley Weiss were retired professors of the University of North Carolina at Chapel Hill when they formed the idea for this innovative program. They designed the program to improve communities through interdisciplinary exploration of urban livability.
The Weisses' active involvement with the arts, education and civic organizations, coupled with extensive world travel, convinced them that an interdisciplinary approach is essential to improving the quality of life in communities.
Believing that graduate students are an invaluable resource for the future, the Weisses created a program that supports and nurtures graduate students.
Weiss Urban Livability Library Collection
The Weiss Urban Livability Library Collection provides resources in order to stimulate and enlighten those interested in improving community life. The collection has over 300 volumes on urban livability. Topics range from the architecture of the city to the history of the environmental movement in the United States. This collection of books, monographs, articles and memorabilia is donated generously by the Weisses. It is currently housed in the Center for Urban and Regional Studies,
Faculty Board
A faculty board is composed of faculty from a range of departments across the university. These faculty members assist in selecting new fellows and providing program input each year.
Gary Cuddeback, Social Work
Jennifer Gerz-Escandón, Graduate School
Rick Morse, Public Administration
Roxana Perez-Mendez, Art & Art History
Bill Rohe, Center for Urban & Regional Studies
Charlie Tuggle, Media & Journalism
Ariana Vigil, Women's & Gender Studies
Jason West, Environmental Sciences & Engineering
Contact Us
If you have questions, email gradfunding@unc.edu.