Weiss Urban Livability Program
The Program
The Weiss Urban Livability Program supports talented graduate students who seek to improve urban livability. About eight fellowships are awarded annually to new graduate students in various disciplines at the University of North Carolina at Chapel Hill.
The one-year fellowship provides:
This fellowship provides a stipend, tuition and health insurance for one year. Learn more about the funding.
If you are interested in being a Weiss fellow, learn more about how Fellows are selected.
2018-2019 Weiss Fellows
Stephanie Kennedy, Senior Fellow – Stephanie Kennedy is a dual-degree Master of Social Work (Community, Management & Policy Practice) and Master of Public Health (Maternal & Child Health) graduate student at the University of North Carolina-Chapel Hill. Her areas of interest include the social determinants of health, interdisciplinary approaches to health care reform, social justice, health equity, and community empowerment. Stephanie is Vice Chair of the Women and Youth Supporting Each Other (WYSE) national board, a nonprofit mentoring program that empowers girls in under-resourced communities across the country. Stephanie's professional experience includes reproductive care counseling, social safety net research, and several years working on issues related to state health policy and payment reform for population health in Washington D.C.

Erin Clark – Originally from the San Francisco Bay Area, Erin Clark hopes to practice as a family physician in an urban underserved environment. She is passionate about full-scope family medicine and continuity of care. Informed by a degree in kinesiology, she has engaged in research on impacts of the built environment on community health as well as exercise in pregnancy during medical school. Erin was selected to the American Academy of Family Physicians Emerging Leader Institute, through which she partnered with Healing Transitions in addressing treatment of substance use disorders in Raleigh, and received a best project award for the research conducted and projects completed. Erin is also one of the founding members of an elite distance running team called the Raleigh Distance Project, aiming to compete in the Olympic Marathon Trials in 2020.
Stephanie Cleland – Stephanie Cleland is a first-year MSPH student in the Department of Environmental Sciences & Engineering at the Gillings School of Global Public Health. She plans to spend her life reducing the burden of disease in urban communities by conducting research and devising evidence-based solutions to environmental health challenges, specifically air pollution, water, and sanitation. She plans to do this by using technical skills drawn from both environmental engineering and computer science. She wants to focus her energies on improving access to safe, sustainable water and sanitation for underserved populations. She comes to UNC from Boston where she worked as an analyst for a healthcare software company. Prior to that, she graduated with a degree in computer science and community health from Tufts University.
Lea Efird – Lea is entering the UNC School of Social Work after a year of service with AmeriCorps VISTA. She worked with the City of Raleigh Parks, Recreation and Cultural Resources Department on the Dorothea Dix Park project, creating a more diverse and equitable master planning process for this and future park development. She graduated Summa Cum Laude and with Highest Honors from UNC-CH, and her areas of research interest include US immigration policy, ethical and sustainable international development, and intersectional identities within the US Latinx community. After graduation, she hopes to work in nonprofit management and advocacy.
Yasmine Flodin-Ali – Yasmine Flodin-Ali is a first year PhD student in Islamic Studies who is passionate about translating the work of academia into the public sphere. Her research focuses on issues of race and gender in contemporary Muslim American communities. She received her Master of Theological Studies degree from Harvard Divinity School this past May. While at Harvard she worked at the Pluralism Project and co-created a conference entitled Beyond Bans, Beyond Walls, which brought together academics and practitioners to examine and re-imagine gender and Islam in theory and practice. As an aspiring professor and former AmeriCorps member for a college access non-profit, Yasmine also has a strong interest in making higher education more equitable.

Lindsay Oluyede – Lindsay Oluyede is a doctoral student in the Department of City and Regional Planning, with research interests in urban mobility, transportation equity, and inclusive public involvement in the planning process. Her professional experience includes coordinating communications projects for a river advocacy organization, providing outreach and technical assistance to local communities on rail-trail projects, and working as a transportation planner at a consulting firm. She holds a bachelor's degree in environmental studies and sociology from Tulane University and a master's degree in urban and regional planning from Virginia Tech.

Nadia Pacheco Amaro – Nadia Pacheco Amaro received her bachelor's degree in Political Science with certificates in Nonprofit Management & Global Studies from the University of Pittsburgh. As an undergraduate, Nadia served in multiple leadership positions: she was Political Action Co-Chair of Campus Women's Organization, a member of the Provost's Advisory Committee on Women's Concerns, and the Stewardship Coordinator for the University of Pittsburgh's Senior Gift Committee, which decided the class of 2016's philanthropic mark on the university. These experiences helped shape her passion for social justice and taught her to apply new social, political, and economic perspectives to the many injustices faced by the most vulnerable. After leaving the University of Pittsburgh, Nadia worked for various nonprofit groups that served vulnerable populations. Nadia is pursuing dual degrees in Information Science with an emphasis on Systems Analysis and Development, and in Public Administration in hopes that she'll be able to bridge the knowledge gap between users and technology in nonprofit organizations to create effective, successful, and sustainable programs.
Susan Penman – Susan Penman holds an MA in Southern Studies from the University of Mississippi. In 2017, she returned to UMS to get an MFA in Documentary Expression, focusing on juvenile crime and punishment in New Orleans. She is pursuing a doctorate in American Studies, and is interesting in using documentary methods to continue studying the impact incarceration has on youth.


Parag Jyoti Saikia – Parag Jyoti Saikia is a Doctoral student in Department of Anthropology and studies the construction of large hydropower projects and its associated infrastructures in the Northeastern region of India. Hailing from Assam, the central state of the frontier region, he focuses on the networks of infrastructure since most of the electricity generated in the Northeast will be used to light up urban spaces in mainland India. Before coming to UNC, Parag was teaching in Asian University for Women in Chittagong, Bangladesh. He is also associated with research and advocacy work related to hydropower development in Northeast India. He is also an editor for PangSau, a blog on Northeast India and regularly writes on socio-political issues pertaining to Northeast.
Unique Learning Opportunities
Community Project
A unique aspect of the program is the Community Project. Over the course of the year, Weiss fellows design a project to positively impact urban livability in their own community. Learn more about past community projects.
Seminar Series On Urban Livability
Through an ongoing seminar series, Weiss fellows meet regularly with people from the campus and community who study and work with issues relating to urban livability.
Mentoring
Fellows receive mentoring from senior faculty and a senior graduate fellow.
Inter-Disciplinary Collaboration
Fellows meet regularly to interact and collaborate on contemporary community issues.
About the Fellows
Former Weiss fellows have come from disciplines as diverse as Studio Art, Religious Studies, Maternal and Child Health, and City and Regional Planning.
The Weiss Fellowship has guided graduate students toward careers serving the community. Examples of some careers that Weiss fellows have gone on to:
City manager
Public health doctor
Water and sanitation engineer
Community development leader
Transportation planner
Social worker
Teacher
When asked how the Weiss program impacted their lives, fellows remember:
"I identify the Weiss fellowship as one of the great achievements of my life. It has given me an opportunity to learn about issues of urban livability and things that touch your heart."
"Interacting with the Weisses themselves and learning about the breadth and depth of their interests and accomplishments made me believe in the impact that individuals can have."
"Being a Weiss fellow reinforced the idea of using environmental knowledge to positively affect the human condition."
Program History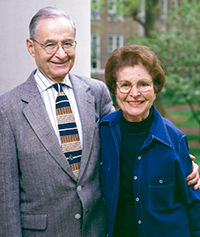 Charles and Shirley Weiss were retired professors of the University of North Carolina at Chapel Hill when they formed the idea for this innovative program. They designed the program to improve communities through interdisciplinary exploration of urban livability.
The Weisses' active involvement with the arts, education and civic organizations, coupled with extensive world travel, convinced them that an interdisciplinary approach is essential to improving the quality of life in communities.
Believing that graduate students are an invaluable resource for the future, the Weisses created a program that supports and nurtures graduate students.
Weiss Urban Livability Library Collection
The Weiss Urban Livability Library Collection provides resources in order to stimulate and enlighten those interested in improving community life. The collection has over 300 volumes on urban livability. Topics range from the architecture of the city to the history of the environmental movement in the United States. This collection of books, monographs, articles and memorabilia is donated generously by the Weisses. It is currently housed in the Center for Urban and Regional Studies,
Faculty Board
A faculty board is composed of faculty from a range of departments across the university. These faculty members assist in selecting new fellows and providing program input each year.
Gary Cuddeback, Social Work
Jennifer Gerz-Escandón, Graduate School
Rick Morse, Public Administration
Roxana Perez-Mendez, Art & Art History
Bill Rohe, Center for Urban & Regional Studies
Charlie Tuggle, Media & Journalism
Ariana Vigil, Women's & Gender Studies
Jason West, Environmental Sciences & Engineering
Contact Us
If you have questions, email gradfunding@unc.edu.