Weiss Urban Livability Program
The Program
The Weiss Urban Livability Program supports talented graduate students who seek to improve urban livability. About eight fellowships are awarded annually to new graduate students in various disciplines at the University of North Carolina at Chapel Hill.
The one-year fellowship provides:
This fellowship provides a stipend, tuition and health insurance for one year. Learn more about the funding.
If you are interested in being a Weiss fellow, learn more about how Fellows are selected.
2021-2022 Weiss Fellows
Naana Ewool, Social Work, Senior Fellow – Naana (she/her) is a first generation American-born Ghanaian and studied Psychology and African American Studies at the University of Virginia. Prior to attending UNC, Naana did community organizing work in Washington, DC mostly around the public housing crisis in the city as well as mutual aid and community care efforts. She is entering her final year of her Master's in Social Work degree with a concentration in Community, Management, and Policy Practice.

Naana is interested in applying social work skills to radical community work, focusing particularly on community care, healing justice, and creating alternatives to policing through transformative justice. Naana wants to build on community and cultural organizing skills, using art, music, spirituality, and other cultural practices to support the liberation of Black communities all over the world.

Bridgette Agbozo, Social Work – Bridgette is originally from North Carolina and spent several formative years in Ghana. Bridgette earned a degree in Psychology with minors in African/African-American Studies and Leadership Studies from Elon University. Passionate about reproductive justice, Bridgette gravitated towards the sexual and reproductive health world. Upon graduation, Bridgette completed a public health-centered service year fellowship, which included running local producer-only farmers markets, teaching comprehensive sexuality education to local middle schoolers, and organizing with the Health Equity Collective of Alamance County.

Bridgette is pursuing a dual-degree track consisting of Social Work and Public Health with the intention to learn how to utilize community wisdom when holding institutions accountable.

Samuel Akau, Public Policy – Samuel Garang Akau is pursuing a PhD in Public Policy at the University of North Carolina at Chapel Hill. His research interests include returns to Technical and Vocational Education Trainings in developing countries; contracting and accountability in fragile contexts; opportunities and perils of the China-Africa Resources-for-Infrastructure financing model; the nexus between technology and the rule of law and role in addressing cattle rustling phenomenon in the Horn of Africa; and the role of social networks and digital media platforms in expanding or shrinking the civic space.

Before joining the University of North Carolina at Chapel Hill, Samuel was the Co-founder and Executive Director of Sawa Sawa Network, a multimedia initiative building peace in South Sudan and its Diaspora. Prior to that, Samuel was lecturer and Deputy Dean for Management at the University of Juba, South Sudan.

Maya Bracy, Education – Maya Bracy was born and raised in Philadelphia, PA. She received an undergraduate degree in Psychology with a concentration in Africana Studies from Williams College where her studies culminated in work examining the efficacy of a community-based preschool social emotional intervention developed for low income families in Norwalk, CT.

For the last two years, Maya has worked as a Faculty Research Assistant and Intramural Research Fellow at the University of Maryland and National Institutes of Mental Health, collecting newborn, infant, and toddler behavioral and neurological data on a project aimed at identifying early predictors of anxiety. Maya aims to study how early social emotional development is influenced by differences in cultural or socio-economic contexts on a community level and about how community based participatory action research may be utilized by community stakeholders as a tool for empowerment.

Jerry Grimes, Religious Studies – Jerry Grimes is a native of Goldsboro, North Carolina. A graduate of Saint Augustine's University, Virginia Union University, Fuller Seminary, Union Presbyterian Seminary and Liberty University, he has served as an adjunct instructor in Religious Studies at Shaw University and North Carolina Wesleyan College. His research areas and interests include the work of Northeastern Women missionaries amongst emancipated populations in Wake County, North Carolina circa 1865.

Bevin Hardy, Anthropology – Through my anthropological coursework, work with a newly forming food cooperative, and position as market manager at a local farmers market, I have a growing interest in food systems. Food systems have varying scales, but I am most interested in the small farmers and their role in these spaces. I am also intrigued by their interactions and relationship with the environment and the broader political food system.

Justin Nolan, City and Regional Planning – I am a 34-year-old North Carolinian born and raised. For the last 12 years I have worked as a high school teacher in two excellent schools both in Raleigh, NC and in Greensboro, NC. I retired as an educator to pursue policy and planning work that will hopefully increase the positive impact I can have on the students I once served.

Laura Palmo, Clinical Rehabilitation and Mental Health Counseling – Laura Palmo was born in Santo Domingo, Dominican Republic, and grew up in Green Cove Springs, FL for most of her life. She received her Bachelor's degree in Biomedical Sciences and while going to school in Tampa, she interned at Moffitt Cancer Center. The research project she was a part of analyzed the relationship between HPV-related head and neck cancer and psychological distress.

Laura recently worked at Mayo Clinic as a Clinical Research Assistant. Most of the studies she was a part of dealt with CAR-T cell therapy and its effects on treating different cancers (particularly Multiple Myeloma and Lymphoma). With these experiences, Laura aims to take an interdisciplinary approach to counseling, particularly in historically underrepresented communities.

Rui Shan, Environmental Sciences and Engineering – Interested in the decarbonization of the energy system and the society; Aim to use data and models to capture the trend of energy transition and innovation in energy technologies. Before joining UNC-CH, I worked in Oak Ridge National Laboratory on projects about pumped storage hydropower and the electricity market. Previously, I have interned in UN Environment, providing financial supports for chemical management, and Climate Bridge, a consulting company focusing on carbon trading.

Bryttani Wooten, Geography – I am a first-year Geography Ph.D. student and recent graduate from Penn State University with a degree in Meteorology and Atmospheric Science hailing from Richmond, Virginia. My research interests lie at the intersection of climate change and extreme weather and human health, specifically the health of African Americans in the Southern US. In undergrad, I studied low-cost air quality sensors and their reliability and accuracy in providing particulate matter (PM) data so that the sensors could eventually be deployed in places such as West Africa where data is very limited.
Unique Learning Opportunities
Community Project
A unique aspect of the program is the Community Project. Over the course of the year, Weiss fellows design a project to positively impact urban livability in their own community. Learn more about past community projects.
Seminar Series On Urban Livability
Through an ongoing seminar series, Weiss fellows meet regularly with people from the campus and community who study and work with issues relating to urban livability.
Mentoring
Fellows receive mentoring from senior faculty and a senior graduate fellow.
Inter-Disciplinary Collaboration
Fellows meet regularly to interact and collaborate on contemporary community issues.
About the Weiss Fellows
Former Weiss fellows have come from disciplines as diverse as Studio Art, Religious Studies, Maternal and Child Health, and City and Regional Planning.
The Weiss Fellowship has guided graduate students toward careers serving the community. Examples of some careers that Weiss fellows have gone on to:
City manager
Public health doctor
Water and sanitation engineer
Community development leader
Transportation planner
Social worker
Teacher
When asked how the Weiss program impacted their lives, fellows remember:
"I identify the Weiss fellowship as one of the great achievements of my life. It has given me an opportunity to learn about issues of urban livability and things that touch your heart."
"Interacting with the Weisses themselves and learning about the breadth and depth of their interests and accomplishments made me believe in the impact that individuals can have."
"Being a Weiss fellow reinforced the idea of using environmental knowledge to positively affect the human condition."
Program History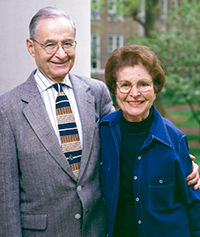 Charles and Shirley Weiss were retired professors of the University of North Carolina at Chapel Hill when they formed the idea for this innovative program. They designed the program to improve communities through interdisciplinary exploration of urban livability.
The Weisses' active involvement with the arts, education and civic organizations, coupled with extensive world travel, convinced them that an interdisciplinary approach is essential to improving the quality of life in communities.
Believing that graduate students are an invaluable resource for the future, the Weisses created a program that supports and nurtures graduate students.
Weiss Urban Livability Library Collection
The Weiss Urban Livability Library Collection provides resources in order to stimulate and enlighten those interested in improving community life. The collection has over 300 volumes on urban livability. Topics range from the architecture of the city to the history of the environmental movement in the United States. This collection of books, monographs, articles and memorabilia is donated generously by the Weisses. It is currently housed in the Center for Urban and Regional Studies,
Faculty Board
A faculty board is composed of faculty from a range of departments across the university. These faculty members assist in selecting new fellows and providing program input each year.
David Ansong, Social Work
Bill Gentry, Public Health
Nikhil Kaza, City & Regional Planning
Rick Morse, Public Adminstration
Roxana Perez-Mendez, Studio Art
Kumi Silva, Communications
Howard Weinberg, Environmental Sciences & Engineering
Contact Us
If you have questions, email gradfunding@unc.edu.