Weiss Urban Livability Program
2010-2011 Weiss Fellows
Stacey Ellen Riberdy, Social Work
Stacey graduated with highest honors from UNC-Chapel Hill with a bachelor's degree in international studies. During her junior year she studied abroad in Mali, West Africa. In 2006, she was selected to join Public Allies North Carolina, a 10-month AmeriCorps program. Her contributions included designing and organizing a high school career fair, coordinating and directing an afterschool program in a public housing community in Chapel Hill, and organizing a youth civic activism project that lobbied Town Hall to place new traffic safety devices for the public housing community. After the position ended, she continued her work with the same community.
Stacey is interested in fostering community, where citizens can form alliances across social lines and work together to heal divisions and fight disparity. In 2007, she began work as a community organizer with Duke University's Community Affairs Office, working on a quality of life project that incorporates the arts. She plans to use her graduate education to further her interests in illuminating the roles the arts play in building and sustaining communities.
Conor Michael Harrison, Geography
The evolving energy landscape in Eastern North Carolina was the focus of Conor's master's thesis at East Carolina University. His work investigated, in particular, what he calls fuel poverty in the region, a condition in which households are unable to adequately heat or cool their homes due to a combination of low incomes, high energy prices, inefficient housing, and ineffective public policy choices. This research illustrates his interest in combining cutting-edge conceptual and analytical research with grounded, field-based empirical study and a strong sense of social commitment, especially focusing on North Carolina's urban environments.
He is interested in developing better understandings of the role of social, political and economic processes in generating problems of inequality in urban environments, both in North Carolina and more broadly in American cities. What makes his proposed doctoral research so original and potentially valuable to policy makers and in public debate is its focus on energy.
Atiya Fatima Husain, Sociology
Atiya graduated from the University of Michigan with distinction. Since graduation, she has been working as an advocate at a domestic violence agency that serves South Asian women in Chicago, including Urdu and Hindi translation. How Muslim minority communities navigate the complex urban social landscape of the American cities where they live is one of Atiya's areas of research interest.
Atiya's background and experience provide good evidence for her commitment to community support among minority populations and her accelerating interest in sociological research. She is highly motivated to succeed in a graduate program.
Gwen Averill Kash, City & Regional Planning/Public Administration
Gwen graduated magna cum laude from New York University in 1970, concentrating in social change in the Gallatin School of Individual Study. As an undergraduate, Gwen demonstrated strong leadership qualities. She filmed a short documentary for Just Food, an organization advocating for equitable access to healthy produce. She co-founded and served as secretary of a tenants association in New York City. She assisted a local labor union with their Justice for Janitors campaign, served as a field manager with the Working Families Party on a campaign to raise the New York State minimum wage, and held leadership roles in several other projects.
Following graduation, Gwen served as a community organizer for Community Pride, a program of the Harlem Children's Zone. She was founder and lead organizer of the Safer Streets and Sidewalks initiative, where an important part of her responsibility was communication between community leaders, the City Department of Transportation, and the local Community Board. As a result of her work the DOT made a number of changes, making the streets and sidewalks safer. Gwen plans to continue working in transportation policy at the local and state levels.
Kari Phelan Kozlowski, Sociology, Senior Fellow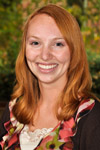 Kari Phelan Kozlowski is a doctoral student in the Department of Sociology at UNC. Her research interests center primarily around urban poverty and inequality, especially in terms of access to education.
Kari graduated in 2008 with a Bachelor of Arts in communication from Wittenberg University in Springfield, Ohio. Between her undergraduate career and the start of graduate school, she spent a year participating in AmeriCorps VISTA. She was placed with a pro bono legal clinic in her hometown of Indianapolis, Indiana, where she expanded preventive legal education outreach to Burmese refugees. Upon graduating with her Ph.D., Kari hopes to become a professor and bring the world of urban inequality to future students.
Kathleen Egan Lawlor, Public Policy
Kathleen graduated with her bachelor's in sociology from the College of William and Mary and received her master's degree from Duke University. Her research interests lie in the fields of environmental policy, program evaluation, and institutional analysis. She also has interest in evaluating policies that target climate change. Besides her educational background, Kathleen brings to the public policy program extensive and unique professional experience. She was a Peace Corps volunteer in Francophone Cameroon where her interest in conservation and development issues was cultivated. She also worked for the U.S. Forest Service and with the grievance mechanism at the World Bank.
Currently, Kathleen is a research associate at Duke University's Nicholas School for Environmental Policy Solutions where she is working on issues related to tropical forest protection. At UNC, Kathleen plans to continue her research in examining the impact of forest conservation programs on local communities and ecosystem services in developing countries.
Helen Michelle Orr, Religious Studies
How communities that have been torn apart by violence may reconstitute themselves and forge new public futures is a concrete humanitarian concern that motivates Helen. In particular, she is interested in the role of religion in this process and how religion may help transform individual experiences of atrocity into shared events that permit individuals and communities to overcome alienation. She plans to engage these questions through an ethnographic study of religious transformation focused on Belgrade, Serbia. Helen chose this site because of her theoretical grounding in Holocaust studies, a field which, for her, is rooted in the cities of Eastern and Central Europe. Her particular interest is moral agency, or studying people's responsibility for making moral judgments when they encounter one another in the intimacy of cities, and the role of religion in such interactions.
Helen has lived in Belgrade and established relationships with scholars at Belgrade University, and has begun field studies with member of Serbian Orthodox churches. This work amplifies her training at Harvard Divinity School, where she had the opportunity to study with Elie Wiesel.
Caitlin Lucy Rubitschun, Environmental Sciences and Engineering
Caitlin came to UNC-Chapel Hill from Rose-Hulman Institute of Technology, ranked by US News & World Report (2010) as the top undergraduate chemical engineering program whose highest degree is a bachelor's or master's. In addition to her exceptional academic background, during summer 2005 she took part in the National Science Foundation Research Experience for Undergraduates at the University of South Carolina. She was assigned to investigate ways to improve the chemical properties of levan, a biodegradable polymer, to help with plasticization. She was then accepted into her advisor's research lab to work on a research project involving computational optimization approaches to design environmentally benign catalysts.
After graduation, she took a job in industry as a process engineer, working on high profile assignments related to reducing the environmental footprint of her company's manufacturing process. She now hopes to supplement her knowledge and experiences with an understanding of the policy-making process to develop feasible, realistic and achievable means to reduce the environmental impact of corporate America. She also wants to strengthen her understanding of the chemical causes of poor air or water quality by conducting scientific research.