Weiss Urban Livability Program
2011-2012 Weiss Fellows
Nicole Bauguss, Art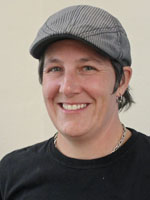 Nicole Bauguss is currently working on her MFA in Visual Art. She received her undergraduate degree in Design and Visual Communication from Virginia Commonwealth University. She worked as an Exhibit and Package Designer in Richmond Virginia before abandoning the use of computers to pursue a career as a builder focusing on Historic Preservation. In 2001, she founded RipRoost an integrative DesignBuild Company focusing on Eco-Conscious Building Practices and Materials reuse. Her artistic explorations fuse her work as a Visual Communicator and Historic Preservationist, spanning the creation of tactile functional furniture and boxes to large scale integrative installations, site specific performance projects and set design for dance. Her work is an anthropological, sociological, environmental and artistic study of what we value and what we dispose of as individuals within our communities over time, and how repurposing materials and ideas impacts our lives, histories and ultimately the environment.
Nicole continues to investigate the current issues facing society by conceptually integrating sustainability and eco-conscious practices into questions of how we move through life and what our lives reflect about who we are individually and collectively. Bauguss resides in Durham, North Carolina where she continues to work as a Creative Consultant, Spatial Designer, Visual Artist and Builder.
Evan Johnson, Public Policy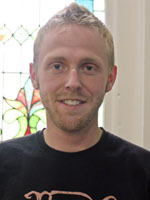 Evan Johnson is working toward a PhD in Public Policy. He has studied environmental and energy policy for the past few years, earning an MPA from the La Follette School of Public Affairs at the University of Wisconsin-Madison. Evan has pursued undergraduate research in environmental ethics and natural aesthetics. These initial academic interests formed the foundation of his desire to seek stronger connections between humans and the global environment.
Evan's research interests range from the characteristics of successful energy technologies to the broader implications of behavioral and public health trends for climate and energy policy. He has tried to pursue these issues in academic, professional, and personal settings. His work with the Wisconsin DNR revolved around the implementation of innovative, incentive-based environmental strategies under the Green Tier program. As a public affairs intern with Martin Schreiber and Associates consulting, he sought an understanding of environmental governance from the private sector's perspective. His research ambitions also led him to Seattle in 2009 for a research fellowship at the EPA's region 10 office. While at EPA, he assessed the life-cycle climate impacts of consumption and materials management practices in the U.S.
Jordan Jones, City and Regional Planning/Public Administration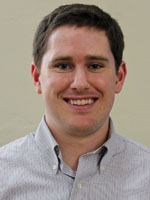 Jordan Jones graduated from Wake Forest University in 2008 with a Bachelors of Science in Business and a minor in American Ethnic studies. After graduating Wake Forest, Jordan worked for three years in New Orleans at a micro enterprise development organization called Good Work Network. This organization provides business development services and micro loans to disadvantaged individuals seeking to begin or expand their small business. While in New Orleans, Jordan helped establish the Green Collaborative of New Orleans. This cross-sector collaborative works to unite resources, people and ideas to provide education, influence policy and accelerate sustainable economic and environmental prosperity for the Greater New Orleans region.
Jordan is pursuing dual master's degrees in City and Regional Planning and Public Administration at UNC. His research interests include urban revitalization, sustainable communities, and cross-sector collaboration.
Sarah Kirk, City and Regional Planning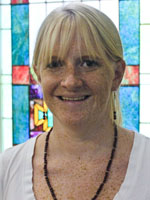 Sarah has long been interested in finding creative ways to create urban economic growth that can benefit existing urban populations. Prior to being a Master's candidate at the UNC Department of City and Regional Planning, she served for a year as an AmeriCorps*VISTA in New York City with Seedco, a national workforce development and asset building non-profit. In this position she worked with community organizations across New York City to improve outreach strategies and knowledge about public benefits, and provided supportive training for case managers in the organization's Back-to-Work program. Sarah graduated from Middlebury College with a degree in Geography in 2009, and has worked with a variety of community development and community advocacy non-profits in New York and Washington, D.C.
Leonard J. Lowe, Religious Studies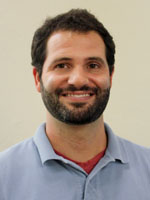 Having formerly studied theology at Duke University Divinity School, Lenny comes to UNC having spent the last seven years living and teaching in Port-de-Paix, Haiti. In that time, new questions have emerged sparking research interests in the field of religious studies. Lenny hopes to use ethnographic tools to explore the ever-changing political and economic landscape of Haiti and the ways that competing religious discourses situate themselves among various groups of Haiti's materially poor. Lenny has special interest in how Haitians narrate and imagine their own futures using these religious discourses and the extent to which these discourses make possible new relationships, new economies, and new ways of being in poverty. Lenny considers such research both necessary and timely as Haiti's future since the earthquake has largely been placed in the hands of benevolent organizations which often operate within their own particular religious narratives. Thus, the redesigning of Haiti has become once again intimately tied to western religious narratives in a manner evocative of colonialism, calling to arms new and polarized versions of Haitian nationalism.
Beth Meyer, Economics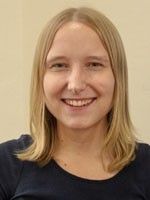 I am a first year doctoral student in the Economics department. I come here fresh out of college at Northeastern University, where I received a BS in Economics. My broad interests lie in economic development with a particular focus on transition economies. Aside from that, I am interested in labor economics and how people's early career choices and experiences impact their careers and salaries further along in life. The perfect place to witness this firsthand is in large cities, where people from all walks of life live side by side. In Boston, this fascinated me; you could see the juxtaposition in a simple one-mile trek down the street.
Although Chapel Hill is certainly a change of scenery, I'm excited to see what sorts of similarities and differences there are during my time as a Weiss Fellow. I am also excited to venture out of my economics bubble to see what perspectives people in other fields have on urban livability.
Jeanine Navarrete, History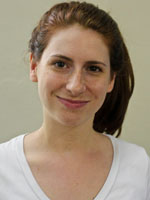 Megan Nunes, Environmental Sciences & Engineering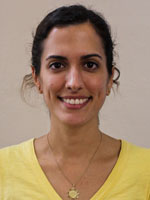 I am a doctoral student in the Environmental Science and Engineering Department in the School of Public Health at UNC Chapel Hill. My research interest lies in water quality, especially the quality of drinking water.
I graduated in 2010 with a Bachelor of Science degree in Chemistry from the University of St. Thomas in Houston, TX. Before attending graduate school, I worked in a Toxicology laboratory in Trinidad & Tobago for one year. As an undergraduate, I was engaged in research projects utilizing Nuclear Magnetic Resonance as well as synthesizing nanoparticles for possible biomedical purposes. The research on nanoparticles was conducted at Rice University as part of a Research Experience for Undergraduates program during the summer of 2009.
During my time as a graduate student, I hope to gain extensive biological and chemical skill sets that will assist in my goals to improve the quality of drinking water in developed countries and, hopefully, to apply that knowledge to the developing world.
Senior Fellow
Caitlin Rubitschun, Environmental Sciences and Engineering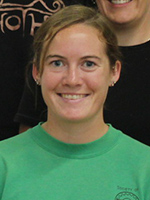 Caitlin came to UNC-Chapel Hill from Rose-Hulman Institute of Technology, ranked by US News & World Report (2010) as the top undergraduate chemical engineering program whose highest degree is a bachelor's or master's. In addition to her exceptional academic background, during summer 2005 she took part in the National Science Foundation Research Experience for Undergraduates at the University of South Carolina. She was assigned to investigate ways to improve the chemical properties of levan, a biodegradable polymer, to help with plasticization. She was then accepted into her advisor's research lab to work on a research project involving computational optimization approaches to design environmentally benign catalysts.
After graduation, she took a job in industry as a process engineer, working on high profile assignments related to reducing the environmental footprint of her company's manufacturing process. She now hopes to supplement her knowledge and experiences with an understanding of the policy-making process to develop feasible, realistic and achievable means to reduce the environmental impact of corporate America. She also wants to strengthen her understanding of the chemical causes of poor air or water quality by conducting scientific research.