Weiss Urban Livability Program
2012-2013 Weiss Fellows
Erin Bergstrom, Social Work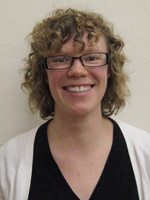 Erin Bergstrom is currently in the Master of Social Work program. She is passionate about living an intentional life and supporting healthy relationships of people to themselves, to others, and to the environment. Before coming to school, she was a project coordinator at Passage Home, a Raleigh nonprofit whose mission is to break the cycle of poverty and homelessness by providing long-term solutions including affordable housing, economic development, youth development, and neighborhood revitalization. In 2011, she co-founded Raleigh City Farm, an urban farm start-up dedicated to moving toward a more just food system, and currently serves on the board of directors.
Eloisa Berman-Arevalo, Geography
Eloisa Berman-Arevalo worked for several years with indigenous and Afro-descendant communities in the Amazon and Caribbean regions of Latin America, conducting participatory and activist research around questions of territory, natural resources, political organizing and relations with state and NGOs. Her experience has also involved fostering awareness and critical thought around issues of cultural diversity, environment and rural justice in Colombia, through her work in museum content design in the Museum of the Caribbean (Barranquilla, Colombia); and as a university researcher and professor (Cartagena, Colombia). Her current research is conducted in the Colombian Caribbean, where she analyzes processes of peasant resistance and struggles for land, in the context of neoliberal governance, resource dispossession and palm-oil expansion. Her interests combine agrarian studies, feminist geography, political ecology and participatory research.
Laura Fieselman, Folklore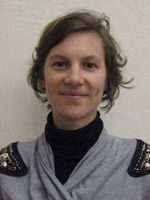 Laura Fieselman is interested in the urban farming and urban homesteading movements. Native to North Carolina, Laura received her BA with first class honors from McGill University in Montreal, Quebec. She spent six years working in higher education as the campus sustainability coordinator at small private colleges, most recently at Meredith College in Raleigh, NC. Laura is focusing her study of sustainability on low-impact production in our own backyards, using folklore as a lens to examine contemporary urban homesteading and farming trends. She is glad to be pursuing graduate study after the excitement and challenges of co-founding Raleigh City Farm, a 1.3 acre food project in downtown Raleigh.
Karam Hwang, Sociology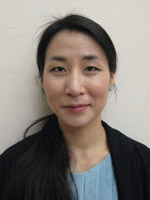 Karam Hwang is a first year student in UNC's Sociology Ph.D. program and a pre-doctoral fellow at the Carolina Population Center. Prior to arriving in Chapel Hill, she studied earned an MS in library and information science at the University of Illinois at Urbana-Champaign, and has worked in archival, academic, and public libraries. As a public librarian in Henrico, Virginia, she provided reference and job search assistance to adults and developed library services for pre-teens and teenagers. These experiences, along with graduate coursework in Urban Sociology at Virginia Commonwealth University, helped shape her current research interests in social inequality, adolescence, and dimensions of mental and physical well-being over the lifespan.
Evan Johnson, Public Policy, Senior Fellow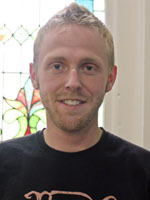 Evan Johnson, Sr. Weiss Fellow - Evan Johnson is working toward a Ph.D. in public policy. His research interests range from the characteristics of successful energy technologies to the broader implications of behavioral and public health trends for climate and energy policy. He has pursued these issues in academic and professional settings. His work with the Wisconsin Department of Natural Resources revolved around the implementation of innovative, incentive-based environmental strategies under the Green Tier program. As a public affairs intern with Martin Schreiber and Associates consulting, he sought an understanding of environmental governance from the private sector's perspective. Before coming to North Carolina, he studied behavioral components of life-cycle energy and climate policies as a research fellow at the EPA's region 10 office. He holds a master's degree in public affairs from the University of Wisconsin.
Jasmine Kumalah, City & Regional Planning
Jasmine Kumalah is currently a first-year master's student in the City and Regional Planning program, with an interest in environmental planning and community development. She is currently researching the degree to which hazard mitigation plans address social equity concerns. This research will aid in the development of a set of social equity best practices that can serve as a guide to communities developing hazard mitigation plans. Her current primary interests include but are not limited to hazard mitigation planning for socially vulnerable or disadvantaged communities and narrative based approaches to community engagement.
Katherine Merriman, Religious Studies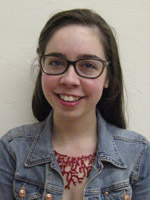 Katherine Merriman is a doctoral student in the Department of Religious Studies. Her concentration is in Islamic studies, with a focus on Islam in America, race and religion, and urban ethnography. Katherine is involved in issues of immigration and refugees in both the U.S. and the Middle East, and will conduct dissertation research on community building and activism among Muslims in New York City.
Mawiyah Patten, Social Work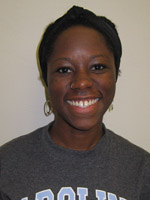 Mawiyah Patten moved to North Carolina from San Diego, California. Although born and raised in southern California, both of her parents grew up in North Carolina. She appreciates being at UNC not only because of its academic reputation, but also because she is surrounded by so much national and personal history. She holds a bachelor's degree in human biology from the University of California, San Diego, but it was through local and international volunteer experiences that she realized her desire to work with underserved populations. At UNC's Master of Social Work program, Mawiyah hopes to gain the knowledge and tools necessary to address the complex challenges faced by low-income and minority families. Her career aspirations include working with youth and families in programs focused on empowerment, education, and positive youth development.
Andrew Shapiro, Environmental Sciences & Engineering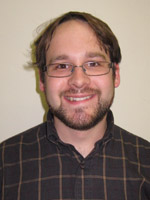 Andy Shapiro graduated from the University of North Carolina at Chapel Hill in 2007 with a BSPH in environmental health science, and is returning to the same department working towards an MSPH. After graduation, Andy worked at ICF International, where he assisted in risk and exposure assessment for numerous public and private clients. His primary focus was the development of tools which streamline and improve transparency for these often complicated assessments. While studying for his master's degree, he hopes to further his knowledge in the field of risk assessment, and broaden his skills in programming and software development. He plans on applying these skill-sets to the creation of a web-based workspace for increased speed, accuracy, transparency, and collaboration of these multifaceted assessments.