From the Source
Mutual Benefits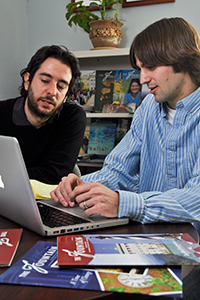 Luca Semprini (left) and Jeremy Cramer collaborated on crafting articles for The Fountain.
The way people communicate is quickly evolving. Text, video, and audio from around the world can now be gathered and shared in seconds on mobile phones. While people rush to get the newest gadgets, it is challenging to keep up with the changing formats of communication and the best ways to share information. That is why the UNC-Chapel Hill Graduate School relies on master's students from the School of Journalism and Mass Communication.
Journalism students have been working side-by-side with Graduate School staff for over a decade. They have assisted with communication projects as diverse as creating recruitment videos to conducting audience surveys, but one constant has been assisting with writing and producing The Fountain. Since 2000, Journalism graduate students have brought innovative and fresh perspectives to The Fountain to enhance the experience of our readers.
The Fountain's mission has not changed, but its look and content have continually been refreshed thanks to the new ideas that each student brings. Students typically work with the Graduate School for two years as they complete a master's degree, with one new student coming on board each year.
"We simply wouldn't be able to produce The Fountain without our Journalism students," says Sandra Hoeflich, the Associate Dean responsible for overseeing production of The Fountain. "The students know what's cutting-edge. They advise us on new media and how we might take advantage of various new formats for communicating with our target audience. They bring exceptional skills in writing, editing, and layout, and often have exciting new ideas for how we can tell our stories."

Students Luca Semprini and Jeremy Cramer have worked with Hoeflich to put together this year's publication. Brian Conlin, another Journalism student writing for The Fountain this year, listened in on a conversation as they discussed their experiences.
Sandra Hoeflich — Graduate students contribute enormously to the teaching, research and service missions of the University and significantly impact the quality of what we produce. So it's highly fitting that graduate students, like you both, help craft and share this message with our constituents.
Jeremy Cramer — It's a challenge that I didn't think that I'd enjoy as much as I have. Working for The Fountain has allowed me to take lessons from different classes and create something real, something practical. Luca, you have the class background and mindset for public relations. My class background is based more in storytelling.
Luca Semprini — I think we mesh well. Our goal is to write entertaining and informative pieces, but with a specific purpose in mind. Writing for The Fountain allows us to apply what we're learning in our classes and implement it immediately.
SH — That's exactly what we want for our "Fountaineers." Gaining real-world experience provides you with practice that sharpens your skills and prepares you for the future.
LS — We get great clips. The Fountain is a resume-builder. By working here, I joined a real-life working environment and experienced what happens behind the scenes.
JC — I think it's easy to stay motivated for this kind of work. The funding from the Graduate School is the only reason I can afford to be here at Carolina.
SH — We are pleased to be able to offer financial support to the students who work with us. It's important to pay the rent! For me, working with graduate students like you is the best part of my job.
LS — Besides the financial support, one of my favorite parts about working here is the constant loop of feedback. Most readers may not know it exists. Working in a professional environment and getting feedback from colleagues has given me the type of experience I can't get in a classroom.
JC — I totally agree. Being able to do this along with classes is a tremendous asset. It's a small group working for the same purpose. Working here provides great experience and isn't stressful.
LS — Because it's low stress, I feel free to experiment. I took feature writing last year and loved it. So when I wrote features for The Fountain, my writing was streamlined and I had a more critical editorial eye.
SH — All of the students who have worked with us have tried ideas and skills that they explored in their classes—from audience surveying to new online formats. The students' contributions are critical to achieving our goals.
JC — This job really is about hands-on learning and practicing my craft. I've met so many interesting people in my two years with The Fountain. Meeting fascinating people and being able to tell their stories was my motivation for traveling to Indonesia after I graduated from Arizona State as an undergrad. I heard so many stories that needed to be told. That's why I came to UNC's Journalism program. I wanted to learn how to better share these compelling stories and connect people though stories.
LS — The number of people who I've met here who are leaders in their fields is astounding. I never realized how impressive UNC-Chapel Hill was until I started working here. We get to interview a variety of people and see first hand how the different graduate programs are among the best in their fields.
JC — I think doing the interviews has helped us overcome some of our initial shyness, as well. We came here and were thrown into boiling water.
LS — I agree that doing this has made me more confident in my journalism skills. We've had the chance to be involved in several different aspects of the publication, and it's been very beneficial.
SH — Well, I'm glad that you both have enjoyed your experiences with us. Overall, this arrangement works wonderfully. It benefits you, the Graduate School and the University. But ultimately, it benefits our readers since things are constantly fresh and changing.
♦ Brian Conlin