Building Innovation on a Foundation of Excellence
As the oldest public university in the nation, the University of North Carolina at Chapel Hill has a long-standing tradition of excellence. Its graduate programs have often served as pioneers, setting academic and professional standards, fostering leadership, and promptly responding to societal needs. But truly excellent institutions do not rest on their laurels. Massive cultural and technological shifts have shattered old paradigms, and the University faces the challenge of reconciling tradition with innovation.
Many well-established departments throughout the University still abide by founding principles but are also finding new ways to thrive.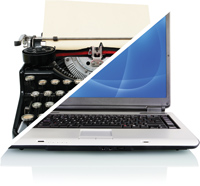 The Multimedia Revolution
Nowhere is this challenge more evident than in journalism, where the battle between old and new wages in textbooks, magazines, newspapers, and, more recently, blogs and tweets. The Internet and other technological advances have altered the way the world consumes news, but the implications for journalism education are still being revealed.
The School of Journalism and Mass Communication (JOMC) is resolving this conflict and redefining the profession through groundbreaking research and projects. For example, UNC-Chapel Hill is one of only eight schools in the nation chosen to host News21, a program sponsored by the Carnegie and Knight foundations to foster innovative journalistic practices and revitalize the profession.
"The most exciting aspect of this project is that it doesn't just train graduate students to work in the news environment, but also to be leaders and innovators," says Laura Ruel, Journalism Professor and News21 Executive Producer. "They're not just going out to deal with a changing industry: they're going out to change it."
Ruel is one of several professors in the department who help graduate students stay ahead of the multimedia revolution. The results have been extraordinary; last year, projects led by JOMC graduate students earned first place in all three multimedia categories of the College Photographer of the Year awards and swept the Large Group Multimedia Project category.
"Technology is evolving rapidly," says Jean Folkerts, Dean of the Journalism School. "We want our students to not only understand current trends, but also to be able to think ahead."
Even though JOMC is pursuing innovation, deeply established standards for high-quality storytelling have not been abandoned.
"Our desire is to stay current and move into the digital world more quickly than any other program," Folkerts says. "But students still have to be grounded in traditional journalistic principles."
Some skill sets will always be relevant. The essence of good writing remains the same across platforms. Even in photojournalism, where film has gone digital and darkrooms have become computer labs, the goal remains to capture the perfect moment, from the right perspective, and with the best composition.
"I think every good story needs thorough reporting and concise writing," says Jan Yopp, Journalism Professor. "Regardless of the medium, professionals still need to be focusing on the message and on what the audience wants to get out of the story."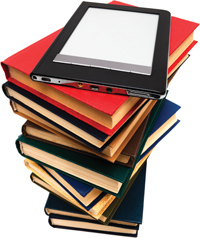 Books, Blogs, and Bits
The Internet has not only revolutionized journalism, but the entire world of information. Even libraries have transformed, as people no longer rely simply on paper to obtain knowledge. Not surprisingly, UNC-Chapel Hill's School of Information and Library Science (SILS) is at the forefront of the revolution.
The word "library" may suggest images of countless stacks of dusty old books. But at Carolina, where SILS earned a #1 national ranking from U.S. News and World Report, the view is much more complex. SILS has responded to technological and societal changes by implementing a hybrid focus.
"Technological development challenged the traditional role of librarians," says Gary Marchionini, Dean of the School. "Re-naming the institution 'School of Information and Library Science' (instead of School of Library Science) twenty years ago was meant to reflect this change."
To the library community, technology is an opportunity, a means for maximizing resources. The essential purpose of the librarian has not changed, but a librarian's opportunities have increased.
"Our role is still to connect authors and readers," says Barbara Wildemuth, SILS Professor. "We have various new information objects—blogs, social media, wikis—but people's main question remains 'Is it relevant for me?'"
In the increasingly complex world of information, traditional values are as important as ever. "The principles of open access, respect for ideas, and preservation and sharing of knowledge still apply," Marchionini says. "The way we solve information problems might vary, but these concepts cut across our discipline."
To maintain its position as a leader in its field, SILS recently extended its focus to social media and social software. For example, the curriculum features a special-topics seminar in online social networks. "Classes still tackle information management, but now they're infused with a social aspect," Wildemuth says. The School's "Open Video Project" exemplifies this approach. Originally created to provide various research communities with a collection of digitized video content, the project turned into a mainstream Web site that receives more than 40,000 visits per month, Marchionini says. "It pulls together Carolina's classic triad of research, teaching, and public service," he says. "Not only were our students and faculty able to conduct cutting-edge research on user interfaces to facilitate the retrieval of digital information, but they also managed to assemble a large collection of content on which people now depend."
The project also led SILS to start collaborating with the Library of Congress and Google, providing students with additional opportunities to apply their knowledge. For example, the School ventured into the digital realm by creating one of the first university-affiliated YouTube channels in the country (http://www.youtube.com/user/ UNC-Chapel Hill).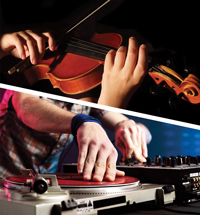 Classically Dynamic
Last June, Music Professor Severine Neff led four graduate students into the heartland of classical music: Vienna, Austria. Students and professors from UNC-Chapel Hill, the Tchaikovsky Conservatory in Moscow, and the Central Conservatory of Music in Beijing converged on the Arnold Schoenberg Center in Vienna for two weeks of intensive study.
It is hard to imagine a more fitting destination than Vienna, sometimes called the capital of classical music. Many of the most famous musicians in history including Mozart, Beethoven, and Haydn devoted significant time composing in Vienna.
The Department of Music at UNC-Chapel Hill, the second oldest program in musicology in the country, has deep roots in Vienna. A significant number of its early professors studied in Vienna, including Glen Haydon, who was department chair for nearly 32 years. Haydon helped cement a tradition of rigorous academic scholarship with a constant drive for improvement in the Department. He led an effort to buy large collections of classical music books from Europe, expanding the University's music library.
"Haydon put us on the map," Neff says. "Our library is a world class one for musicology."
With strong ties to Europe and especially Vienna, the trek to Austria last summer was representative of the Department's deep roots in classical tradition. At the same time, it was a truly unique example of a program not afraid to challenge barriers.
Neff emphasized the innovative nature of the experience. "Students were studying the music of Arnold Schoenberg—a quintessential part of the European canon—but with Chinese musicians born, bred, and educated in Beijing. The performances of the Chinese students had a freshness of spirit, a different sense of timing than we usually hear in Europe or America. Yet the Chinese also chose to moderate their interpretations at the suggestions of tradition-bound European pedagogues from Vienna Conservatory and American students. The interchange between the groups was a fascinating blend of trans-cultural thought."
While a tradition of unquestioned commitment to the highest standards and most rigorous scholarship continues, the Department of Music is reinventing itself. Many faculty members continue to study European classical music, but they are asking unique questions and breaking new ground. Meanwhile, other faculty members—and even some classically trained professors— also study and teach topics as diverse as American popular music, the history of technology in music, country, rock, and world music from countries like Indonesia and Cuba.
Professor Jocelyn Neal, for example, researches American popular music, with an emphasis on country. Professor Mark Katz is a violinist who studies how DJs are true musicians. In February, Katz hosted "The Art and Culture of the DJ" which included scholarly presentations, performances by nationally known DJs, and a dance party. Professor Marzanna Poplawska explores the intersection of culture and religion in music in Indonesia, and she performs, directs, and dances to Indonesian gamelan music, which includes an entirely different musical scale and set of instruments.
Professor David Garcia teaches Latin American and world music, jazz, ethnomusicology, music of the African diaspora, and popular music; he also directs and arranges for UNC-Chapel Hill's Charanga Carolina, which specializes in Cuban danzón and salsa. "I think we're growing in diversity," Garcia says. "It's a very exciting time."
As times change, different programs face different challenges, but the University is united in its effort to constantly improve. Leading graduate education demands innovation. From experimenting with the newest technologies to engaging in other cultures and ideas, graduate students and faculty in Chapel Hill strive to merge tradition and innovation.
Meanwhile, long-established standards of quality remain foundational. In fact, the marriage of tradition and innovation is at the heart of Carolina's ongoing excellence.
♦ Jeremy Cramer and Luca Semprini