Excellence: The Carolina Way
Community, collegiality, and collaboration
In almost every sphere of our driven world, success is built on competition. For example, in business, politics, and sports, the stated goal is not just to do well, but to do better. To rise—to succeed—the competition must be defeated, even if the competition is down the hall.
However, in the similarly competitive world of elite academia, many graduate programs at the University of North Carolina at Chapel Hill are bucking this trend—by working together.
Community, collegiality, and collaboration are hardly the expected buzzwords at departments reputed to be among the top in their fields, but Carolina graduate students and faculty have discovered that excellence and a comfortable, collegial environment are far from mutually exclusive.
In fact, the exact opposite is true.
Greater than the Sum of its Parts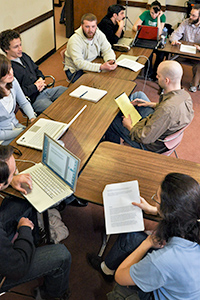 Carolina's collegial environment extends from the classroom to lunch to the lab.
Collegiality is not merely about creating "a pleasant place to work," says Michel Gagné, Director of Graduate Studies in the Chemistry Department, where this emphasis on community has been the norm for decades. It does, in fact, make the workplace more enjoyable, but: "It's far more than that, because the collegial environment creates research opportunities that wouldn't exist if we didn't get along with each other. There are many, many, many examples of productive research collaborations within the chemistry department, many more than you will find in the elite institutions, which are primarily composed of individuals and fiefdoms and kingdoms. They don't work and play well with others."
Gagné should know. He came to UNC-Chapel Hill after first working at schools without the same sense of community: Northwestern, Cal Tech, and Harvard. "Those places are much more individualistic," he says.
If prospective graduate students are not aware of what Carolina has to offer, they may be impressed by offers from some of the elite private institutions. To recruit top graduate students, the Chemistry department encourages students to visit Chapel Hill. When they do visit, "Most times, we surprise the hell out of them," says Gagné.
Those visitors see superb science in a beautifully unselfish environment. They see elite scholarship without the elitist attitude. They see brilliant people working hard together—and then chatting over lunch about anything from basketball to the newest ideas in scientific research.
They see excellence done right in a place where people love to be, because they love to be together.
This is the Carolina Way. It is the same culture that Dean Smith instilled in UNC-Chapel Hill's basketball program, a culture that continues under Roy Williams today. It extends from athletics to service to academics. It is about excellence and teamwork.
Belligerently Non-Competitive
Excellence is difficult to rank, but everyone who has tried to rank graduate programs in philosophy has listed UNC-Chapel Hill's among the best in the world based upon explicit measures like faculty productivity, job placement, and more. But perhaps the best thing about Carolina's Philosophy Department is something that the rankings inevitably miss: the "ethos of cooperation and engagement," says Geoffrey Sayre-McCord, Department Chair.
This highly ranked program in the competitive world of academia is belligerently non-competitive. The Philosophy department has resisted a system built on rivalry within the program; where students and faculty compete against each other for awards; where one's success is another's failure.
"We don't pick out some students and not others for prizes," says Sayre-McCord, "so when people come to the department saying, 'We have some money we'd like to give you for a prize,' we always respond by thanking them for their support but asking them instead to provide 'research support for the excellent work of our students.' So within the department, there's never any internal ranking, never any competition."
Sayre-McCord believes internal competition "undercuts the best opportunity for people to learn, which is from each other. And we want them not to be seeing their fate as depending on the lesser fate of their peers."
Decisions that foster collegiality instead of competition within the program have created a surprising culture. Alan Nelson, Director of Graduate Studies, says, "At both the faculty and the graduate level, people are moved to produce, not by wanting to excel over their colleagues, but because of the strong sense of community. Everyone wants to do well to reflect well on the community."
Our Secret Sauce
Sociology graduate students gather every other Friday to exchange ideas informally.
Graduate students in Sociology receive state-of-the-art methodological training. They engage in advanced research almost immediately upon entering the program, as they are paired up with mentors. Unlike in many other doctoral programs, they learn to teach. And it is all done in an environment of mentoring and collegiality.
Like Chemistry and Philosophy, Sociology boasts of an intimate culture of "intense mentoring relationships," says Howard Aldrich, Department Chair. "Faculty members joke about 'our secret sauce.'"
That secret sauce is hard to define, but it is powerful enough to leave an impression throughout the profession: the department is known for its collaborative culture, and this environment frequently surprises visitors, and even its own students.
As graduate student Autumn McClellan says, "I didn't know how great it was going to be until I got here."
Faculty and students feel free to go to their colleagues to talk about their research and ask for help, which opens doors for encouragement, constructive criticism, and new ideas.
"People are willing to go the extra step," explains Aldrich. "We've had this for decades, and every department chair works at it. It involves a special effort on everybody's part to make sure that they uphold that sense of collegiality."
Departments across the Carolina campus share that same sense of community and collegiality. As in Chemistry, Philosophy, and Sociology, encouraging collaboration over competition creates a robust academic environment where students and faculty love to work together. These intangible values are producing excellence in ways that can't be easily measured but that make all the difference in the world—quality, the Carolina Way.
♦ Jeremy Cramer