Body and Mind
"Get Real and Heel" Program Offers Groundbreaking Cancer Treatment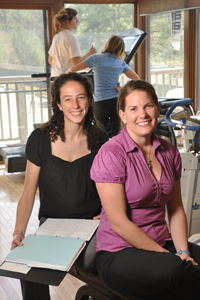 Karen Tosti (left) and Meghan O'Brien
Breast cancer is a pressing issue for North Carolinians, affecting more than 6,000 women each year, 1,000 of whom will die. But for graduate student Meghan O'Brien, fighting cancer is also a personal matter.
"My mother is an oncology nurse and both my grandmothers passed away from breast cancer," she says. "I saw a great opportunity to investigate this disease further here at UNC."
A second-year Exercise and Sport Science (EXSS) M.A. student, O'Brien works with "Get Real & Heel," (GR&H) a program that offers physical and psychological training to help breast cancer survivors recover from treatment and improve their quality of life.
"There's nothing like this in the country," says EXSS professor Claudio Battaglini, co-founder of the program with professor Diane Groff. "Our intervention is not just physical. Cancer is a mental disease as well, and we combine exercise with recreational therapy to address all facets of recovery."
Since its inception in 2006, GR&H has provided about 100 patients with thousands of hours of free clinical services, yielding extraordinary results. "I'm stronger," says Alexis, GR&H patient. "My heart rate and blood pressure are much better, and I have more energy."
The students' responses have also been enthusiastic, leading to great participation. "Every semester, 20-25 students work in the program," Battaglini says. "They gain experience, interact with patients, improve their skills, and conduct valuable clinical research."
"Interacting with patients was an extraordinary experience," O'Brien says. "They work hard and are very motivated to get back to a normal way of life."
One of the women O'Brien worked with will run a half marathon on the anniversary of her diagnosis. But every improvement counts. "Even small accomplishments are huge because these women have been through so much," she says. "It feels good to know that you're helping them to overcome an obstacle, no matter how small it may seem to other people."
Second-year EXSS graduate student Karen Tosti got involved with GR&H because of its unique mix of research and clinical intervention. "Originally I wanted to work with kids," she says. "But this program is so unique that I felt I should join it."
Tosti's experience with the program was so rewarding that she changed the topic of her thesis, which will target the unexplored area of nutrition recommendations for breast cancer survivors.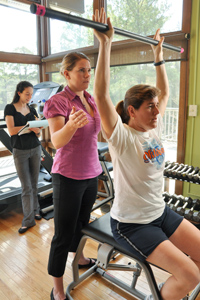 Karen Tosti (left) and Meghan O'Brien (center) training a patient
In order to provide patients with the best possible treatment, the program also taps into resources from all over UNC-Chapel Hill, collaborating with faculty from the School of Medicine and the department of Physical Therapy. For example, the latter conducts unprecedented research on the effects of chemotherapy and radiation on the patient's balance, which is important to prescribe exercise appropriately.
"The uniqueness of this program lies in the combination of different areas of expertise to address under-treated issues," Battaglini says. "Through this process, we hope to better understand how to combine physical and psychosocial training to provide patients with a more rounded rehabilitation process."
"Ultimately, the program's goal is to be the missing piece in cancer care," he says. "We want to turn into a model for other hospitals and universities to adopt."
♦ Luca Semprini