G.E.A.B. Updates
Business leader, alumnus Harold Glass joins GEAB
Harold Glass, Ph.D.
Harold Glass, Ph.D., a brand-new member of the Graduate Education Advancement Board, may live in Philadelphia now, but his blood still runs that unmistakable hue of Tar Heel blue. He closely follows the basketball team even though the games are not always televised in Philly. He carries his loyalty all the way to the name of his company, TTC, LLC. In a nod to his alma mater, its full legal name is the Tar Heel Trading Company.
Along with his position as Founder and President of TTC, he is a Professor of Health Policy at the University of the Sciences in Philadelphia and Senior Research Fellow at Queen Mary College, University of London.
TTC is headquartered in Philadelphia with an office in London. "We sell data to drug development organizations to help them budget and manage costs, especially for activities done outside the company such as clinical trials and relationships with contract research organizations," Glass says. He came up with the idea for TTC in the mid-1990s.
Glass received his master's degree from the London School of Economics and his doctorate in political science from UNC-Chapel Hill. After graduating, he spent a year as an Assistant Professor at UNC-Greensboro. "I then detoured to industry to see what it was like," he says. He became a Managing Director at Hay Group, then left to start his own company, DataEdge, LLC, which he sold in 2001.
Early in his academic life and business career, his interests gravitated toward the pharmaceutical industry. "I liked that it was both capital-intensive and research-and-development-intensive—that there were billions of dollars invested and that R&D was a big deal," he explains. "I also was attracted to the fact that health policy is controversial. Is health care a business, a market, like manufacturing cars? Should it be? I find the complexity of the social and political aspects very interesting."
"Carolina has always been emotionally a big part of my life. I'm so thrilled to be back in contact with the Graduate School," he says, proving again the axiom that once a Tar Heel, always a Tar Heel.
TTC was the first company to offer widely accepted cost management tools to the pharmaceutical industry. He played a key role in the development and use of cost benchmarking, a method used to compare the total cost of a product from raw materials through shipping against that of other organizations providing a similar product. "Cost benchmarking is now fundamental to drug development," he says. On the academic side, he attained the status of full professor in two years, is frequently asked to speak at conferences and has published widely.
Over the past few years, Glass says, he began the process of giving gifts to organizations that are doing work that he considers important. Recently he made a generous gift to the Graduate School's summer research fellowship program that has allowed the creation of two summer fellowships for 2011. He is motivated by a strong belief that graduate education should equip people to think critically. "That can't be emphasized enough."
Glass is married and has three grown children, ages 30, 28 and 25. A man of many interests, he plays the cello in a chamber music group and with a local orchestra. He speaks German and enjoys skiing, especially out West, ballroom dancing and visiting new places. His reading tastes run to fiction, nonfiction and classics, including modern classics. Last books read: a book on modern Germany and Jonathan Franzen's The Corrections.
"Carolina has always been emotionally a big part of my life. I'm so thrilled to be back in contact with the Graduate School," he says, proving again the axiom that once a Tar Heel, always a Tar Heel.
♦ Carol Douglas
Championing the Professional Science Master's Program
Shortly after retiring, David Lewis, Ph.D., received a call from Steve Matson, Dean of the UNC-Chapel Hill Graduate School, asking if he would be willing to help lead the charge of starting a potential new degree program, the Professional Science Master's program, or PSM, at Carolina. There are about 200 such programs nationwide, with a number of the 16 University of North Carolina campuses in the process of developing and implementing PSM programs under the UNC PSM Initiative. Lewis' answer was a resounding "yes."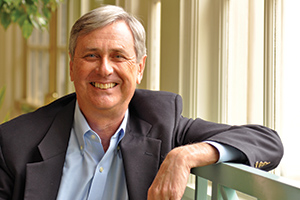 David Lewis, Ph.D.
"The Professional Science Master's program is an interdisciplinary graduate degree program meant to prepare scientists for careers outside academia," Lewis says. "It could be industry, it could be nonprofit—the idea is to give advanced knowledge of natural and mathematical sciences, plus exposure to business concepts. It would include business courses, internships, and would develop and refine communication and presentation skills. The focus is on preparing students for a career in today's challenging times."
PSM is a relatively new concept, Lewis says, and the ways in which the programs are structured vary widely nationwide, based on the strengths of the individual institutions. "Right now the first thing we are looking at is biology, because there is so much biotechnology industry with potential internship and employment opportunities in the Triangle. In general, we are looking at programs that match up well with opportunities in the state along with strong departments at Chapel Hill."
Originally from Binghamton, N.Y., Lewis earned his doctorate in chemistry from UNC-Chapel Hill in 1973. He spent a year at Columbia University as a Postdoctoral Fellow, then evaluated his academic and industrial opportunities and chose a career in industry that took him from chemical production companies in Cleveland and New Jersey and eventually to Cary in 1988 with Lord Corp.
Ten years ago he became a very active member of the Graduate Education Advancement Board (GEAB), serving as chairman during the years that the Impact Awards were created and the Graduate Student Center was started.
In January 2010, Lewis retired as Senior Vice President of Strategic Planning and Services of Lord Corp. "We had a great team that successfully grew our global business based on innovation, with interdisciplinary teams from technology, marketing, manufacturing and sales," Lewis says of his years with the corporation. "Putting businesses together with full product lines and an active new product portfolio was very satisfying. It was something I enjoyed, and it worked out pretty well."
Lewis sees great value in interdisciplinary education. "In my own career, I encountered many scientists who didn't get exposed to the industrial side of things on campus. It's still not the norm—it tends to be silent at the graduate level. But in some fellows programs at UNC, you can see a wide range of views and interactions across departments."
When it's time to relax, Lewis enjoys the beach, golf and skiing. He and his wife, married 41 years, live in Cary and have a son in Asheville and a daughter in New York City. "I still stay a bit active on the business side by staying in contact with a number of private equity firms regarding opportunities, primarily in chemicals and aerospace," he says.
"We hear repeatedly from business and government that our success as a country is based on preparing students to out-innovate competitors. The Professional Science Master's program would give students a real leg up as they advance in their careers. It has enough value for them and prospective employers that UNC should be successful. There already are champions out there who see value in it."
♦ Carol Douglas
A "Historic" Evening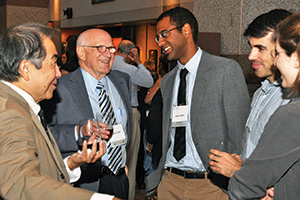 Alumni reception at the North Carolina Museum of History
Carolina graduate alumni, friends and Royster Fellows were among those in attendance at a "historic" evening in fall 2010. Dr. Brent Glass, director of the Smithsonian Institution's National Museum of American History and UNC-Chapel Hill graduate alumnus, gave a talk at the North Carolina Museum of History, preceded by a special reception.
The fall 2010 event timing allowed those in attendance to also see the traveling "Discover the Real George Washington: New Views from Mount Vernon" exhibition. The Raleigh stop was one of nine stops in the exhibition's more than three years on national tour. The evening was hosted by the Graduate School, Fran and Paul Hoch, Mike and Peggy Harpold, David and Linda Lewis, and Carol and Ed Smithwick.
Tar Heel Footprints
"From locations as diverse as Mecklenburg County, N.C., and Malaysia, UNC-Chapel Hill graduate alumni have responded enthusiastically to the Graduate School's Tar Heel Footprints project," says Steve Matson, Dean.
Since the project was started in October 2010, more than 800 alumni have added their "footprints" to the web map. Matson says graduate alumni response communicates the value these alumni place on their graduate education and alma mater. He adds that the participating alumni are also sending a strong message about the value of graduate education to all who visit the Graduate School's website.
To view the ever-expanding number of alumni entries, and to add your "footprint," please visit Tar Heel Footprints.
More than 800 Tar Heel "footprints" have been added by Graduate School alumni