Greasing the Wheels
Even with extraordinary intelligence, ideas and motivation, sometimes a doctoral student's research gears need a little grease. For students in some fields, that is the lubricant of "time."
Last summer, 20 doctoral students got some grease—they were awarded Thomas F. Ferdinand Summer Research Fellowships that enabled them to make significant progress on their dissertations, bringing them closer to the completion of their degrees. This was the first time such funding was available from the Graduate School at the University of North Carolina at Chapel Hill. It enabled students from a variety of humanities, social and behavioral sciences and related disciplines to focus exclusively on their dissertation research. This is a rare opportunity for students in these fields who typically support their graduate studies with teaching assistantships that require a substantial amount of their time.
Recent studies by The PhD Completion Project by the Council of Graduate Schools and research by the Carnegie Foundation show that students in these programs take much longer to complete their degrees and stack up a substantial debt burden in the process. Four of the Ferdinand Fellows, Ilyse Morgenstein Fuerst, Chak Hum "Jack" Cheng, Jeff Summerlin-Long and Karyl Askew, devoted themselves to making progress on their research in Religious Studies, Economics, Public Policy and Education.
Deciphering and Decoding a Mysterious Text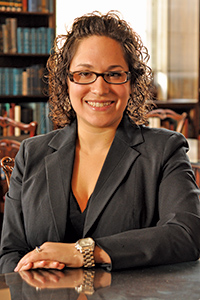 Ilyse Morgenstein Fuerst is working on translating and interpreting the Riyaz al-mazaheb.
Ilyse Morgenstein Fuerst, a fourth-year doctoral student in Religious Studies with a focus on Islam and India, is working on translating and interpreting an early 19th-century text, the Riyaz al-mazaheb, or the Garden of Religions, written in 1813. What makes the text unusual is that the work was commissioned by Robert John Glyn of the East India Trading Company, was written by Mathuranath, a Hindu employed by the Mughal court of Muslim rulers at the time, and is written in both Persian and Sanskrit. As she translates the text, Morgenstein Fuerst's primary goal is to understand the fluidity of religious identity and the plurality of religions in the Indian community at the time. Her objective is not to translate the entire text, but to find the juicy parts and put them into a historical context.
The Riyaz al-mazaheb is a fascinating text. There is only one copy of the book itself, housed at the British Library in London. Morgenstein Fuerst conducts her studies using UNC-Chapel Hill's microform copy of the text, which consists of pages of the book reproduced in reduced size printed on film. Morgenstein Fuerst says it reads like "an early ethnography. Mathuranath wrote about his neighbors in Varanasi, a city on the River Ganges in northern India. The way he describes his contemporaries and their beliefs really disrupts the classification and accepted taxonomy of religions. For example, he claims that Sufi Sheikhs are a religion separate from Islam entirely." Mathuranath wrote in both Persian and Sanskrit, an odd combination. Sanskrit is considered a religious language, so coupling it with Persian is unusual. The majority of the text is in Persian, a language written from right to left; interspersed throughout are carats and margin notes in Sanskrit, a language written from left to right. "His Sanskrit tends to be more vibrant. Persian is clearly his second language."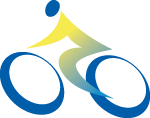 Not only is the nature of the Riyaz al-Mazaheb unusual and unique, but Morgenstein Fuerst's background is unusual and unique as well. She is distinctive in Islamic Studies because she has no knowledge of the Arabic language. "What I contribute to this field is my extensive knowledge of Indian history, which is more accessible to me because of my knowledge of Sanskrit and other Indo-European languages," she says.
Last October, Morgenstein Fuerst had the privilege of spending a week at the British Library with the original manuscript, thanks to support from the American Academy of Religion's inaugural Selva J. Raj International Dissertation Research Fellowship. "I hit the ground running from my first minutes in the Asian and African Reading Room because I had a arrived with a summer's worth of work under my belt, possible only because of the Ferdinand Fellowship," she says. She made two huge progressions in her research: she returned to Chapel Hill with a more accurate, edited printed copy of the text, and additional information on Robert John Glyn, "which was like finding a historical needle in a document-filled haystack!" She believes that her time in London was so fruitful because she had the opportunity to complete research last summer as a Ferdinand fellow. The mysteries of the Riyaz al-mazaheb and its intended audience, as well as the diversity of religions in early 19th-century India, are closer to being solved. And Morgenstein Fuerst is much closer to her graduation date.
Solving an Economic Enigma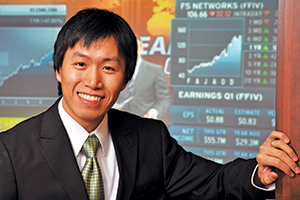 Jack Cheng is analyzing the unique causes and effects of the late-90s Asian financial crisis on Hong Kong's economy.
Chak Hum "Jack" Cheng is in his fifth year studying Economics, specifically macroeconomics. Last summer, he researched the 1997-1998 Asian financial crisis and how it affected the economy in Hong Kong. Cheng grew up in Hong Kong, so the economic climate there is particularly interesting to him, though he believes his research has implications for the current financial crisis.
In 1983, Hong Kong adopted a fixed exchange rate of 7.8 Hong Kong dollars to one U.S. dollar "to provide a more stable environment for international trade and investment," says Cheng. In contrast, other Asian currencies, such as those in South Korea, Taiwan and Thailand, are subject to flexible exchange rates.
During the Asian financial crisis of the late 1990s, those economies with flexible exchange rates faced capital flight when foreign investors drew money away from the local economy, causing exchange rates to depreciate dramatically. Because Hong Kong had a fixed exchange rate, it did not face significant capital flight. However, it did face another economic dilemma.
At that time, the unemployment rate in Hong Kong was worse than in other countries. This is the puzzle that Cheng hopes to solve. "The mechanism of economic decline in Hong Kong is fundamentally different. My idea is that because the exchange rate in Hong Kong is fixed, wages could not adapt; when the demand for goods and services decreased due to the financial crisis, firms had to cut costs," says Cheng. As a result, employers had two options: either lay off workers, or cut wages. "Because wages in Hong Kong could not adjust quickly, the only option was to lay off workers. That is why I believe the unemployment rate increased so dramatically."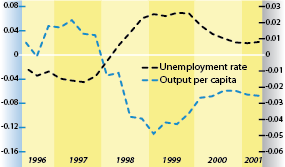 Output per capita and the unemployment rate in Hong Kong
Cheng believes that there could be some parallels between Hong Kong's situation in the late 1990s and the unemployment rates the United States has experienced due to the current economic climate. "I cannot say that it is exactly the same, but it would be great if this idea could be applied to the current U.S. economy. How flexible are wages in the U.S.? Is the unemployment rate staying at a high level because of wage inflexibility, or is it something else?"
Cheng hopes that future researchers can develop answers to these questions by building on his research and economic theories.
In order to develop this paper, which will be one chapter of his dissertation, Cheng had to code the formulas for economic models on his computer so that he could enter raw data and run his analyses. This coding and programming process—an intensely involved and time-consuming process—was taking him weeks.

However, when Cheng received the Thomas F. Ferdinand Summer Research Fellowship, he was able to use some of the funds to purchase a software program called EViews. "With the software, I enter the data, 'click-click,' and can immediately analyze the results and draw conclusions." Weeks of work become days. Cheng believes that "without the fellowship, I would have needed to teach or work to support myself, and that would have left me no time to do my research. I think I would definitely have had to stay an extra semester or year to finish." To his relief and joy, Cheng expects to earn his degree this May.
Justice for All: Studying NC Legal Aid Organizations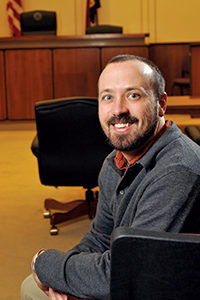 Jeff Summerlin-Long is examining how legal organizations adapt to changes in policy and funding.
Jeff Summerlin-Long, a sixth-year doctoral student in Public Policy, is examining legal aid organizations in North Carolina. Last summer, he studied these groups' reactions to federal policy changes that cut their funding, as well as the types of services they were able to provide.
Legal aid organizations provide access to legal services for people unable to pay for private attorneys. Over the past few decades, federal policies have reduced federal funding for these services, consequently limiting the services these organizations can offer. Summerlin-Long found that the major reaction of the legal aid community was to split itself into two distinct components: one that continued to receive federal funding and one that did not. The organizations that did not receive federal funding continued to pursue law reform or advocacy work on behalf of the poor as a group. In addition, the two groups began to work together by forming a statewide planning commission including leaders from both groups. The commission holds conferences annually, and also created task forces that meet several times a year about specific issues, like renters or unemployment insurance.

Summerlin-Long's dissertation topic developed from his previous experiences as an attorney for two different legal aid organizations: the federally funded Legal Aid of North Carolina in New Bern, and the non-federally funded North Carolina Justice Center in Raleigh. "It was my experiences in these jobs that inspired my research questions: What were the precise effects of the federal cutbacks? How did these organizations, as a part of a larger statewide community, respond?" he says.
He likens his dissertation to solving a mystery because he hopes to answer these questions before completing his degree. He adds, "Though I still love the intellectual puzzles offered in the legal field, I knew that answering these questions would involve an understanding of disciplines outside the law."
Summerlin-Long says the major benefit of the Ferdinand Fellowship was that it allowed him to focus exclusively on developing his dissertation questions and gathering data for his analysis. He explains, "as a student with a family, I have always been forced to take on jobs in addition to my coursework and dissertation research. Having a big chunk of time without the demands of an outside job gave me a great opportunity to really move my dissertation forward."
Ultimately, Summerlin-Long wants to teach law courses at the undergraduate level. "I believe strongly that a teacher without curiosity has no chance to impart a love of learning to the students. My hope is to find a position as an Assistant Professor that will allow me to be a 'teacher-scholar' where the primary emphasis is on teaching in an environment that encourages scholarly research," he explains. The Ferdinand Fellowship brought him closer to this goal by enabling him to make enough progress in his degree program to enter the job market this year. He recently accepted a position as an Assistant Professor in Political Science at the University of Alabama in Huntsville starting in the fall.
The Value of Extracurricular Education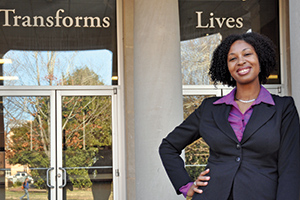 Karyl Askew studies the influence of different extracurricular activities on the life goals of males and females.
Karyl Askew is a fifth-year doctoral student in Education with a concentration in Educational Psychology, Measurement and Evaluation. Last summer, she studied the connection between extracurricular activity involvement and rural adolescents' career aspirations, specifically, if this relationship is different for male and female students.
Her research is part of a larger research project, the Rural High School Aspirations (RHSA) study, located at the Center for Developmental Science at UNC-Chapel Hill. Through her preliminary findings, Askew discovered that adolescents who attend small schools in rural areas with higher poverty rates are more likely than students in other rural locales to become involved in academic and career-focused clubs such as Future Business Leaders of America or Future Farmers of America.
Her work also focuses on achievement motivation, examining the factors that drive students to excel in school. She explains, "we know certain types of extracurricular activities make a difference, but we don't know why kids are attracted to and stay involved in different activities. There are different patterns for extracurricular involvement for boys and girls, but that has changed slightly over the past few years. Now, you'll see more girls participate in a broader range of activities like sports, and computer and technology clubs, but that doesn't necessarily translate into the types of careers they choose."
Extracurricular activities are a topic of interest to Askew because they were a large part of her education as an adolescent. While in high school, she was involved in an extracurricular program that nurtured students' interests in aerospace engineering by offering them airplane flight lessons in exchange for community service hours. This experience had a great impact on Askew, who adds, "I learned how to fly a plane before I could drive!"
This program also influenced her decision to pursue a bachelor's degree in aerospace engineering at the University of Michigan at Ann Arbor. During this time, she worked at a local mentoring program where she again recognized the importance of these extracurricular activities. "Working in that program made me realize that I wanted to study education and examine the impact that extracurricular activities have on students' achievement motivation and career interests."
Receiving the Ferdinand Fellowship brought her one step closer to reaching this goal. "The fellowship gave me time to concentrate on my dissertation. I had an opportunity last summer to define my variable of interest, and work with a team of researchers to code the data necessary for my work. I'm further along in the process than I expected, so the fellowship had a tremendous impact on my work," she said.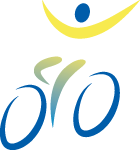 After finishing her degree, Askew hopes to become a professor, research scientist or program evaluator. "In undergrad, my goal was to have a career as an aerospace engineer, but then I discovered a whole new world. I remain passionate about advances in technology and engineering, but now I'm more interested in sharing that passion with young people so that they can join us in transforming our world."
♦ Rebecca Prettyman and Enelda Butler