Sequoyah's Language Lost & Found
Carolina Graduate Students Reviving the Cherokee Language
What comes to mind when you hear the name Sequoyah? Is it a tree? (Actually, that's sequoia.) Or maybe you thought of the man, Sequoyah? He was an American Indian who developed the Cherokee syllabary, which enabled Cherokees to begin reading and writing in their language. Sequoyah is also the name of a fellowship within the Royster Society of Fellows in the Graduate School at the University of North Carolina at Chapel Hill. This Sequoyah Fellowship supports American Indian graduate students and scholarship. One current Sequoyah fellow and Cherokee Nation member, Julie Reed, is learning the language and syllabary originally developed by Sequoyah himself.
Three summers ago, Reed, a fifth-year History doctoral student, participated in a rigorous course in the Cherokee language, which will better enable her to conduct her research on Native institutions. Last summer, Trey Adcock, a third-year doctoral student in the Education School's Culture, Curriculum and Change program, took the same course. Both students have helped teach UNC-Chapel Hill undergraduates learn the language as well.
The Cherokee immersion class is an intensive 10-day course, offered in conjunction with the Museum of the Cherokee Indian in Cherokee, N.C. The class teaches conversational Cherokee using methods to help students learn quickly. "It combines physical actions with the language itself, so that your body is actually associating language with the movement," says Reed.
The immersion class was originally designed for members of the Eastern Band of Cherokee Indians to help keep their language alive. It has since expanded to include the general public. About half of Adcock's class consisted of Eastern Band members and half were nonmembers, while Reed's class included Eastern Band members as well as Cherokee Nation members from Oklahoma.
The class is led by Bo Taylor, an archivist at the Museum of the Cherokee Indian, who also lectures on Cherokee music, dance and spirituality. Because of the changing nature of the language, Taylor makes sure that there's at least one Cherokee elder present at every class session to provide input.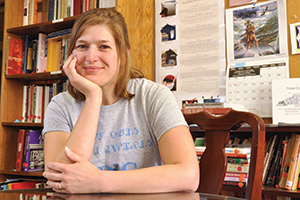 Julie Reed's research focuses on the development of social services in the Cherokee Nation.
Reed says the course had a tremendous impact on her work. "It forced me to ask different kinds of questions in my research. I write about the Cherokee Nation's development of social services, specifically an orphanage, a prison and a mental health institution. Cherokee speakers may not conceptualize ideas the same way that English speakers do, which signals that there could be something radically different about how these institutions may be adopted, accepted or used in the community."
Adcock says that the Cherokee immersion class influenced his work. "My specific research interest is technology integration in American Indian education. A lot of American Indian communities use technology to foster language revitalization." For instance, the Cherokee syllabary is now a language option for typing on Apple products.
Technology also played a role in helping Adcock and Reed teach others this language. Both students have served as teaching assistants for UNC-Chapel Hill's undergraduate Cherokee language course. The class meets twice a week via videoconference, made possible through a partnership with Western Carolina University. The videoconferencing software enabled nine undergraduate students at UNC-Chapel Hill to see, hear and interact with the professors and students in a parallel class at Western Carolina, and vice versa. There are two professors: one is a linguist, and the other is a Cherokee Nation citizen whose first language is Cherokee.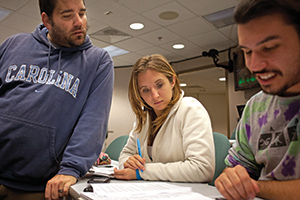 Trey Adcock speaks with students in the undergraduate Cherokee language class.
The class has been taught for four semesters, and it is an approved option for the undergraduate language requirement. Reed says that the course offers a unique experience for undergraduate students because the most recent group of students has now taken four Cherokee language classes together. "There's camaraderie among the Cherokee language students. The community that's formed around the language class is pretty unique." In fact, each semester the teaching assistant for the course holds a social gathering at his or her home for the students.
Both Adcock and Reed were drawn to UNC-Chapel Hill by faculty members whose work focused on Native peoples and issues. Reed says that part of the reason she chose to come here for graduate school was her interest in history professor Theda Perdue's scholarship on Native American women. Likewise, Adcock had a great interest in education professor George Noblit's work on education and culture.
Both Adcock and Reed stress the impact that funding can have on their work. They each received Cherokee Nation Education Corporation scholarships, as well as North Carolina Native American Incentive Grants. Adcock also received funding through a doctoral merit scholarship from the Graduate School.
Reed is a recipient of the Sequoyah Fellowship, which provides a stipend, tuition/fees, health insurance and travel funding to enable the student to focus on completion of a doctoral degree. "This is the first year that I had funding to go to conferences," says Reed. "That's just an immense relief—it's really hard to get funding for that. This was also the first year I haven't had to work. It's a huge relief to be able to just write, to focus on finishing my dissertation and making it a solid dissertation." This year, because of the Sequoyah Fellowship, Reed was able to attend the Cherokee National Holiday, an annual event held each Labor Day weekend to celebrate the signing of the Cherokee Nation Constitution after the end of the Trail of Tears Indian removal. She says, "It feels unacceptable to me to try to study Cherokee history and never get to visit the Cherokee Nation in Oklahoma, so it was great to have the opportunity to attend that event."
Reed believes that being a member of the Royster Society of Fellows makes her a more attractive candidate in the job market. "It's a really important fellowship that showcases our accomplishments, how we're making our university proud in representing ourselves and our community." In fact, Reed was offered a position several months before completing her degree, an extremely rare occurrence for current graduate students. Next fall, she will begin teaching Native American history courses at the University of Tennessee at Knoxville. After completing his doctorate, Adcock hopes to continue teaching as well. "I would love to be in an area close to a Cherokee community and be able to work with Cherokee students."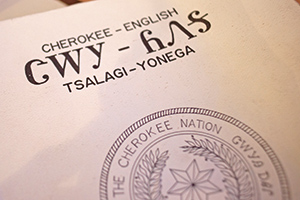 A Cherokee-English dictionary Adcock and Reed use in class.
Both Reed and Adcock have spent their summers in a very unusual learning context that both credit with significantly shaping their current research and future career plans. Sequoyah, himself, would likely be very proud of how they are keeping the culture and language alive.
♦ Enelda Butler