Graduate and professional student wellness festivals
Held twice a year; this collaboration with GPSG includes a large resource fair and lunch, massages, therapy dogs, yoga classes, and art activities — all designed to help graduate and professional students relax and rejuvenate.
2023 Fall Wellness Festival
11:00 a.m. - 1:00 p.m.
Wednesday, October 25, 2023

Carolina Student Union
209 South Rd.
Chapel Hill, NC 27599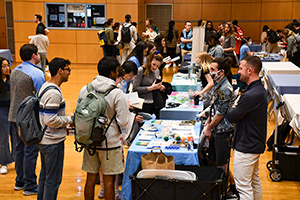 The Graduate School and Graduate and Professional Student Government (GPSG) are pleased to invite all graduate and professional students (GAPS) to the Fall Wellness Festival — a well-being event specifically designed for graduate and professional students. Join us at the Carolina Student Union on Wednesday, October 25 from 11:00 AM-1:00 PM for a day of relaxation, rejuvenation, and community.
This event will feature 7+ unique wellbeing experiences tailored to the needs of GAPS, including: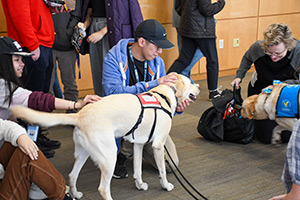 Free lunch and refreshments
Resource fair with campus and community organizations who aim to support students
Therapy dogs to help you de-stress
Yoga sessions led by current graduate students
Free massages by licensed massage therapists
Meet & Greet with The Graduate School Deans and GPSG Leadership
If you register for a massage and/or yoga but are unable to make it, please cancel your registration to allow other students to sign up. A printed waiver for the free massages will be available to sign at the event. Students are encouraged to RSVP for this event to ensure accurate headcount for food and drinks.
Questions? Contact Laura Thorp at lethorp@unc.edu.