The Big Picture
Bringing Heart, Soul, and Innovation to Graduate Education
As the Dean of The Graduate School and Professor of Biology at the University of North Carolina at Chapel Hill, Steve Matson knows firsthand that graduate students are pursuing a wide variety of careers with their degrees.
"When I got my doctorate in Biochemistry from the University of Rochester in 1980, the goal everyone had was to become a professor," he says. Looking back on his career path, Matson says he just chose the prospective opportunities that he thought he would enjoy.
"I fell in love with the East Coast when I moved out here for college, so I never left," he says. "I also fell in love with the intellectual challenges of a university, so I never left."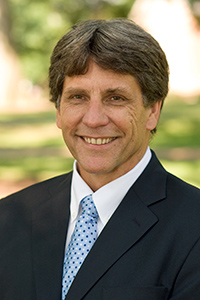 Graduate Dean Steve Matson aims to develop comprehensive programs to prepare graduate students for many career paths.
Matson joined the UNC-Chapel Hill faculty in 1983; he enjoyed research and teaching, and assumed he'd always be a professor. However, Matson has since delighted in his additional roles as Chair of the Biology Department and now Dean of The Graduate School.
One of the aspects of university leadership that he has enjoyed most is viewing academic issues from "forty thousand feet." From his firsthand experiences, Matson had a deep understanding of how both graduate student training in the lab and education in the classroom prepared them for future positions. Leadership roles have also enabled him to see how graduate education differs in disciplines across the University.
Matson knows that while considering where students go right after graduation is important, one needs to look at where they are five and 10 years down the road to best understand the preparation students require. Looking back at the students he has mentored, Matson notes that only about 25 percent ultimately ended up in traditional academic careers.
Matson says the University needs to continue preparing the next generation of professors. That remains an essential mission because society needs the next generation of professors to be prepared at great research universities like UNC–Chapel Hill. Taking opportunities to provide knowledge and skills pertinent to a variety of careers, however, will help students hoping to work both within and outside of universities.
"The reality is that the students that leave here are going to go out and do a variety of things," he says. "We need to do the best job we can possibly do as a graduate school to help them be prepared for that variety of careers."
Matson believes that it is the responsibility of The Graduate School to provide broad professional development opportunities to the students. He has been looking into programs and workshops that have been implemented at other universities to see if they could be useful to graduate students at UNC–Chapel Hill. He recently came across a very successful improvisation workshop held in Toronto that helps students improve their communication skills.
"Even the most hardcore bench scientist who never wants to leave their lab needs to know how to communicate," he said. The workshop requires that the students participate and learn how to communicate, instead of having someone teach them to communicate.
The Graduate School provides lectures and workshops on topics such as honing interview skills, negotiating salaries, managing personal finance, making presentations, and writing research statements. Matson is excited to develop more programs to prepare students for a range of careers.
"I don't believe one size fits all for graduate students," Matson says. "But I do believe that the skills acquired in graduate school are transferable and do not necessarily box you into one occupation."
♦ Cindy J. Austin
"So many people, particularly in academe, end up doing something that they had no idea they'd be doing, and that's what happened to me," says Paul Hardin, Chancellor Emeritus of the University of North Carolina at Chapel Hill. Throughout his life, Hardin has had various professions including lawyer, professor, university president, and even politician.
Hardin went to Duke University School of Law with the goal of practicing law as a career. He worked as a lawyer for several years in Alabama, and was given an opportunity to teach law courses at his alma mater. At first, Hardin did not want to leave his law firm, but at the suggestion of a senior partner he decided to take the teaching offer for one year. "My colleague told me he received a similar offer from his alma mater years earlier, but was not able to accept it. He was glad that I didn't want to leave the firm, but he thought that I should try this new opportunity."
Hardin never returned to the law firm. He taught at Duke Law School for 10 years, becoming a full professor. After teaching at Duke, Hardin decided to run for mayor of Durham, but lost in a runoff election. He says, "I may have lost that mayoral race, but sometimes when you think you've lost, you haven't really lost at all. If I had won, I probably would've ended up becoming a North Carolina politician. Losing that election made it possible for me to accept the offer to become President of Wofford College." He served as President of Wofford for four years, from 1968-72.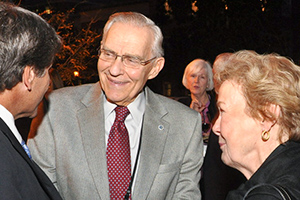 Chancellor Emeritus Paul Hardin and his wife, Barbara, with Dean Steve Matson at the Royster Society of Fellows 15th Anniversary Celebration of Excellence, for which Hardin was a featured guest speaker.
Hardin went on to have a successful career in higher education administration serving at institutions like the University of Alabama at Birmingham, Southern Methodist University, Drew University and UNC-Chapel Hill. While at SMU, Hardin discovered cheating in the football program. He made the ethical decision to self-report the indiscretions to the NCAA, even before the organization began an investigation. However, some members of the school's board of trustees disagreed with his decision, and soon after this scandal Hardin left his position. After serving as President of Drew University for 13 years, he received a call regarding a position as Chancellor at UNC-Chapel Hill. He remembers, "At the time, UNC had fired its football coach and there were criticisms of an overemphasis in sports at the University. So they were looking for someone who loved athletics, but had a record for not putting up with any nonsense."
He was also excited to return to his home state. "My wife and I always wanted to come back to North Carolina. But who would've thought that an old Dukie could become the Chancellor of UNC." Hardin served as Chancellor at UNC-Chapel Hill from 1988-95. He says one of his greatest accomplishments was celebrating the university's Bicentennial, with a fundraising campaign exceeding $400 million.
Hardin has always stressed the importance of financial support for students, especially those enrolled in graduate programs. In fact, Hardin was instrumental in establishing one of the most successful fellowship programs for graduate students at UNC-Chapel Hill. Hardin is an avid golf player, and while participating in the U.S. Seniors Golf Association International Cup he met Tom Royster, a surgeon and UNC-Chapel Hill alumnus. He adds, "Tom told me that he and his wife wanted to give a large gift to Carolina and asked which areas needed more support. I said we had a wonderful merit-based undergraduate scholarship program, and we needed something similar for graduate education. That's how the Royster Society of Fellows began. I think the Roysters have done more than anyone else has ever done for graduate students at Carolina."
Hardin continues to stress the importance of graduate education and the impact that these students can potentially have. "One thing I like best about graduate education is its investment in intellectual effort. Carolina graduate alumni impact communities across North Carolina. This is a great center for higher education, with master's and PhD programs acting as the heart and soul."
Read the full interview with Chancellor Emeritus Paul Hardin
♦ Enelda Butler