Bringing Heart and Soul to Graduate Education
Online Exclusive: Extended Interview
Chancellor Emeritus Paul Hardin
"So many people, particularly in academe, end up doing something that they had no idea they'd be doing, and that's what happened to me," says Paul Hardin, former Chancellor at The University of North Carolina at Chapel Hill. Throughout his life, Hardin has had various professions including lawyer, professor, university president, and even politician.
Hardin went to Duke Law School with the goal of practicing law as a career. He worked as a lawyer in Alabama for several years, and was given an opportunity to teach law courses at his alma mater. At first, Hardin did not want to leave his job, but at the suggestion of a senior partner of his law firm he decided to take the teaching offer initially for one year. "My colleague told me he received a similar offer from his alma mater years earlier, but was not able to accept it. He was glad that I didn't want to leave the firm, but he thought that I should try this new opportunity. He said 'If you like it we've lost a fine lawyer, and if not, you can always come back here.'"
Hardin never returned to the law firm. He taught at Duke Law School for 10 years, eventually becoming a full professor. During his tenure at Duke, Hardin had visiting professorships at The University of Pennsylvania, New York University and The University of Texas. He also taught comparative legal studies abroad in Scotland, Jamaica, Canada and Nigeria. He explains, "All those things happened to me because a very smart older lawyer thought that I might enjoy doing something other than trying jury cases in Birmingham, Ala."
After teaching at Duke, Hardin decided to make another career change and he ran for mayor of Durham. He won the primary race, but lost the runoff election. He adds, "I may have lost that mayoral race, but sometimes when you think you've lost, you haven't really lost at all. If I had won, I probably would've ended up becoming a North Carolina politician instead of a university administrator. Losing that election made it possible for me to accept the offer to become President of Wofford College." He served as President of Wofford for four years from 1968-72.
Hardin went on to have a successful career in higher education administration serving at institutions like The University of Alabama at Birmingham, Southern Methodist University, Drew University and UNC-Chapel Hill. While at SMU, Hardin discovered cheating in the football program and self-reported the indiscretions to the NCAA, even before the organization could begin an investigation. He also fired the school's athletic director. However, soon after this scandal, Hardin left his position at the university due to disagreement about the situation with the Board of Trustees. He then became President of Drew University for 13 years. Towards the end of his tenure at Drew, he received a call regarding a position as Chancellor at UNC-Chapel Hill. He says, "At the time, UNC had fired its football coach and there were criticisms of an overemphasis in sports at the University. So they were looking for someone who loved athletics, but had a record for not putting up with any nonsense." Hardin's treatment of the cheating scandal while at SMU made him a strong candidate for the position at Carolina.
He was also excited to return to his home state. "My wife and I always wanted to come back to North Carolina. But who would've thought that an old Dukie could become the Chancellor of UNC." Hardin served as Chancellor at UNC-Chapel Hill from 1988-1995.
Hardin reflects on his time at UNC-Chapel Hill, and the difference in presiding over a public university and a private institution. "I was accustomed to the private sector, where all I had to do was get the support of my board of trustees' support to accomplish things that would benefit the faculty and students. As Chancellor at UNC there were many layers of responsibility. I not only reported to the president of the system, but was also accountable to the faculty, staff, students, and the legislature. My political background made me comfortable doing that. But memory must be merciful because I don't remember anything negative about my experience at Carolina. That was certainly the high point of my career." He says one of his greatest accomplishments during this time was celebrating the school's Bicentennial, with a fundraising campaign exceeding $400 million.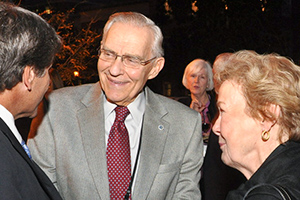 Chancellor Emeritus Paul Hardin and his wife, Barbara, with Dean Steve Matson at the Royster Society of Fellows 15th Anniversary Celebration of Excellence, for which Hardin was a featured guest speaker.
Hardin has always stressed the importance of financial support for students, especially those enrolled in graduate programs. In fact, it was Hardin who came up with the idea for one of the most successful fellowship programs for graduate students at UNC-Chapel Hill. Hardin is an avid golf player, and while participating in the U.S. Seniors Golf Association International Cup he met Tom Royster, a surgeon and UNC-Chapel Hill alumnus. He adds, "Shortly after we got acquainted with the Roysters, Tom told me that he and his wife wanted give a large gift to Carolina and asked what areas needed more support. I said we had a wonderful merit-based undergraduate scholarship program, and we needed something similar for graduate education. That's how the Royster Society of Fellows began. I think the Royster's have done more than anyone else has ever done for graduate students at Carolina."
Hardin continues to stress the importance of graduate education and the impact that students can potentially have. "One thing I like best about graduate education is its investment in intellectual effort. Every corner of North Carolina is influenced by UNC. This is a great center for higher education and I think the graduate programs that lead to masters and PhD degrees are the heart and soul of that because that's where the scholars are born, trained, and developed."
♦ Enelda Butler