Humble's Work Improves Healthcare


Inspired by a Tar Heel Footprint
Henry Ford once said, "Most people spend more time and energy going around problems than trying to solve them." However, Charles Glenn Humble has dedicated his entire career to solving problems and improving the American healthcare industry.
Throughout his career, Charles Glenn Humble has worked in a variety of settings, from the federal government, the pharmaceutical industry and the nonprofit sector, and has helped develop innovative ways to solve healthcare problems.
Humble received a Master of Public Health degree from Harvard University in 1980. He then worked in epidemiology for several years, until deciding to pursue a doctorate in this field at the University of North Carolina at Chapel Hill in 1987.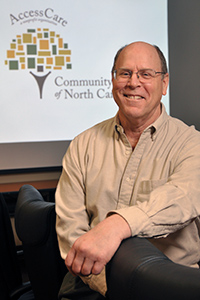 Charles Glenn Humble
While at UNC-Chapel Hill, Humble's research focus was cardiovascular disease epidemiology. He became interested in this field when he discovered he had a medical condition that caused his body to retain twice the average amount of cholesterol in his blood. He adds, "They have a strong cardiovascular disease epidemiology program at Carolina, and a great School of Public Health, so that appealed to me."
Humble finished his doctoral degree in three and a half years and says his previous work experience enabled him to finish his degree quickly. He explains, "I had a lot of real world experience in analyzing and collecting data, and my advisor respected that experience."
Humble also says the funding he received helped him complete his degree in a relatively short amount of time. "For both my master's and doctoral degrees, I was funded through grants from the National Institutes of Health. They covered the cost of tuition and fees, and modest amounts to live on—$8,000 a year for my doctorate and $3,000 during my master's. The funding I got while in graduate school made a big difference in my life, and I try to give back to the school because I know it's important. That made all the difference in getting through the program quickly, because I didn't have to have a job on top of my schoolwork and being a father to two children and the husband of a wife who was also in school."
Humble's wife was pursuing a Master's degree in Maternal and Child Health at UNC-Chapel Hill while he was working on his doctorate. Humble says it was difficult for him and his wife to balance schoolwork and their responsibilities as young parents, but they managed to make it work. "Juggling school and family was tough but we knew it wouldn't be forever. We held on to the great hope that the education we were getting would be worth the sacrifice."
After completing his doctoral degree in 1990, Humble began postdoctoral research at pharmaceutical company Burroughs Wellcome, which is now GlaxoSmithKline. He explains, "During the year and a half that I was there I got to see a drug company's approach to using data. At the time, Burroughs Wellcome had one of the best reputations in the industry for its data analysis and interpretation. I never expected to work in the pharmaceutical industry, but that was an interesting learning experience for me in a new environment."
"The funding I got while in graduate school made a big difference in my life, and I try to give back to the school because I know it's important."
After his postdoctoral work, Humble began working for the United States Department of Veterans Affairs. He says, "During this time, the VA had a serious problem with the reputation of the quality of care in its hospitals. They were trying to figure out how to improve it, and created a think tank to address the problem." He says his role was to assist the organization in using data to examine the quality of care across the hospital system and create new programs to improve the quality of care. Humble eventually became the national director of the VA patient satisfaction program. He says, "I enjoyed helping the veterans give that kind of serious feedback to the government through the survey program. The VA now gets a lot of recognition for the improvement in quality of care that has been realized there. It was nice to be a small part of that."
Humble left the VA in 2005 and began working for his current employer, AccessCare, a nonprofit with the goal of improving access to medical services and quality of care for its Medicaid clients, while reducing costs of client care for the state of North Carolina. He explains, "At AccessCare, one of my biggest responsibilities is collecting and analyzing data. I also help organize studies to examine health care quality and costs, and work on programs that develop innovative ways to help doctors improve patient care. We try interesting stuff here. Not all of it works, but some of it does. That has important implications for children and also the state's budget because we're saving millions of dollars in drug costs and improving quality of care."
Although Humble originally planned to become a research professor, he is pleased with his current career path. "I never got back to cardiovascular disease epidemiology. One of the nice things about epidemiology is that it covers a broad set of skills and subject matter, which opens doors to you in ways that other disciplines may not. It allows you to take these paths that you may never have dreamed of taking."
♦ Enelda Butler