G.E.A.B. Updates
The Impact of Donors and Friends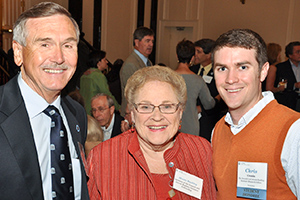 Donald and Alvene Buckley with Chris Cronin
The Graduate Education Advancement Board (GEAB) hosted a reception in honor of Summer Research Fellowship donors and their fellowship recipients in October 2011. GEAB Chair Peace Sullivan and Graduate School Dean Steve Matson thanked all of the donors for creating fellowship opportunities.
GEAB member Dr. Donald Buckley and his wife, Alvene, had the distinction of being the first donors to provide a gift (matched by The Graduate School) to create a summer research fellowship for a student. The 2011 Donald and Alvene Buckley Summer Research Fellowship supported Chris Cronin, a doctoral student in Economics. Cronin studies how employers' insurance choices and subsidies influence individuals and families. "We proudly support the summer fellowship program, and it was a pleasure to meet Chris, who is a very impressive doctoral student. Seeing that he has made valuable use of this time has certainly encouraged us to continue our support of these fellowships," says Donald Buckley. "It's a pleasure to help someone who is pursuing an area in healthcare, which is also my field." The Buckleys and many other generous donors have sponsored fellowships to support 21 additional students this summer 2012.
2012 Summer Research Fellows
Thanks to many private donors this year, 21 graduate students will have the opportunity to focus exclusively on their dissertation research this summer. The students were selected for the quality of their work, their readiness to productively use the time this summer, their mentors' willingness to work with them and provide guidance, and the fact that they have had little previous nonservice funding.
Patrick Connolly, Philosophy: The Suzanne Levy Summer Research Fellowship
Liz Fox, Art: The Kathryn Miller Glass Summer Research Fellowship
Alex Ingersoll, Communication Studies: The Peggy Harpold Summer Research Fellowship
Gazi Kara, Economics: The Vanessa Miller Gelbaugh Summer Research Fellowship
Hyejin Lee, Art: The Susan T. Lord Summer Research Fellowship
Erica Longenbach, Art: The Jean Cameron Grainger Summer Research Fellowship
Laura Meadows, Journalism and Mass Communication: The Professor Jurg Steiner Summer Research Fellowship
Luke Mills, English and Comparative Literature: The Matthew J. Burbank Summer Research Fellowship
Gregory Mole, History: The S. N. Chatterjee Summer Research Fellowship
Jennifer Park, English and Comparative Literature: The Harold J. Glass Summer Research Fellowship
Chris Reali, Music: The Lucas Miller Glass Summer Research Fellowship
Malena Rousseau, Anthropology: The Penny and Howard Aldrich Summer Research Fellowship
Antoinette Sabatino, Psychology: The Francis J and Mary A Meyer Summer Research Fellowship
Sara Safransky, Geography: The Linda and David Lewis Summer Research Fellowship
Forrest Spence, Economics: The Thelma Zaytoun Summer Research Fellowship
Tehseen Thaver, Religious Studies: The Florence Bullock Ragan Summer Research Fellowship
Armond Towns, Communication Studies: The Thelma Zaytoun Summer Research Fellowship
Khadija Turay, Maternal and Child Health: The Alvene and Donald Buckley Summer Research Fellowship
Martha van der Drift, Romance Languages: The William Chase VanderWolk Summer Research Fellowship
Justine Williams, Anthropology: The Kevin Satisky and Marie Thorn Summer Research Fellowship
Jessica Willoughby, Journalism and Mass Communication: The Fran and Paul Hoch Summer Research Fellowship
Graduate Education Advancement Board
The Graduate Education Advancement Board (GEAB), pictured here, assists The Graduate School in generating support and funding for graduate education at Carolina. Members are appointed based on their distinguished character and leadership, belief in the importance of graduate education at Carolina, sensitivity to different perspectives on graduate education, and dedication to advancing the mission of The Graduate School. For example, the GEAB generously sponsors The Graduate School's Impact Award program, honoring graduate students whose work benefits the citizens of North Carolina and beyond.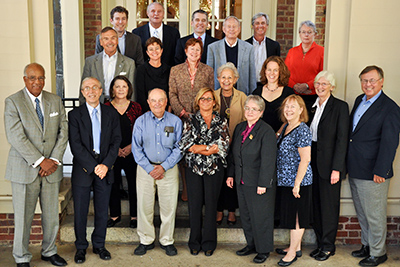 Graduate Education Advancement Board (GEAB)