A Passion for Helping Others

Inspired by a Tar Heel Footprint
"No man stands so tall as when he stoops to help a child."
Abraham Lincoln and Donna Bainbridge share that same philosophy. After working with the Special Olympics for 20 years, Bainbridge is pleased that her University of North Carolina at Chapel Hill graduate degree enabled her to pursue her life-long passion for helping others.
A New Jersey native, Bainbridge received her undergraduate degree in physical therapy in 1967 from Boston University. As a children's hospital staff therapist, her love of working with children was cemented. Bainbridge helped to mainstream kids with disabilities back into schools, but was concerned about their ability to engage in school sports and athletics. Realizing she needed more knowledge to tackle the problem, Bainbridge applied to the UNC-Chapel Hill program in physical therapy in 1981. She believed this program would prepare her with a foundation in biomechanics and sports medicine, as well as exercise physiology.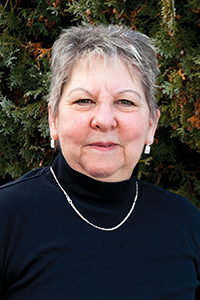 "Graduate education makes you a more focused learner, and it helps you to be a more focused professional," says Donna Bainbridge
Bainbridge was hoping to get funding for her program, but none was available when she started. "The University was wonderful, though," she says. "They found a position for me as a teaching assistant." The University helped Bainbridge organize finances so she could pay for school, giving her more time to focus on her studies. She also says she enjoyed getting odd jobs during summers and holidays,working at a bicycle shop and even using her degree at the University to get to know some well-known UNC-Chapel Hill students.
Bainbridge was very involved on campus, even working at the three-week basketball summer camp put on by then-coach Dean Smith, and was enrolled during the great years of Michael Jordan.
Since graduating from Carolina, Bainbridge has used her degree to better programs, universities, countries and now, even the world. After graduating with her Master's in Physical Therapy degree, she stayed at UNC-Chapel Hill to teach the first module of musculoskeletal evaluation and to run the biomechanics lab. The program had little curriculum covering musculoskeletal evaluation before the implementation of the 10-hour module. Bainbridge taught the undergraduate students how to define the source of symptoms in order to effectively treat the problem, teaching lab techniques, how to operate the imaging systems, and how to analyze data.
In 1983, she moved on to teach at Boston University for four years. During her time there, she started a sports physical therapy master's program for the Mass General Hospital Institute of Health Professions.
She later decided to get her doctorate in motor learning and sports psychology at Boston University. During her doctorate work, Bainbridge met her now-husband. Her parents were long-time friends with her husband's parents, and they insisted on introducing the two. After corresponding via letters for three months and phone calls for two more, they met in person in December of 1988. A year and a half later, a week after defending her dissertation at Boston University, they married in Vermont. He lived in Montana and convinced her to move back there with him. "I hadn't been out there and I thought, 'why not?'"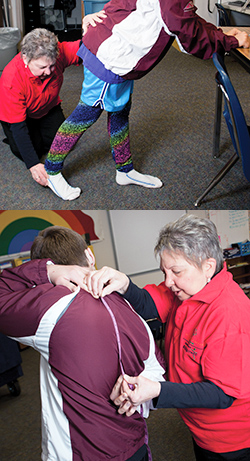 Donna Bainbridge, physical therapist with the Special Olympics, works with athletes to prevent injuries through her now-international program, FUNfitness.
In her first 10 years in Montana, Bainbridge opened a physical therapy and fitness sports practice. She also started a satellite campus of her practice on the Flathead Indian Reservation in St. Ignatius, which gave her the opportunity to see conventional medicines and alternative therapies such as naturopathy, homeopathy, acupuncture, massage and healing touch working hand in hand. Worried that she wouldn't be welcome on the reservation, Bainbridge met with the head of Tribal Council and the Cultural Director for advice. They said she was welcome if she would do three things: help empower them, not be judgmental, and be open and honest. Working on the reservation became one of the most educational experiences of her career. "That was a wonderful opportunity for me—to work with both sides of medicine but also work with Native Americans. We have so much to learn from them."
To pursue her dream of working with the Special Olympics, Bainbridge had to relocate to Washington, D.C., and fly home to see her husband whenever she could. "I traveled so much, I got to see him about once a month," she says. "It wasn't fun but it was tolerable."
While in D.C. she created a project that has changed Special Olympics across the world. Bainbridge thought physical therapy should start with fitness, and not be saved for rehabilitation. The athletes should be healthy from the beginning to avoid the injuries so that they wouldn't have to work to fix them later. Her idea of prevention was the beginning of what is now called "FUNfitness." Bainbridge's brainchild program screens the athletes' flexibility, strength, balance and aerobic condition to keep track of their fitness. She developed an athletic fitness scorecard of specific exercises the athletes can do at home.
All of the data that has been collected since the beginning of the program is in a web-based international data system. The program premiered in Alaska in 2001, and spread across America. "We are now in 49 states in the U.S., five provinces in Canada, and 70 other countries," she says. The Special Olympics has programs in 170 countries worldwide, and FUNfitness is a part of 120 of those countries.
Bainbridge currently serves as the Special Olympics Global Advisor for FUNfitness and Fitness Programming, a title she has proudly carried since 2002. "In addition to working with people I love, I've had the opportunity to travel around the world and meet people that are just outstanding," she says. Bainbridge also serves as a Project Director at the University of Montana doing research in health promotion for adults with intellectual and developmental disabilities.
Bainbridge credits her graduate education for providing the corner-stone for the rest of her career. "My graduate education allowed me to take all the general knowledge I'd gotten in undergraduate and focus it on a specific area," she says. "It makes you a more focused learner, and it helps you to be a more focused professional."
Carolina was a part of the path that led Bainbridge to the career that she loves, helping others achieve their dreams.
"I love it and I'll do it forever."
♦ Cindy J. Austin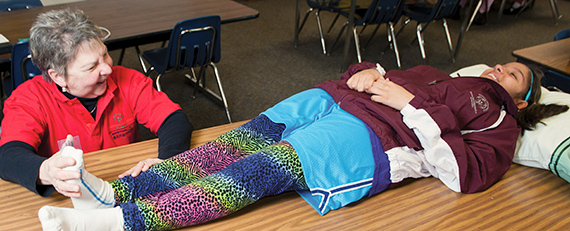 All photos by Todd Goodrich