From the Source
A Catalyst for Change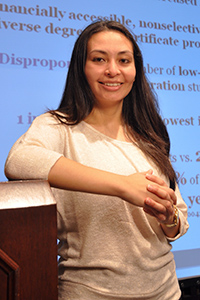 Micaela Mercado
Micaela Mercado has shaped her dissertation around the puzzle of how to help community college students graduate. An overwhelming number of community college students immediately drop out upon entry, to the detriment of their future careers. Since March, she has continued her work by developing ways for social service providers to respond to the immediate needs of youth in Queens, New York.
After completing her undergraduate degree in psychology from Nova Southeastern University in Florida, Mercado knew she wanted to learn more about how research affects policy. She looked into graduate programs for psychology, but came to realize that her passion for social and economic development would be best served in social work.
While earning her Master's in Social Work from Washington University in St. Louis, Mercado worked with the education system and developed an interest in how education affects a person's ability to be gainfully employed and lead a productive life. To gain an even better understanding of the complex issues at hand, Mercado continued her education in the Social Work Doctoral Program at the University of North Carolina at Chapel Hill.
Prior to her time at UNC-Chapel Hill, she lived in Bolivia as a youth health coordinator for reproductive health. Mercado also traveled to China to visit hospitals and special needs schools, and to South Africa to observe orphanages. Additionally, she spent five months in Washington, D.C., working with Education Pioneers—a program that attracts top talent to serve as education leaders in schools.
The Fountain's Cindy J. Austin sat down with Micaela on January 26 to hear about her studies and work in the community.
Fountain: What kind of research projects have you been a part of here at UNC?
Mercado: I've gotten to work with some great professors here, particularly Dr. Dennis Orthner and Dr. Mimi Chapman. Dr. Orthner's CareerStart project works to bring career relevance into middle school curriculum so that students can see the bridge between what they're learning and how it'll apply to them later in life. I think it's great that he focuses the program on middle school students because sometimes high school is too late.
I've been working with Dr. Chapman recently on her program, Creating Confianza, which is geared toward Spanish-speaking middle and high school girls. We're conducting qualitative and quantitative research into why these girls get in fights and why they join gangs or don't. We've discovered that some girls feel they need to be protected, but those that choose not to join gangs feel that if they work hard such protection won't be necessary.
Fountain: What lessons have you learned through working in the field?
Mercado: I've really learned a great deal about people in general, but in terms of my work with the education system, I've learned that change is far from easy. Teachers and administrators already have so many protocols to follow and situations to deal with that it's hard to convince them to implement a program you've designed. It's challenging to propose a plan that is effective but easy to execute. You don't want it to be another administrative layer on top of all the others they already have.
Fountain: You're a fellow in the Royster Society of Fellows. Can you describe that experience for us?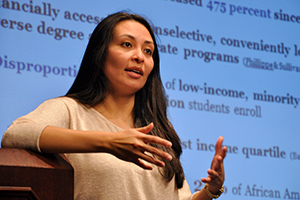 Mercado: The fellowship has offered me a generous amount of financial aid and resources. I've learned a tremendous amount from doctoral students across disciplines through our monthly sessions in which we share our research with one another. The financial support has been extremely helpful and enabled me to make the most productive use of my time here at the University instead of having to get a second job to help cover the costs. It really took the stress off of having to look for funding so that I could be completely committed to my studies and research, which has allowed me to finish my degree ahead of schedule.
Fountain: What are you planning to do next?
Mercado: I've been offered a position with Rockefeller Philanthropy Advisors, starting in March 2012. I'm excited about serving as the Director of Research and Evaluation for a federally awarded Promise Neighborhood Grantee. The neighborhood I'll be working with includes 22 low-income housing buildings where I'll be tracking data for about 2,000 children. My primary role is to develop an innovative data system that will allow social service providers to target their services and programs for troubled youth immediately in order to mitigate problems a young person may have in school or at home. I think this program can really make a difference in the lives of these children and young adults.
Fountain: How has your research prepared you for this work?
Mercado: The most important thing I've learned through my graduate education is that research is a catalyst for change. For me, research allows me to not only learn about a social problem, but it's a tool I can teach others how to use so they may objectively evaluate situations and innovate new programs to better address the needs of children and families striving for social well-being and economic self-sufficiency.
Fountain: Do you have any advice for graduate students just starting their programs?
Mercado: My best advice is to keep balance so that you don't burn out. You should bring your ideas to the forefront of trying to make change in your discipline, but keep in mind that it's a long-term process. It's important to find a balance between life and work, especially since graduate students can become so engrossed in their research. Take everything step by step—don't overextend yourself and don't forget to enjoy the process.
"For me, research allows me to not only learn about a social problem, but it's a tool I can teach others how to use so they may objectively evaluate situations and innovate new programs to better address the needs of children and families striving for social well-being and economic self-sufficiency."