Coaching On and Off the Field
A good mentor will meet you halfway. Danny Morrison's dissertation advisor literally met him halfway between Columbia and Spartanburg, S.C., to discuss the progress on his dissertation. Time and time again Morrison, President of the Carolina Panthers, has seen the importance of a good mentor.
Danny Morrison graduated Phi Beta Kappa from Wofford College, received his Master's in Education from the University of North Carolina at Chapel Hill, earned his doctorate from the University of South Carolina, and now leads the Carolina Panthers NFL organization. It is the people he has met along the way, however, that have made the journey worthwhile.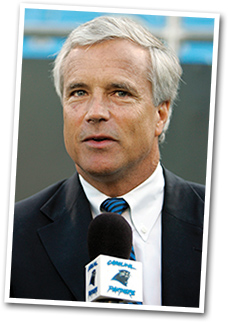 Danny Morrison, President of the Carolina Panthers
Photo by Rick Havner/AP
As a freshman basketball player at Wofford in 1971, Morrison had the opportunity to meet the now-owner of the Carolina Panthers, Jerry Richardson. Richardson had played football at Wofford and went on to play in the NFL for the Baltimore Colts. Richardson knew the basketball players would be the only students on campus over Thanksgiving break, so he and his wife invited the team over to their house for a big turkey dinner. The Richardsons' effort to give the basketball team a family experience on Thanksgiving day left an impression on Morrison and reminded him of the importance of personal relationships.
"We sat around the table like one big family," he says. "It was really something to see how welcome we were in his home."
Also, in his first year of college, Morrison met Joe Lesesne, Dean of the college at the time. Lesesne taught two classes on western civilization, which Morrison took his first and second semesters. Morrison remembers that Lesesne was very young, only about 33 at the time, and was amazed—but not surprised—when he was named President of Wofford a year later. Lesesne served as President for 28 years.
"I loved the way that he viewed Wofford," Morrison says. "He loved that school and loved everything the school stood for."
After graduating college, Morrison returned to his high school alma mater to coach junior varsity basketball and teach geometry. After just one year, he was promoted to Head Basketball Coach, a position he held for the next four years. It was during that time that he and a fellow teacher, David Wood, decided to pursue Master's degrees in Education at Carolina. The pair got to be great friends through the experience.
"We would teach all day, coach JV practice, coach varsity practice, grab something to eat on the way to Chapel Hill, take night classes, and drive home to do it all again the next day," Morrison says.
Wood went on to get his doctorate at Vanderbilt University and now serves as the Senior Vice President of Wofford. "It's really difficult to work full time and be in school full time," Morrison says, "but we look back at those times with really fond memories."
In the 20 years between his master's and doctoral degrees, Morrison continued to work in sports. After graduating from UNC-Chapel Hill, he worked at Elon University as the Assistant Basketball Coach, Tennis Coach, and Math Professor. After a while, he swapped his math teaching duties to be the Assistant Athletic Director.
"Back then you served as more than one thing," he says. "I got to do all three jobs."
After a few years at Elon, Morrison got the opportunity to return to Wofford as the Athletic Director, and he was thrilled to take it. He had been away for 10 years since his undergraduate graduation, and for him, that was long enough.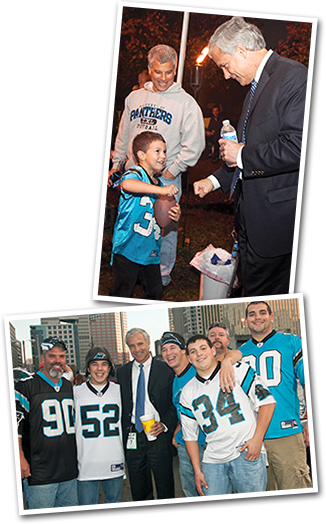 Danny Morrison, President of the Carolina Panthers, enjoys visiting tailgates and meeting fans before Panthers games.
Photos by Jessica Milligan
Aside from returning to the town and campus that he had fallen in love with, Morrison was humbled that his old mentor and then-President, Joe Lesesne, wanted to hire him for the position.
"He had a big impact on me when I was in school," Morrison says. "It was really something special that he would want me to come work with him."
While working for the Southern Conference, Morrison worked towards his doctorate degree at the University of South Carolina. He made it his personal goal to not be "all-but-dissertation."
"I really wanted to finish the drill," he remembers. "The dissertation takes discipline."
At South Carolina, Morrison met Katherine Reynolds, who served as his mentor and advisor, and went out of her way to help Morrison meet his goal. He remembers that she would drive to meet him between Columbia and Spartanburg to go over his dissertation and discuss the progress.
"I don't know if you find that kind of support that often," he says. "She was demanding and supportive at the same time, which is really what you want and need in that role."
Education has always been fun for Morrison, and he attributes a large part of that to the people who have seen him through it. He has seen how important it is for educators to really care about students, especially since he has been a student at 14, at 22, at 28, and at 46.
A year after receiving his doctorate in 2000, Morrison took a position as the Commissioner of the Southern Conference before moving to Texas Christian University as the Athletic Director. Morrison looked at the job at TCU as an outstanding experience to work on a larger campus in another part of the country. During his time there, Morrison revamped the school's athletics. In the 2008-2009 athletic season, TCU had 16 of its 20 sports represented in postseason play under Morrison, a reputable track record by anyone's standards.
It was during his fifth season with TCU, September 2009, that Morrison got a call from the Carolina Panthers. Once again, he was humbled that a mentor of his, this time Jerry Richardson, was offering him a position. Morrison has since served as the President of the Carolina Panthers football team, but he does it with the same spirit with which he coached basketball at Williams High School.
"The NFL reaches people all over the country," he says. "But one of the things I love so much about it is that the camaraderie and excitement among the players is very similar to what you see in high school and college athletics."
Morrison says the main point of his job as President is to provide support, the same way he did as an administrator at Elon, Wofford and TCU. He is confident in his Head Coach, Ron Rivera, and his General Manager, Marty Hurney. There is no doubt that he serves to them as the kind of mentor that he has so appreciated throughout his own life.
♦ Cindy J. Austin