Winter Commencement
2021 Winter Commencement
December 12, 2021 at 2:00 p.m.
Dean E. Smith Center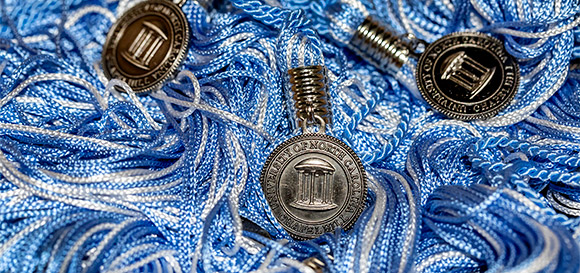 Graduates should arrive at 1:00 p.m. and enter the arena through Entry D. Guests should use Entry A. No tickets are required.
General Information:
Our plans are contingent on current public health guidance and policies. You can do your part to help stop the spread of the virus by getting vaccinated. This will go a long way in ensuring we all stay safe. The Commencement ceremony may be altered or canceled to adhere to all University, state or CDC guidance.
Masks are required in all University buildings.
The Winter Commencement includes graduating undergraduate, Master's degree, and Doctoral degree candidates.
Doors to the Smith Center will open at 1:00 pm on December 12; the ceremony will begin promptly at 2:00 pm.
All degree candidates should be in academic regalia. Doctoral and master's degree candidates should be wearing their academic hoods. Having received your bachelor's degrees already, tassels are worn on the left side before, during, and after graduating. They are not moved from the right side to the left side. Please do not carry gifts or other valuables with you as there will be nowhere to store them.
Student Instructions:
All December 2021 candidates, as well as August 2021 graduates, will receive an electronic invitation to the Winter Commencement ceremony. Please ensure your email address is updated via your ConnectCarolina StudentCenter.
If you can attend, please RSVP by clicking the link in the invitation and completing your registration by November 24, 2021.
Master's degree candidates
All graduating master's degree graduates are invited and welcome to attend the Winter Commencement. No check-in is necessary.
Master's graduates will not be called to the stage during the ceremony.
Doctoral degree candidates and recipients
December doctoral candidates and August doctoral graduates that plan to attend the Winter Commencement ceremony should be sure to RSVP by November 24, 2021 so that we can have your name and, if necessary, pronunciation recorded.
If you have not received the invitation by early November and/or believe your UNC email address to be inactive, please reach out to gradschoolgraduation@unc.edu with an alternate email address.
If you do not successfully complete all of your degree requirements to have your degree conferred at the ceremony, you will not be allowed to participate. No exceptions will be made.
Doctoral graduates will be called to walk across the stage by the Dean of The Graduate School.
Regalia Purchase:
Basic black regalia will be available to purchase through the UNC Student Stores — online or in store. Please make sure to provide specifics on your master's (school/department/program) or doctoral (PhD, EdD, DNP, or DPH) degree so that you can request the proper hood for purchase. All PhD students (regardless of school affiliation — e.g., School of Medicine) will receive the dark blue PhD hood.

Basic student regalia (i.e., black robe) is available:
Custom student regalia (i.e., Carolina blue robe) for doctoral degree graduates:

Customized, more elaborate doctoral regalia can be ordered in-store or by contacting graduation@store.unc.edu. Orders for custom regalia can be placed year-round and take 7-8 weeks to ship once ordered. The deadline to order for the 2021 Winter Commencement has passed, so orders cannot be guaranteed.

Faculty regalia:

Faculty rental regalia can be rented/ordered by reaching out directly to graduation@store.unc.edu now through November 21st. Rentals will be available for pick-up at UNC Student Stores beginning Monday December 6th.

For questions regarding regalia, stop by the store or contact the graduation department at graduation@store.unc.edu.
Information on ordering commencement announcements, class rings, and diploma frames is available from Student Stores.
Diplomas:
Arrival and Entry on the Concourse Level:
Graduates should arrive at 1:00 p.m. and enter the Smith Center through Entrance D.
GradImages™ photographers will be set up on the concourse level inside Entrance D to take pictures of any graduate who wishes; this is optional for all graduates regardless of degree; do not get in the photography line if you do not wish to have a professional photo taken. (NOTE: Only doctoral graduates will have professional photographs taken during the ceremony as they descend from the stage.)
Ceremony Details — Master's Graduates:
Master's graduates should proceed to seats on the floor after arrival. If students want to sit together, please arrive as a group and proceed to the floor together. There is no check-in required with The Graduate School staff.
Master's graduates will be recognized and asked to stand by their appropriate academic dean during the course of the ceremony.
Ceremony Details — Doctoral Graduates:
All doctoral graduates must check in at The Graduate School table located on the concourse level at entrance D.
At check-in, you will receive a name card containing your name, degree, and academic program. This card is to be kept and handed to the Dean on stage as you ascend the stairs to walk the stage. DO NOT LOSE THIS CARD. If you need to make any changes to the card at check-in, please do so immediately and quickly so as not to impede the check-in process for others.
Following check-in with The Graduate School, doctoral graduates should proceed to the floor and sit in the section of seats reserved for doctoral graduates.
At the Dean's cue, staff and volunteers will signal doctoral graduates to rise and approach the stage.
Staff and volunteers will assist as you ascend the stage steps; step up to the stage and hand your name card to the Dean on stage.
As the Dean calls your name and degree information, proceed to the Chancellor for their congratulations and handshake.
Descend the stage and stand for a final posed picture at the base of the stairs in front of The Graduate School banner.
Return to your seat for the remainder of the ceremony.
Departure from the Floor Level after the Ceremony:
At the end of the ceremony students will be free to exit the floor and connect with family and friends. There is no recessional.
Due to the timing of other events in the Smith Center, staff will direct everyone off the floor and into the stands as soon as the ceremony is done.
Accessibility Services, Seating and Parking:
Services for students and guests with disabilities or medical conditions are available.
Students who have accessibility needs should contact Accessibility Resources and Service at ars@unc.edu who will work with staff from The Graduate School and University Events accordingly to navigate ceremony details.
If guests have a state-issued handicapped hangtag, they can park in the Williamson Lot directly across from the Smith Center. The lot will be clearly marked with the appropriate signage. Golf carts will pick up guests needing assistance from the lot and drop them at Gate A. If you do not have a state-issued handicapped license plate or placard and you will be transporting a guest with a disability, please contact Commencement Accessibility Services at access@unc.edu and they will email you a parking permit.
Accessible seating is located all along the concourse level in the Smith Center. No ticket is required for seating. If you require other accommodations (interpreter services, more specialized seating, etc.), please contact Accessibility Resources and Service at ars@unc.edu or (919) 962-0754; NC Relay 711.
Parking Information:
Students do not have designated parking, so all applicable lots for guests (see below) can be used by students.
Parking for guests will be available in most lots surrounding the Smith Center (map of these parking lots). They include: the Manning Lot (on Bowles Drive between the Smith Center and Family Practice), the Bowles Lot (on Bowles Drive behind Craige Dorm), and the Business School Deck.
Disability parking is available in the Williamson Lot across the street from the Smith Center by presenting a disability permit/placard or license plate.
If you do not have a state-issued handicapped license plate or placard and you will be transporting a guest with a disability, please contact Commencement Accessibility Services at access@unc.edu and they will email you a parking permit.
Guest Instructions:
All guests are welcome to attend the ceremony. No tickets are necessary and there is no restriction on the number of guests invited per each graduate. There are no assigned seats.
Guests can arrive as early as 1:00 p.m. and enter the Smith Center at Entrance A. Please do not bring gifts into the Smith Center.
No refreshments will be available at the ceremony. Please bring water as needed.
All guests and their belongings are subject to screening by entry personnel. The following items will not be permitted in the Smith Center:

Backpacks, duffel bags, oversized purses, or computer cases
Alcohol, bottles, cans, food, thermoses, coolers, drugs, chains, and fireworks
Weapons, noisemakers, laser pointers, and other items deemed inappropriate by Smith Center personnel
No signs larger than 8.5 inches by 11 inches
Students and scholars who want to invite international family members to visit the U.S. as tourists may use the information below to assist those family members in applying for a visa.

Visit this document to learn how you can invite family members to the US for your commencement ceremony.
Request a graduation application confirmation letter from the Registrar's office. Please email registrar@unc.edu requesting for a letter of confirmation for graduation for your family's visa.
Additional Information: